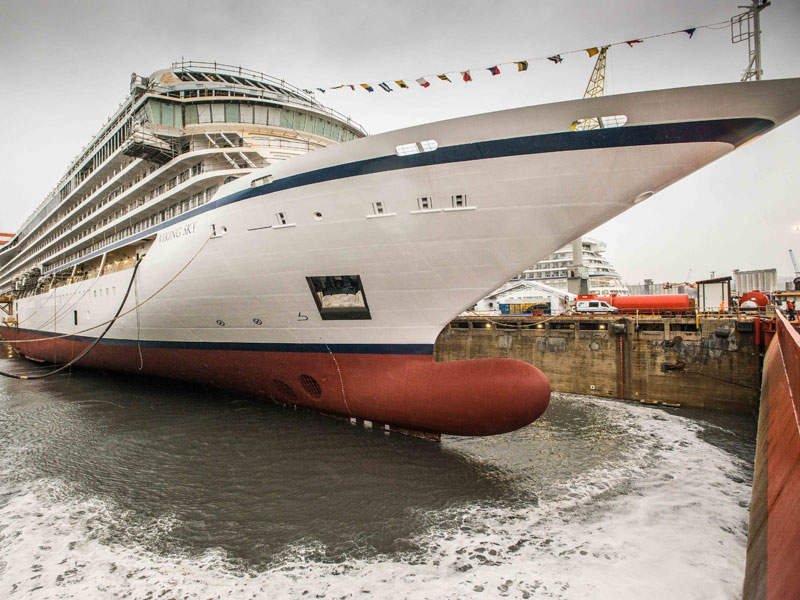 The Viking Sky cruise ship was delivered in December 2016. Credit: Viking Cruises.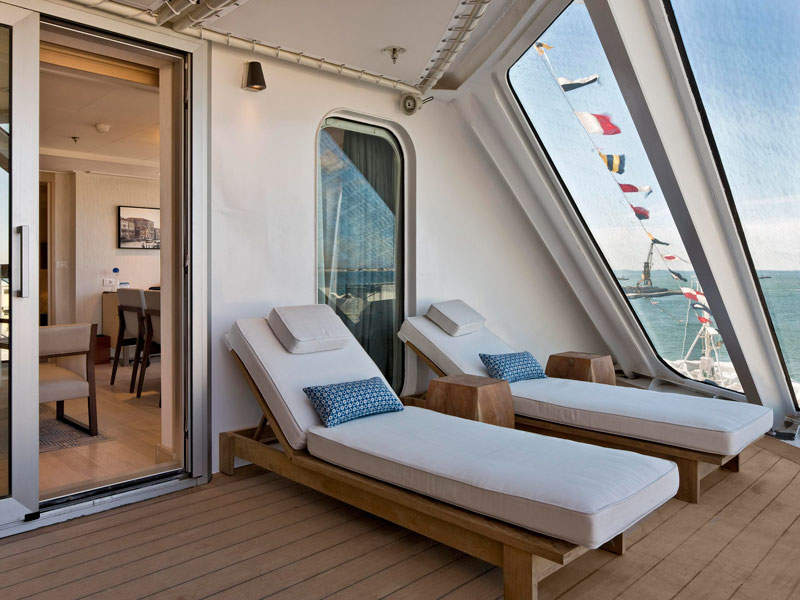 A view of the veranda of Explorer Suite in the Viking Sky cruise ship. Credit: Viking Cruises.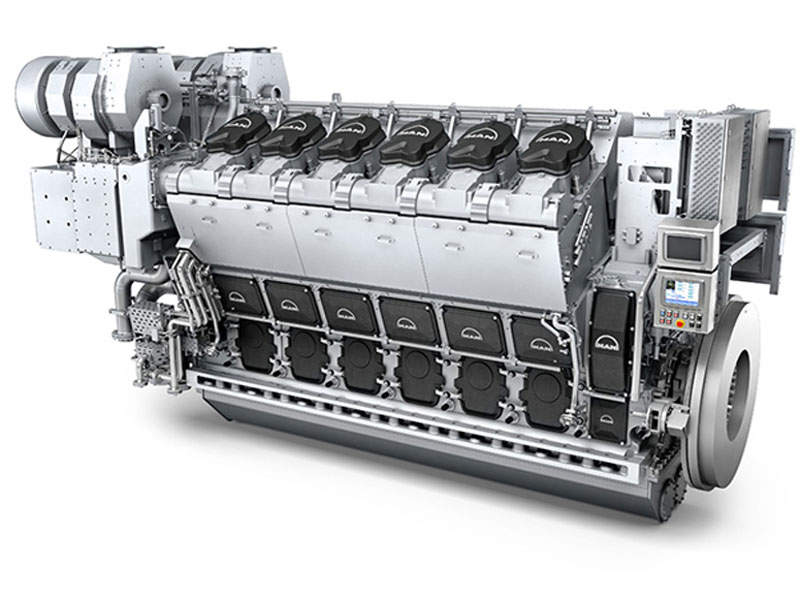 Viking Sky is powered by four MAN 32/44CR engines. Credit: MAN Diesel & Turbo.
Viking Sky is a cruise ship built by Fincantieri at its shipyard in Ancona, for Viking Ocean Cruises. It is the sister ship to Viking Star and Viking Sea, delivered in 2015 and 2016 respectively.
Viking Sky was launched in March 2016 and delivered to Viking Ocean Cruises in January 2017. The ship embarked on her maiden voyage on 25 February 2017 from Civitavecchia Port of Rome to Barcelona, Spain, via Naples, Sicily, Tunis, Sardinia, Palma de Mallorca and Valencia.
The cruise ship experienced an engine failure while sailing from Tromsø to Stavanger in Norway, in March 2019. The power-plant shutdown was caused by a low level of lubrication oil in the tanks.
Viking Sky cruise ship design and features
The ship incorporates a hydrodynamically optimised hull with sleek lines. In compliance with the latest navigation regulations, the cruise ship integrates advanced safety systems such as safe return to port (SRTP).
Advanced technologies on the vessel ensure energy savings. Energy-efficient engines and exhaust gas cleaning system enable the vessel to meet harsh environmental regulations.
The cruise ship has a length of 227m, a beam of 28.8m and draft of 6.3m. The gross tonnage of the vessel is 47,800t.
Staterooms aboard Viking Sky
Viking Sky can accommodate 930 passengers in 465 cabins. The staterooms aboard the vessel, divided into five categories, include Explorer Suite, Penthouse Junior Suite, Penthouse Veranda, Deluxe Veranda and Veranda.
Explorer Suite and Penthouse Junior Suite measure 757ft² and 405ft² respectively. The Penthouse Veranda and Deluxe Veranda staterooms extend over an area of 338ft² and 270ft² respectively.
Staterooms are provided with king-size Viking Explorer bed with luxury linens, luxury robes, slippers and toiletries, 42in flatscreen LCD television, interactive TV and movies-on-demand, Wi-Fi, direct-dial satellite phone and cell service. Rooms also feature security safe, hairdryer, coffee maker, cashmere blanket, and a mini-bar stocking alcoholic beverages, soft drinks, water and snacks.
Guests in each stateroom are also offered a welcome bottle of champagne, purified water, in-suite binoculars, inclusive laundry, dry cleaning, shoeshine and pressing, and 24-hour room service.
Dining and entertainment venues on Viking Sky cruise ship
The cruise ship offers multiple restaurants including The Restaurant, World Café, The Chef's Table, Manfredi's, The Kitchen Table, Pool Grill, Wintergarden and Mamsen's. The restaurant serves three full meals and a range of culinary options, while the World Café offers delicious international and regional specialities.
The Chef's Table offers a multi-course tasting menu, including wine pairings. Guests can enjoy freshly prepared pasta and Italian favourites at Manfredi's. The Kitchen Table serves regional dishes, while the Pool Grill serves burgers and Wintergarden offers afternoon tea and scones. The cruise ship also provides multiple options for outdoor seating during meals.
Entertainment and wellness facilities aboard the cruise ship include The Theater & Bar, Cinema 1 & 2, Aquavit Terrace, Explorers' Lounge, The Spa, the main pool with a retractable roof, Infinity Pool and Hot Tub, fitness centre, outdoor gym and yoga area.
Passengers can also experience world-class lectures on history and art, tasting of vintage wines, folkloric shows, and regional and classical music performances. Onboard cookery classes are also for guests to teach the preparation of local specialities.
Viking Sky cruise ship propulsion details
Viking Sky is equipped with four MAN 32 / 44CR engines powering Rolls-Royce Promas propulsion and manoeuvring system. The Promas system incorporates the propeller and the rudder in a single unit to increase the hydrodynamic efficiency. The propulsion unit includes six-bladed 4.5m-diameter fixed-pitch mono-block propellers.
Rudders and propellers were designed and developed by the Rolls-Royce Hydrodynamic Research Centre in Sweden. The model testing of the Promas system was performed by MARIN.