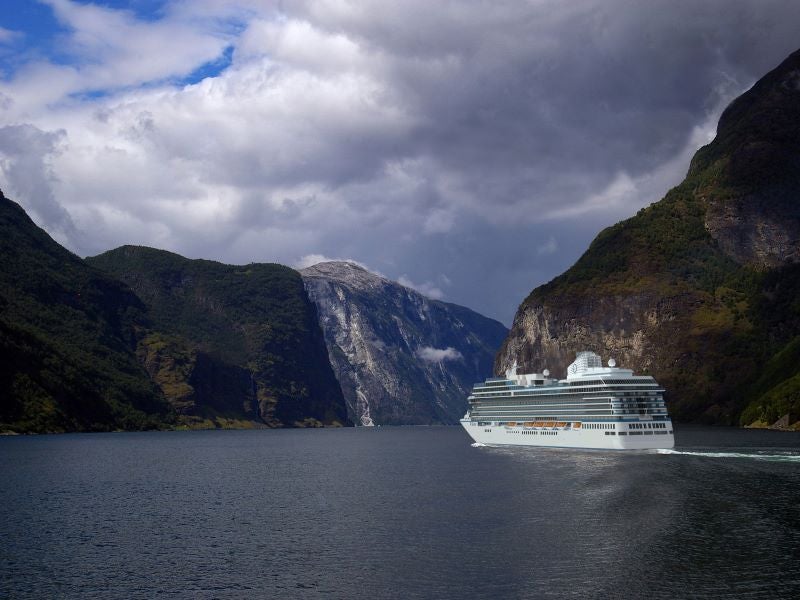 Vista is a new Allura-class cruise ship being built by Fincantieri. Image courtesy of Oceania Cruises.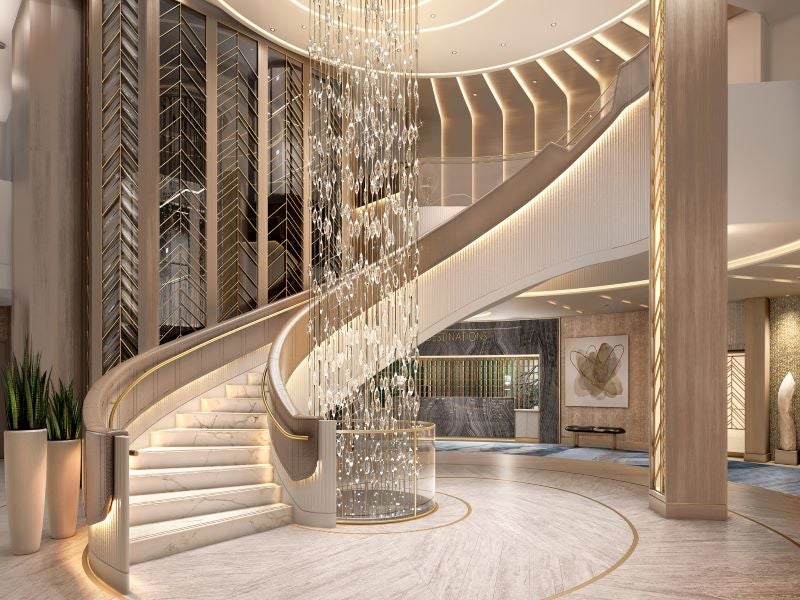 The Vista cruise ship will feature The Grand Staircase, a signature feature of the Oceania Cruises brand. Image courtesy of Oceania Cruises.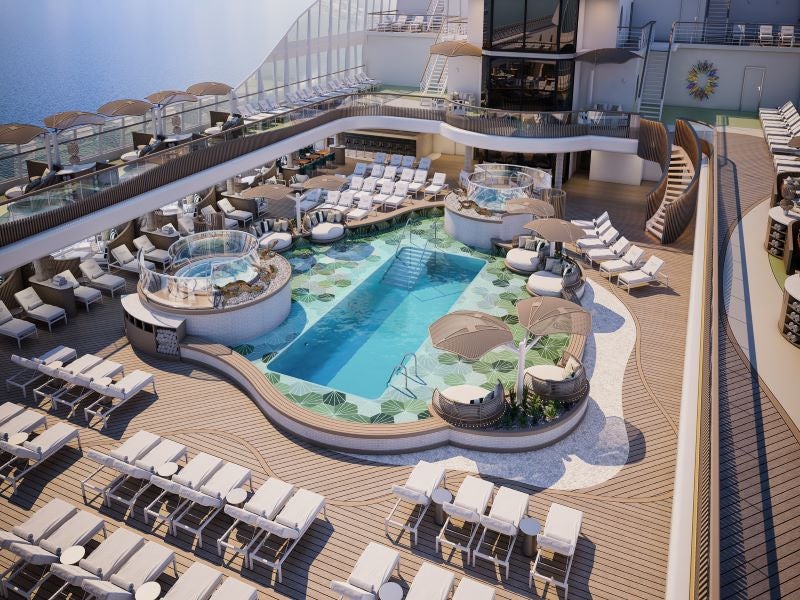 The Vista cruise ship will feature a variety of social, recreation, and wellness spaces. Image courtesy of Oceania Cruises.
The Vista cruise ship is the first of two new Allura-class ships being built for Oceania Cruises, a subsidiary of American diversified cruise operator Norwegian Cruise Line Holdings.
Italian shipbuilding company Fincantieri was awarded a contract to build the two new vessels, including Vista and its sister ship. The company is building the two vessels in Italy at a cost of approximately €575m ($658.2m) each.
The Vista is anticipated to embark on its maiden voyage in early 2023 0while the reservations for the inaugural season will be opened in September 2021. The unnamed sister ship is expected to sail in 2025.
Vista cruise ship design and features
The 67,000t Vista cruise ship will have the capacity to accommodate 800 crew members and 1,200 guests on 11 passenger decks.
The cruise ship will feature a range of social, recreation, and wellness spaces spread across six decks. The Grand Staircase, which is a unique feature of the Oceania Cruises brand, is designed with a shining floor-to-ceiling curved pillar of crystal and light.
The all-veranda accommodations on the ship will comprise staterooms and suites featuring beautifully designed bathrooms with oversized rainforest showers, large vanities, and storage space. A new category of Concierge Level Veranda Staterooms dedicated to solo travellers will be introduced on the cruise vessel for the first time in the brand's history.
The ship's pool deck will feature a modern beach-club cabana, swimming pool and poolside area for socialising.
Staterooms of Vista cruise ship
Spanning 291ft², the Veranda Stateroom will feature a private veranda, a queen-size bed, a seating area, and an oversized bathroom. The new Concierge Level Veranda Stateroom will feature a queen-size bed and a marble bathroom with a walk-in shower inspired by the rainforest. Occupants of the Concierge level stateroom will also have access to a dedicated concierge lounge, room service from The Grand Dining Room, and free laundry services.
Designed for solo travellers, the Concierge Level Solo Veranda Stateroom will feature spacious and airy accommodation, and a seating area overlooking the private veranda.
The suite rooms onboard the Allura-class ship will be available in different categories, namely PentHouse, Vista, Oceania, and Owner's suites. Spread across 440ft², the PentHouse suite will feature luxury elements such as a large private veranda overlooking the sea, a walk-in closet, and an oversized bathroom with dual vanities.
Additionally, it will provide services such as a dedicated butler and keycard access to the Executive Lounge with a dedicated concierge. Access to the Executive Lounge will be reserved for the occupants of the suites.
Each of the 14 Oceania suites on board the ship will have an area between 1,000ft² and 1,200ft². Located on decks 11 and 12, the suites will have separate living and dining spaces along with an oversized private teak veranda while offering views of the ocean. The Oceania suites will also include a guest studio and a guest bathroom and provide a dedicated butler and keycard access to the Executive Lounge.
Occupying decks eight, nine, and ten, the Vista suites will provide 180° views and from 1,450ft² to 1,850ft² of living space. Each of the eight Vista suites will have a living room, a dining room and a bar area that opens onto the teak veranda.
Dining and other amenities aboard Vista cruise ship
The Vista cruise ship will provide The Finest Cuisine at Sea® gourmet dining experience and personalised service with two staff members for every three guests.
The Martinis bar is designed with walls decorated with shimmering glass and customised sculptural lighting. It will offer a range of martinis served in a private atmosphere. The Grand Lounge aboard the ship will resemble a private club with interiors such as alcoves, sculptural lighting, and a gold-infused colour palette.
The Horizons observation lounge will include floor-to-ceiling windows and inspiring silhouettes with sweeping 180° views. It will provide a casual club atmosphere for guests to enjoy an afternoon tea, a lively musical performance, or cocktails at the bar. The Vista cruise ship will also feature a casino and bar with art nouveau-inspired touches.
The Aquamar Spa and Vitality Centre, a wellness centre, will offer a spa terrace, tranquil treatment areas, modern workout and personal training spaces, and a spacious salon.