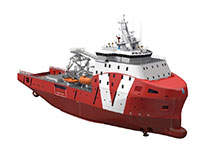 VOS Start is a new subsea-support walk-to-work (W2W) vessel built by Fujian Southeast Shipbuilding. It is the first of two identical vessels ordered by Vroon to meet the increased demand for offshore personnel-transfer solutions.
A keel-laying ceremony for the vessel took place in November 2015 and it was delivered to her first charterer MHI Vestas Offshore Wind in August 2017.
The vessel began providing offshore logistics support, accommodation and walk-to-work services for DONG Energy's Walney Extension offshore wind farm in the Irish Sea in September 2017.
Vroon secured a contract from MHI Vestas in December 2017 to support the start of operations of Borkum Riffgrund II offshore wind park.
VOS Start design details and features
The vessel is based on a new design developed by Khiam Chuan Marine (KCM). The unique vessel concept offers deck space for the installation of a walk-to-work system, as well as a range of additional services.
The W2W vessel has an overall length of 80m, moulded breadth of 18.4m and maximum draught of 5.8m. The deadweight at maximum draught is 2,000t. The gross and net tonnages of the ship are 4,700t and 1,410t respectively.
"VOS Start offers a total deck area of 450m², with 260m² of open deck and 190m² of sheltered deck space."
Deck equipment and systems
VOS Start offers a total deck area of 450m², with 260m² of open deck and 190m² of sheltered deck space. The vessel is fitted with a deck crane featuring a lifting capacity of 3t at 10m outreach, six skidding systems and two electro-hydraulic capstans.
Additional equipment includes a W2W AHC gangway, crane jib extension and equipment for gas / oil delivery from segregated tanks.
Navigation and communication systems aboard VOS Start
The positioning reference systems encompass two navigation radars, including a Furuno FAR-2117-D X-band radar and a FAR-2137S-D S-band radar, and two GP-150 GPS devices.
VOS Start is equipped with a Furuno FE-700 echo sounder, an Anschutz Pilot Star D auto pilot, three Anschutz gyro compasses, a standard 22 magnetic compass, an electronic chart display and information system, and a Kongsberg DPS-2 dynamic positioning system.
Communications are supported by a Furuno model RC-1800T high-frequency radio, a Furuno FM-8800S very high-frequency radio, three McMurdo model R2 GMDSS two-way portable very high-frequency radios.
The vessel also features a McMurdi SMARTFINDE5 satellite emergency position indicating radio beacon (EPIRB), a Furuno FA-150 automatic identification system, and a McMurdo S4 search-and-rescue transponder (SART).
Cargo capacities
VOS Start has a fuel tank capacity of 940m³. It is capable of storing 1,500m³ of drill water, 340m³ of recovered oil, 710m³ of fresh water, 15m³ of dirty oil and 15m³ of lube oil, as well as 25m³ of foam and 25m³ of detergent.
VOS Start safety features
Two lifeboats with a total capacity to rescue 80 persons are available on board. The vessel also accommodates two life rafts capable of carrying 15 personnel each.
Two fast rescue crafts on board the vessel will be launched by two davits. Each rescue craft can carry 15 personnel. Two scrambling nets, one on each side of the rescue zone, are installed for additional safety.
Classified under ABS FiFi Class 1, the external fire-fighting system includes two monitors with a capacity of 1,200m³ per hour each. A fixed water spraying system with two tanks, one for foam and one for detergent, are also installed on the vessel.
Accommodation
Accommodation facilities on VOS Start are designed to comply with Maritime Labor Convention 2006 standards.
The vessel offers accommodation for 87 personnel, with 27 single-bed cabins for the crew, and 22 single-bed and 19 double-bed cabins for the charterer.
"The design of accommodation facilities on VOS Start complies with Maritime Labor Convention 2006 standards."
It also provides two recreational rooms, a gymnasium, a cinema and four offices, including one sky client office.
Propulsion details
The propulsion system of the vessel integrates two 2,400kW MAK main engines and two controllable-pitch propellers (CPPs). The vessel is also equipped with two 12t, super-silence, 800kW electric tunnel thrusters and a 13t, 700kW retractable bow thruster.
The main and auxiliary power systems include two 550kW and a 910kW diesel-driven main generators, a 550kW client generator, a 130kW emergency generator, and two 1,230kW M/E-driven shaft generators.
VOS Start consumes 18.4Mt of fuel a day when sailing at a speed of 13k, and 9Mt when sailing at 12k. It burns 7Mt of fuel in dynamic positioning mode.