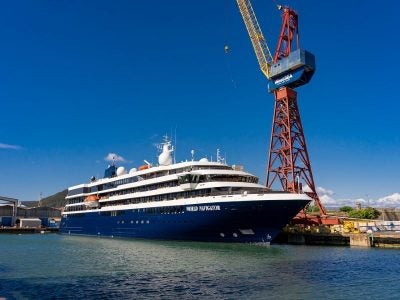 World Navigator was built at West Sea shipyard in Viana do Castelo, Portugal. Credit: West Sea.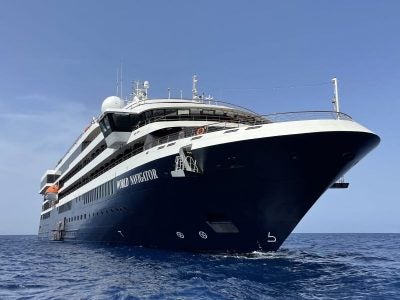 World Navigator is the first expedition ship of Atlas Ocean Voyages. Credit: Atlas Ocean Voyages.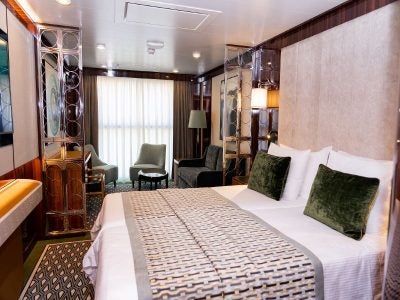 The World Navigator expedition ship features 98 suites and staterooms. Credit: West Sea.
World Navigator is a polar expedition vessel operated by Atlas Ocean Voyages, a luxury cruise line based in the US.
Launched in October 2020 and delivered in June 2021, it is the company's first expedition ship and started commercial operations in August 2021.
World Navigator is the first of a series of five cruise ships to be operated by the company. The remaining ships in the series are named World Traveller, World Seeker, World Adventurer, and World Discoverer. World Traveller and World Seeker are expected to debut in 2022 while the remaining two will enter service in 2023.
The World Navigator expedition vessel has a length of 129m, draft of 4.7m, and a gross tonnage of approximately 10,000t. It can accommodate up to 200 guests and a crew of 117.
Accommodation aboard World Navigator
The World Navigator offers 98 suites and staterooms, with sizes ranging between 183ft² (17m²) and 466ft² (43m²). The suites and staterooms are equipped with modern technological features, a flat-screen TV, advanced infotainment system, a mini-refrigerator, bath amenities from body, face, and fragrances retailer L'OCCITANE, slippers, robes, binoculars, Nespresso coffee, tea, and personalised bar service.
The most spacious accommodation category on the expedition cruise ship is the single-bedroom Navigator suites on decks five and six with 465ft² of living space. The suite comes with a private balcony with teak furnishings.
The Discovery suites, which are also located on decks five and six, offer 445ft2 (41m²) of living space with a private balcony. Both the Navigator and Discovery suites feature a separate living room with a sofa.
The Journey suites located on decks five and six offer single-bedroom accommodations with a 105ft² (9.75m²) balcony and up to 382ft² (35m²) of living space. Each suite comes with a sitting area furnished with a sofa.
The Solo suites located on deck three are specially designed for solo travellers with 183ft² (17m²) of living space and offer panoramic views of the ocean from window. Each solo suite includes a sitting area with two chairs and a side table.
The Horizon Deluxe staterooms located on deck six have 300ft² (28m²) of living space with a Juliet balcony. Each stateroom also includes an interior sitting area with a convertible sofa. The Veranda Deluxe category, also located on the same deck, offers 300ft² (28m²) of space including a 52ft² (4.8m²) private balcony.
Decks five and six also feature the Horizon staterooms and Veranda staterooms, both offering a living space of 270ft² (25m²). Each Horizon stateroom has a sitting area and a Juliet balcony.
The Adventure staterooms, located on deck three, offer 183ft² (17m²) of living space and ocean views through a full picture window.
Dining and other amenities
World Navigator provides its guests regionally inspired gourmet cuisine through six dining options.
Porto, the main restaurant aboard the ship, is inspired by the Atlas Ocean Voyages' Portuguese heritage and provides indoor and al fresco dining options. An additional speciality menu named Alma featuring traditional Portuguese cuisine is available on alternating nights in Porto.
The 7-Aft Grill is a chophouse offering a New York-style BBQ grill. It uses a Josper grill to prepare grilled cuisine.
The Dome Observation Lounge on deck seven offers a light lunch with an open bar with food options such as snacks, cookies, tea, and sandwiches. Guests can dine with 270° and overhead views.
Passengers can choose from a range of food options at Paula's Pantry Café on deck four, including speciality sandwiches, soups, salads, cookies, and cupcakes. The cafe also specialises in coffees made with small batch-roasted, organic beans from Italian coffee house Caffè Milano, as well as Kusmi teas, and fresh detox juices.
The vessel features the first luxury sea spa by L'OCCITANE. Located on the main deck (deck four), the 950ft² (88m²) spa, known as SeaSpa, comprises two therapy rooms, a detoxing infrared sauna, and a serenity lounge with plush loungers and expansion windows.
Amenities also include a fitness studio on deck seven, featuring TechnoGym equipment, and a jogging track on deck eight.
World Navigator navigation and propulsion
The World Navigator uses a forward-looking sonar to navigate coastal, harbour, and icy polar waters. The vessel is powered by two Rolls Royce 9,000kW engines and two electrically driven 335kW Schottel SPJ 82 pump jets. The propulsion units are installed on elastic mountings to minimise noise and vibration levels.
The pump jets feature Schottel LeaCon sealing system to prevent water from entering the gearbox and oil from spilling into the ocean. The propulsion enables the vessel to achieve a cruise speed of 16k.
World Navigator itinerary
The World Navigator embarked on seven to 12-night Egypt and Greek Isles voyages as part of its inaugural season in August 2021. It will sail to the Caribbean, South America, and Antarctica in winter 2021.
The vessel will also embark on six to 16-night voyages in the Arctic, British Isles, the Norwegian Fjords, Iceland, Greenland, the Baltic and Mediterranean Seas, and Central and South America from March 2022 through November 2022.
Contractors involved
The World Navigator exploration vessel was built by West Sea shipyard located in Viana do Castelo, in northern Portugal.
The pump jets for the polar ship were provided by Schottel, a German propulsion and steering systems manufacturer.