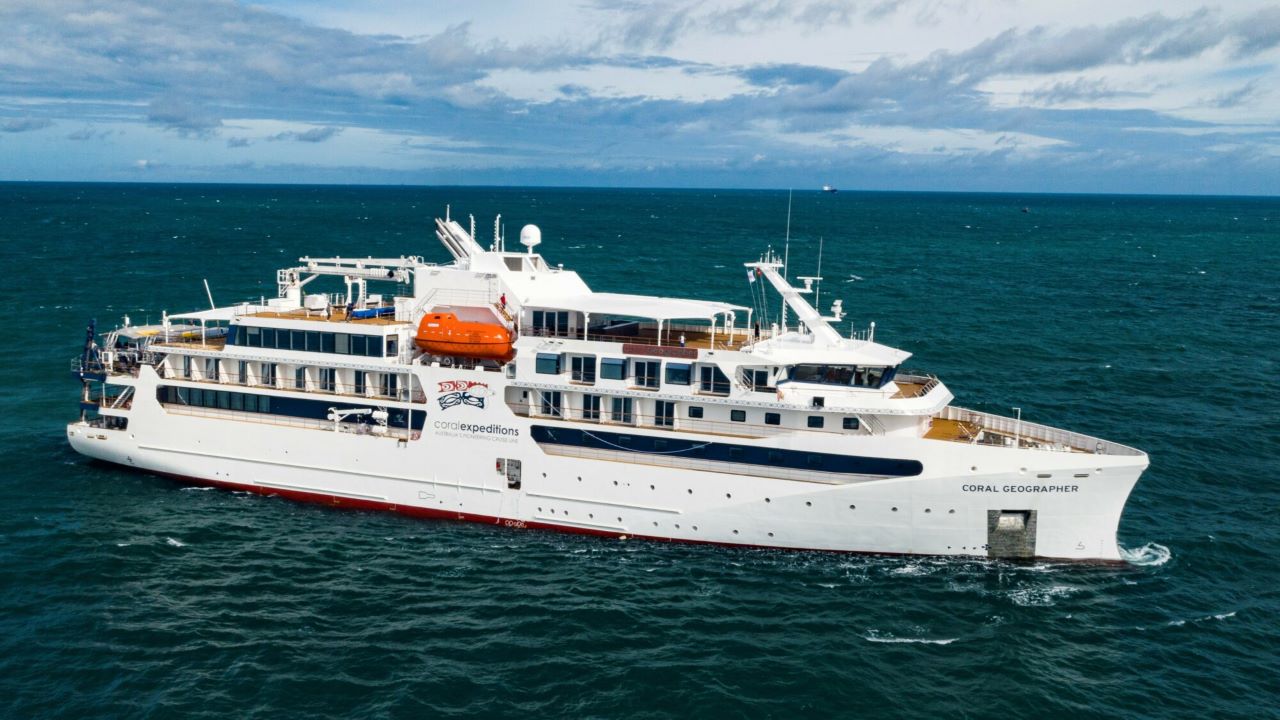 Coral Geographer is the sister ship of Coral Expeditions' Coral Adventurer expedition vessel. Credit: Vard.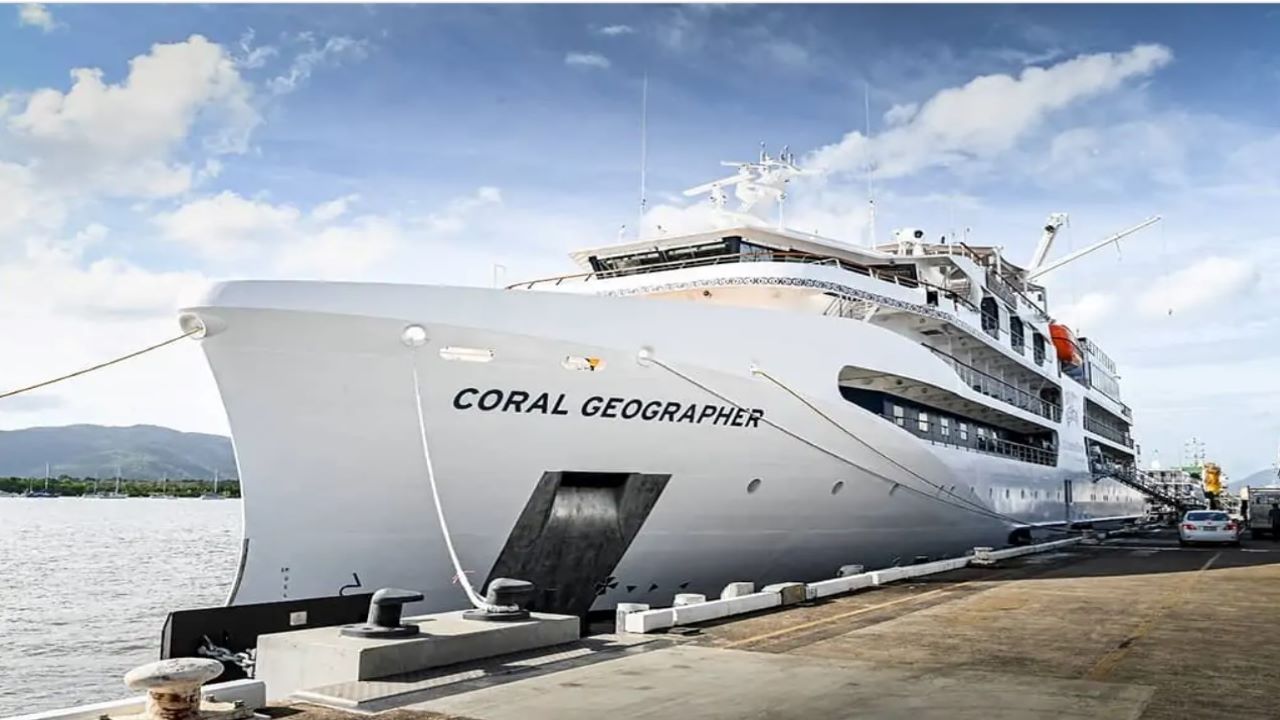 The Coral Geographer expedition cruise vessel was christened on 30 March 2021. Credit: Coral Expeditions.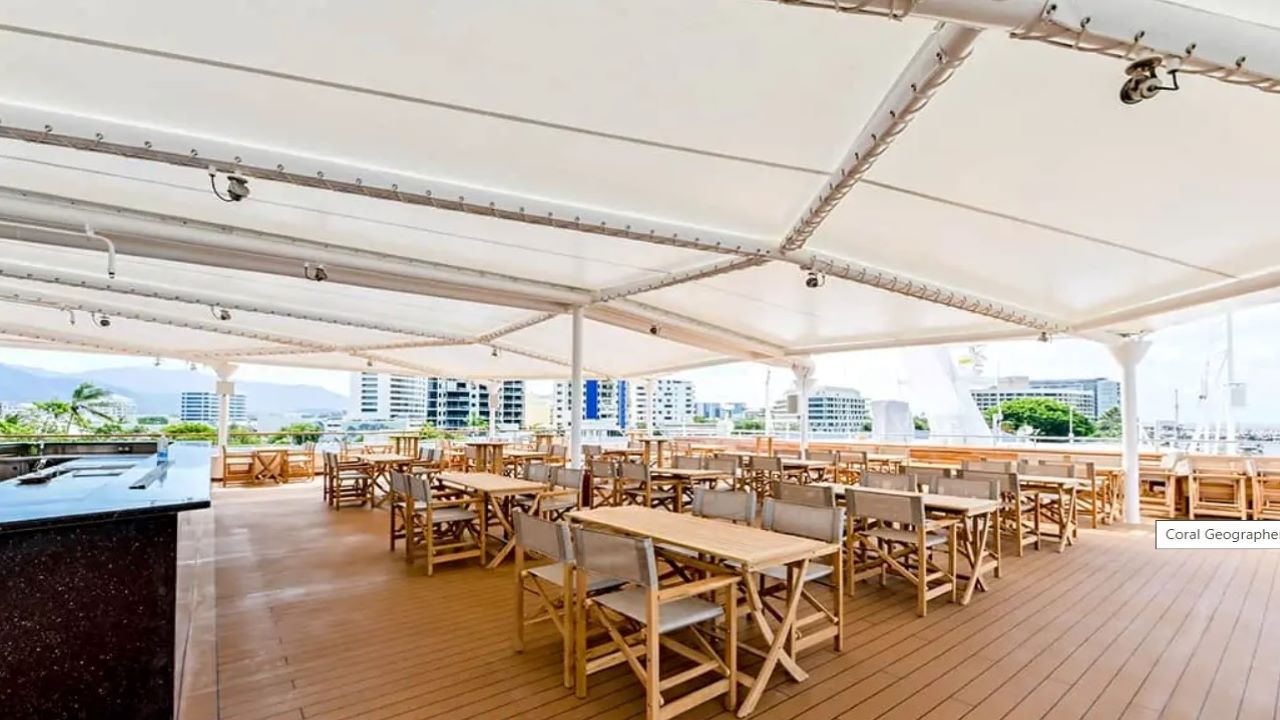 The expedition ship features 1,000m² of open deck space including a promenade deck with panoramic views. Credit: Coral Expeditions.
Coral Geographer is a new expedition cruise ship operated by Australian cruise line Coral Expeditions.
The company's fifth ship, Coral Geographer is designed to undertake tropical expedition cruising and to access remote wilderness shores that are not easily accessible by large cruise vessels.
The new expedition vessel is the sister ship to Coral Adventurer, an expedition ship cruising Australia's Kimberley Coast, Papua New Guinea, the Indonesian archipelago, and the South Pacific.
Ordered in 2019, Coral Geographer was delivered to the cruise line and christened in March 2021. The ship embarked on its maiden voyage at the end of March 2021.
Coral Geographer expedition cruise ship design
The 120-passenger vessel includes a shallow draft and more bridge deck suites with horizon bathtubs. Based on Vard 6 01 design, it includes public areas with spacious open deck space.
The ship belongs to the new class of expedition ships. It has an overall length of 93.7m, a width of 17.2m, and a gross tonnage of 5,599t.
Coral Geographer deck and accommodation details
The ship has six spacious suites, featuring a minibar, personal coffee machine, and a lounge area. More than 50% of the total space is occupied by staterooms with open balconies. The different categories of staterooms available on board the expedition vessel are Bridge Deck Balcony, Explorer Deck Balcony, Promenade Deck, and Coral Deck.
The ship features comfortable interiors and offers personalised service. Two Xplorer tenders are positioned at the rear side of the ship to accommodate all passengers. Mounted on hydraulic platforms, the tenders enable shore excursions.
Coral Geographer includes six zodiacs for intrepid exploration, a lecture lounge equipped with multimedia and modern technology for daily expedition briefings and presentations, and a small on-board library.
The ship has 60 outside-facing guest cabins with ensuite bathrooms while private balconies are available in more than 30 of these cabins. Amenities also include a gym, passenger elevator, and Wi-Fi services.
Passengers are also offered engine room tours and interactions with the crew.
Dining and entertainment facilities
The ship features various outdoor and indoor bars and a dining area for all guests, offering buffet breakfast, lunch, and multi-course table d'hote dinners. A curated wine cellar on board the ship features boutique wines and vintage Australian red wine collection.
A showcase galley includes a viewing window and offers fresh small-batch cuisine using local and Australian produce.
Navigation, propulsion, and performance
The expedition cruise vessel is equipped with advanced navigation and propulsion systems. The main engines of the ship are Caterpillar 3512C marine engines. The ship also includes Vard Electro's SeaQ product series for navigation systems, marine electronics, integrated systems, and electrical systems. It can sail at a maximum speed of 13.8k.
Itineraries of Coral Geographer
Coral Geographer embarked on its maiden voyage from Cairns, Queensland during the last week of March 2021. The maiden voyage included Fitzroy Island, Lizard Island, Cape York, Sommerset, Possession Island, Baird and Farmer islands, Stanley Island, Osprey Reef, Holmes Reef, Yamacutta Reef, and Dunk Island.
The ship will begin its maiden Kimberley season and plans for the inaugural season also include taking guests on an expedition series covering the islands of the Indian Ocean including the Cocos and Christmas Islands, through Sri Lanka, the Maldives and Seychelles, to Madagascar, Reunion, Mauritius, and Zanzibar.
Planned trips also include a 12-night expedition from Auckland, New Zealand, exploring the Marlborough Sounds and Fiordland in December 2021. A 14-night expedition to the Albatross Lattitudes is expected to begin from Milford and explore the sub-Antarctic region in January 2022.
Other itineraries include an eight-night trip from South Coast to Fiordland, departing Wellington on 23 January 2022 and a 13-night 'Battlefields and Beaches of the Solomon Islands' voyage, departing Honiara on 30 November 2021.
Contractors involved
A contract was awarded to Fincantieri's subsidiary Vard for the construction of Coral Geographer in June 2019.
Vard Design developed the ship's VARD 6 01 design at the Vard Vung Tau shipyard in Vietnam.