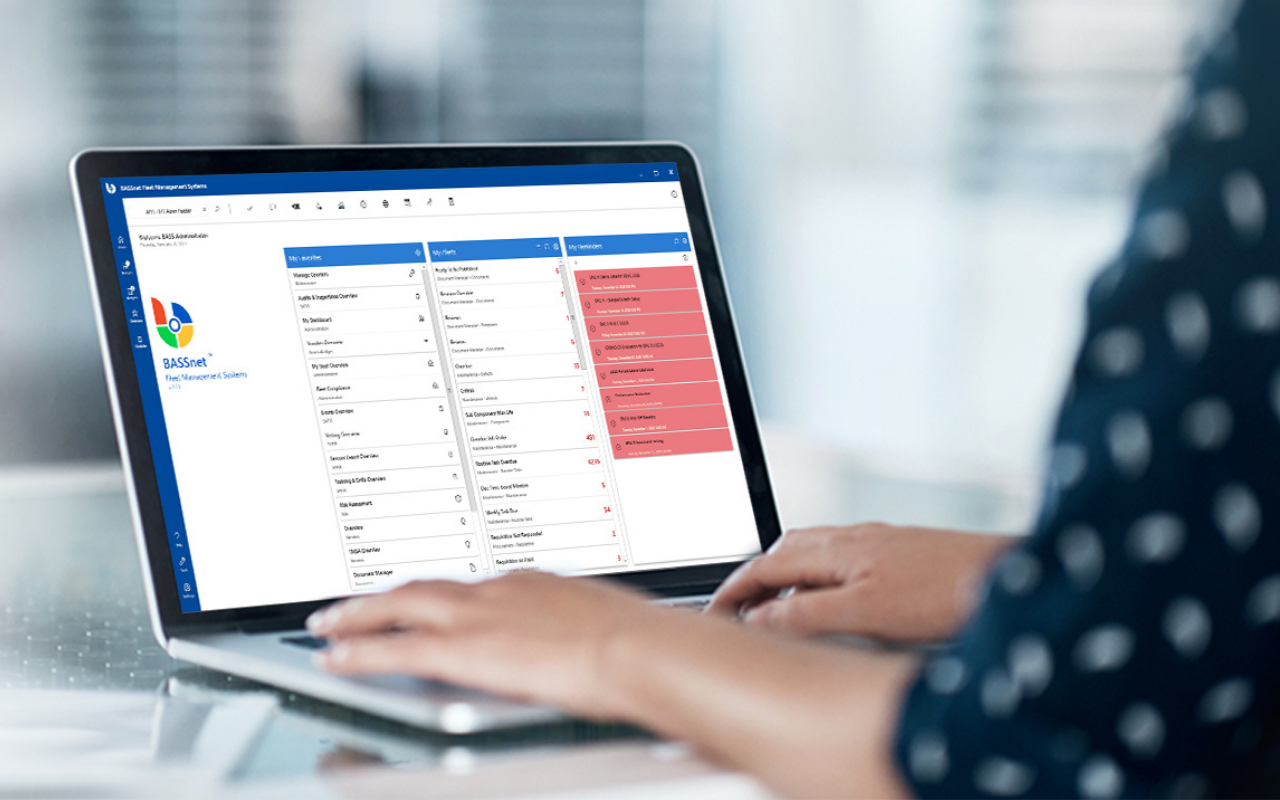 BASSnet 2.11, the new and improved maritime ERP solution, offers comprehensive functionality for end-to-end management of vessels and offshore assets.
The BASSnet Suite is an integrated solution featuring modules that cover major maritime operations in one place. This all-in-one system includes useful add-ons, API integrations and mobile apps for end-to-end processes. With its extensive configurable functionality, insightful analytics, and on-demand connectivity, the BASSnet Suite can streamline the complete range of maritime operations.
The suite offers valuable insights covering fleet operations and performance-to-business processes, as well as easily generated reports in various formats. The Business Intelligence Dashboard in particular provides in-depth analysis of fleet-wide data in user-curated dashboards, so ship owners and managers and their stakeholders can better plan ahead. Data from various other systems can also be merged and analysed. In addition, BASSnet is a Cloud-based system, which ensures easy access from anywhere, hosted by Microsoft Azure and with application management by BASS.
Cloud-based vessel management system
The latest update of BASSnet Suite has been driven by customer feedback, with improvements in a host of areas, including maintenance, procurement, operations, dry-docking, and crew management, as well as health, safety, environment, and quality (HSEQ).
For procurement and logistics, draft requisitions from the vessel are now visible to office users, allowing them to anticipate advance requisitions. New functionalities are available for purchase planning, shipment overviews and inventory with easy access.
In compliance with International Maritime Organization (IMO) requirements, electronic log records can be verified by users that have been given the relevant access rights. Activity history for individual log entries can be viewed in an audit trail database. The BASSnet 2.11 update also includes a revamped risk assessment (RA) process.
Improvements for maintenance include improved workflow for routine tasks, with template creation and distribution, tracking of tasks, and batch updates for multiple routine tasks.
The HR Manager function of BASSnet 2.11 has a Smart Planning feature which makes it easier to assign the right crew member, along with an automatic proposed rotation, which can also be customised with a simple drag-and-drop.
Updates allow you to set up your workspace so that it flows with your operations, all within the home screen. This is how the extended range of features can be tailored to a specific part of the business without unnecessary programmes clogging your system.
In addition, all workloads can be optimised using predefined business templates and the centralised management system for a range of fleet components.
Optimised user interface with BASSnet 2.11
In addition to these module updates, BASS' team has focused on the user interface design. There are new improvements to the user experience, with the platform now offering more personalisation for each user.
New widgets allow users to pin their favourite features to the home screen of the application for easy accessibility. In addition, an alerts widget has been added to display all the relevant user-specified notifications without unnecessary alerts creating distractions. For even quicker access to critical information, there are now shortcuts to take you straight to any record you need, including queries and filters.
Advanced technology for optimised vessel management software
Going beyond the design, BASS has also updated the installation technology of BASSnet 2.11. With the latest MSIX Windows app package, bandwidth and disk space are optimised when downloading and installing the software. Once installed, BASSnet also automatically detects and updates any new features.
In-depth data analysis with Business Intelligence Dashboard
Launching alongside BASSnet 2.11 is the BASSnet BI Dashboard, which is powered by Microsoft Power BI Embedded. The BASSnet Suite offers a single, integrated database covering all major maritime areas. The BI Dashboard gleans useful business insights from this rich source of fleet-wide, operational data, for in-depth statistical analysis with accurate reporting in user-curated dashboards and drill-down to transactions. This means you can study your data in more depth, right down to individual transaction records. Analyse bottlenecks and make data-driven decisions, thanks to the advanced business intelligence (BI) dashboard.
Extensive functionality that can be adapted to your needs, insightful analytics for a complete range of complex data and on-demand connectivity all make BASSnet 2.11 the critical solution to any maritime operation. The new and improved vessel management system is available now to streamline your maritime operations.