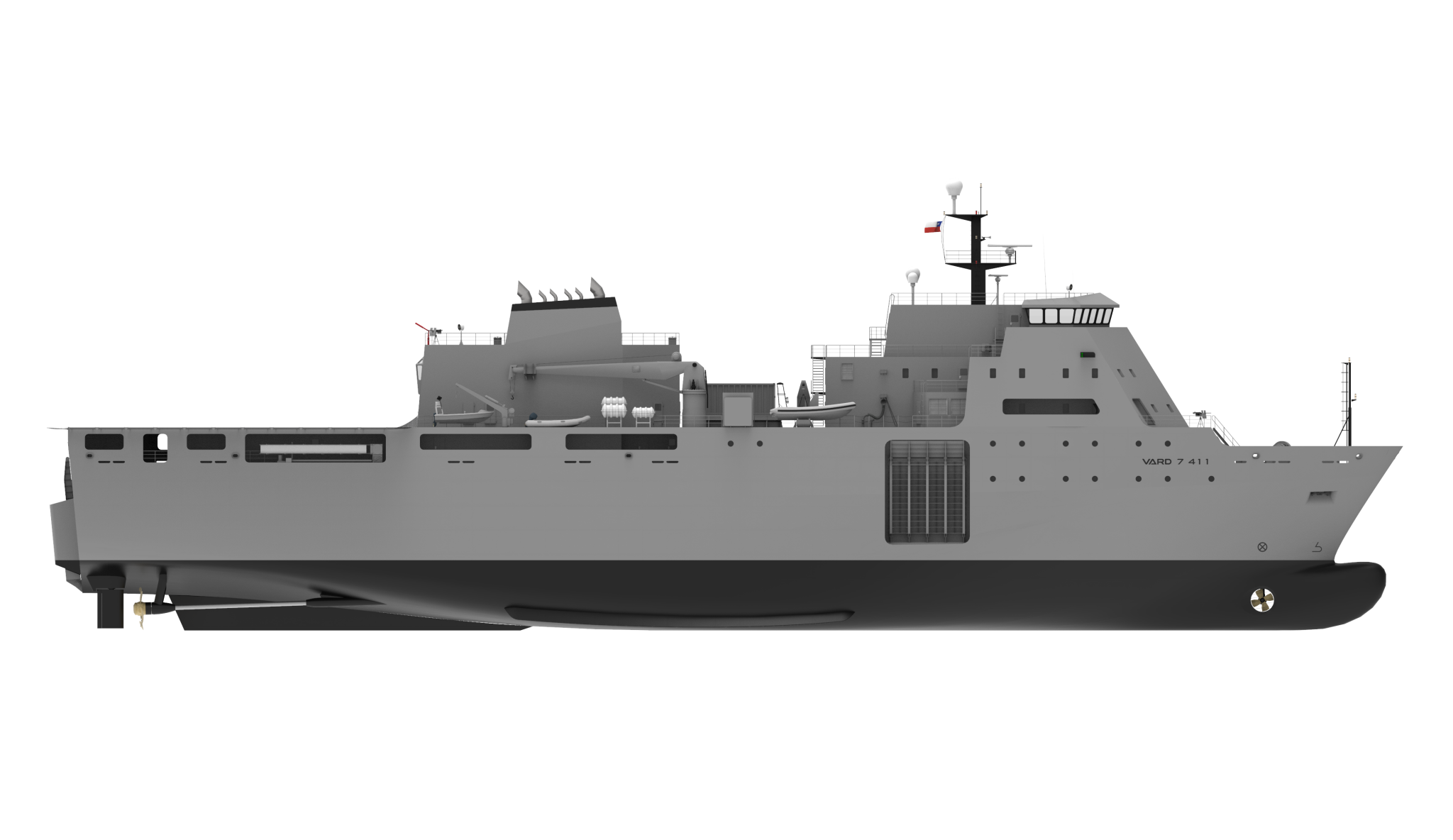 The last few years have seen VARD Marine enjoying success and being awarded multiple contracts from governments around the world.
It has built several ships for the Irish Navy, provided amphibious and military sea transport vessels to the Chilean Navy, and partnered with yards in the US on major industry studies to assess and design a wide range of paramilitary vessels for the US Navy and present its designs at major international marine shows.
Chile, 2020
To design an amphibious and military transport vessel for the Chilean Navy, the country's state-owned ASMAR Shipbuilding & Ship Repair Company awarded a contract to VARD Marine Inc. in December 2020. The VARD-designed ships will be built at the Talcahuano ASMAR shipyard as a part of the navy's Escotillón IV programme. The LST-92 Rancagua and LST-95 Chacabuco barges, the AP 41 Aquiles transport, and the Sargento Aldea hospital ship will reportedly be replaced by the four newbuilds.
The new multi-role ships will be able to conduct operations in the Pacific and Southern Oceans, providing services such as logistic support, search and rescue (SAR) missions, soldier and asset movement and deployment, and humanitarian assistance and disaster relief (HADR) operations.
The vessel concept will be based on the VARD Series 7 designs and specifically tailored to the needs of the Chilean Navy. It will include the most recent integrated well-dock systems that enable the carriage and deployment of a variety of containerized and vehicle cargo, landing craft, helicopters, and rescue boats.
IMDEX, 2019
The 7 510 Landing Ship Tank (LST) and the 7 313 Multi-Purpose Logistic Vessel (MPLV) were two new designs from VARD's 7-Series that were publicly unveiled for the first time at IMDEX 2019, an international maritime defence show, which was hosted in Changi Exhibition Centre in Singapore.
Both LST and MPLV ships are being presented in commercial standards and were designed by the VARD military division, which is situated in Vancouver, Canada. This makes them inexpensive designs for developing nations like those in Africa and Southeast Asia.
The VARD 7 510 LST is designed for force projection and support, amphibious operations, and landing support, maritime special operations, patrolling of EEZs, and humanitarian assistance. A combination of waterproof bow and stern ramps that provide access to an interior Ro-Ro compartment allow for easy loading and unloading. The stern ramp is used to load cars at the pier, and the bow ramp makes it easier to transfer vehicles on land.
Fast-reaction crafts are installed on both sides of the ship to make boarding operations easier and can be used in an emergency to gather life rafts. Behind the superstructure is a helideck with room for a 13-ton helicopter, while up front is a multi-mission working deck.
In order to support force protection, marine special operations, EEZ (Exclusive Economic Zone) patrols, and humanitarian relief, the larger VARD 7 313 MPLV is a multipurpose logistics vessel that can launch boats, transport troops, carry goods, and unload heavy machinery, and other naval functions.
Ireland, 2014
A fourth Offshore Patrol Vessel (OPV) for the Irish Naval Service was built by Babcock International Group at its Appledore shipbuilding site in North Devon, England, under a contract extension granted in 2014 by Ireland's Department of Defence (INS) in a deal originally signed in 2010.
The LÉ Samuel Beckett, the first OPV, was delivered by the shipyard in January 2014; all subsequent vessels were then built to the 'Samuel Beckett' class. The LÉ James Joyce was the second, and it was commissioned in September 2015; the LÉ William Butler Yeats was the third, and it was commissioned in 2016. They joined the Irish Navy and participated in a variety of maritime operations, including the Mediterranean refugee crisis.
In May 2018, the LÉ George Bernard Shaw, Ireland's fourth P60 class OPV constructed to the VARD 7 090 design, was put into service. The ships can reach a top speed of 23 knots and have a total length of 90 metres. Operational endurance is 21-days with a range of 6,000 nautical miles at 15 knots.
VARD Naval design approach
For years, VARD has designed and helped build military ships for countries across the globe. It designs patrol vessels with a sound business strategy, utilising tried-and-true commercially available components. To ensure the precision of performance forecasts, hull forms are rigorously model-tested, and full-scale data is used to correlate the tow tank results with computational fluid dynamics (CFD) analyses.
The company works tirelessly to produce new ship designs to enhance the effectiveness and adaptability of all military vessels. It is at the forefront of incorporating hybrid propulsion systems for slow-speed operations, unmanned aerial vehicles (UAVs) and unmanned service vehicles (USVs) as mission systems, and harmonising the structure for modular construction methods and pre-outfitting, to name just a few examples of how they are looking to the future.