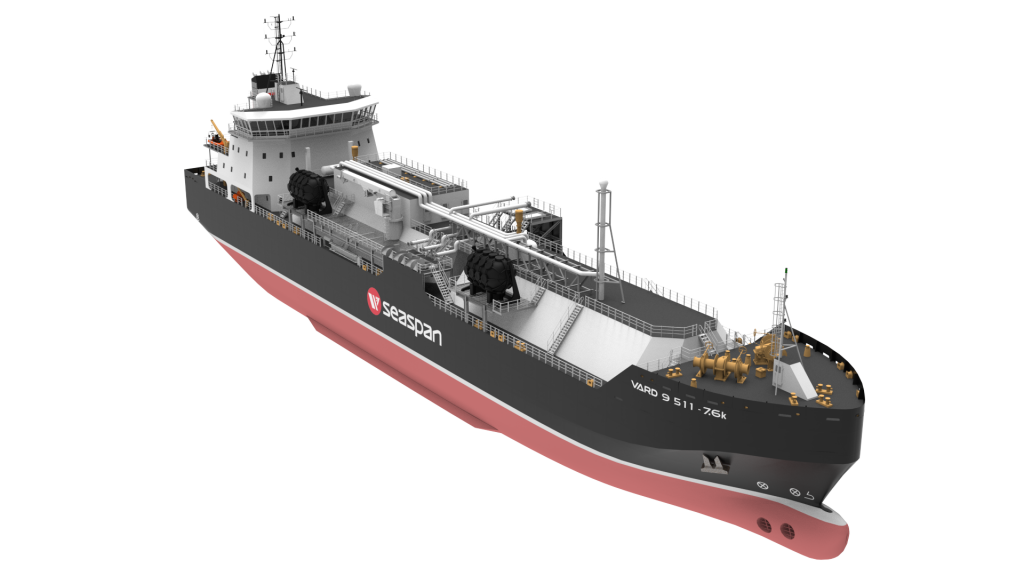 Over the last several years, VARD Marine has been invited to partner with a number of international shipbuilders and marine services companies to bring their innovation-led ocean ship design capabilities for military, civil and corporate vessels.
The company's experience across all types of maritime projects allows it to bring a huge range of skills and designs to bear on the most challenging client requirements.
Here are some examples of the projects VARD Marine has delivered in the past few years:
USA
Centerline Logistics, a US marine petroleum transportation company, signed a letter of intent with VARD Marine to design and develop a 6,000-cubic-metre-capacity articulated tug and barge (ATB) to transport liquefied natural gas (LNG).
The barge will be fully compliant with Jones Act, allowing it to operate globally, and will take advantage of the steep rise in demand for LNG marine bunkering. It will begin sailing in 2024, supporting the more than 225 LNG-fuelled fleets of ships already in operation (with 400 more on order) across the globe.
With the goal of achieving net-zero carbon emissions from shipping operations, companies around the world are turning to LNG as the marine fuel of choice. Centreline has set up its Visionary Fuels Initiative, an effort to improve environmental and sustainable marine transportation solutions, standards, and technology.
Canada
Seaspan ULC, a group of Canadian companies that provide coastal marine transportation, ship docking, escort, repair, and shipbuilding services, approached VARD Marine's ship development engineers to design LNG bunker vessels with a capacity of 7600 m3, with final specifications that would gain approval from Bureau Veritas.
The company's requirements were that VARD includes the latest technologies, both digital and mechanical, to achieve class-beating reductions in greenhouse gas (GHG) emissions and underwater noise radiation.
The vessel should be able to refuel multiple ship types safely and efficiently at sea, as well as coastal/short sea shipping operations, and also be able to onload/offload from a wide variety of terminal types.
VARD's breadth of experience in designing this ship-type ranges from 1,200 m3 to 15,000 m3. These vessels will be 113m long, have an 18.6m beam, and a depth of 8.4m, and will become the first and largest dedicated LNG bunker vessel designed and built to operate in North America.
Chile
ASMAR Shipbuilding & Ship Repair Company, headquartered in Valparaiso, Chile, contracted VARD Marine to design a military vessel for the Chilean navy's Escotillón IV Program.
These amphibious transport ships will operate as multi-role vessels, capable of providing logistics support, search and rescue missions, troop and asset movement, and humanitarian assistance and disaster relief (HADR) operations.
The base design used for the vessels was the Vard Series 7, adapted to the requirements from the Chilean Navy, which incorporates the latest generation of integrated well-dock systems that could transport a wide range of containerized and vehicle cargo, landing craft, helicopters, and rescue boats.
Eyes on the future
VARD is focussing its future plans on the challenges created by climate change. All of its divisions are researching and developing low- to zero-carbon emissions technology across all products.
At VARD Marine, they are following the VARD group concept of 'Optimised for Zero'. This drive is towards maximising energy conservation and increasing operational performance.
But reducing reliance on fossil fuels, which have a high energy density, is challenging as to maintain performance, ships have to be designed to do more with less.
This means radical changes in lower-drag hull designs and maximising efficient use of onboard energy stores; the upside is lower running costs. Using data gathered over the years related to ship design performance and weather records, VARD's R&D engineers and hull designers can optimise hull geometry and power spread across the ships.
VARD uses its in-house Computational Fluid Dynamics (CFD) expertise to model hydrodynamic characteristics of surface vessel designs. This provides extremely accurate and precise data that designers use to perform testing using validated CFD tools to evaluate multiple hull shapes in any recorded weather and wave data to tailor bow shapes to match a design to the weather conditions and operating profile.
VARD Electro meanwhile is exploring green energy technologies like batteries, hydrogen fuel cells, solar, and wind. It applies these to innovative ship designs and energy usage profiles, which may require altering a vessel's power distribution systems. This then helps understand and capture fuel efficiency and environmental performance data. It is also investing heavily in robotic ships and systems.
One success has been the development of its SeaQ Remote technology. It centralises remote-control operations of robotic control systems and deck equipment which increase safety and sustainability while reducing crew sizes and operating costs.