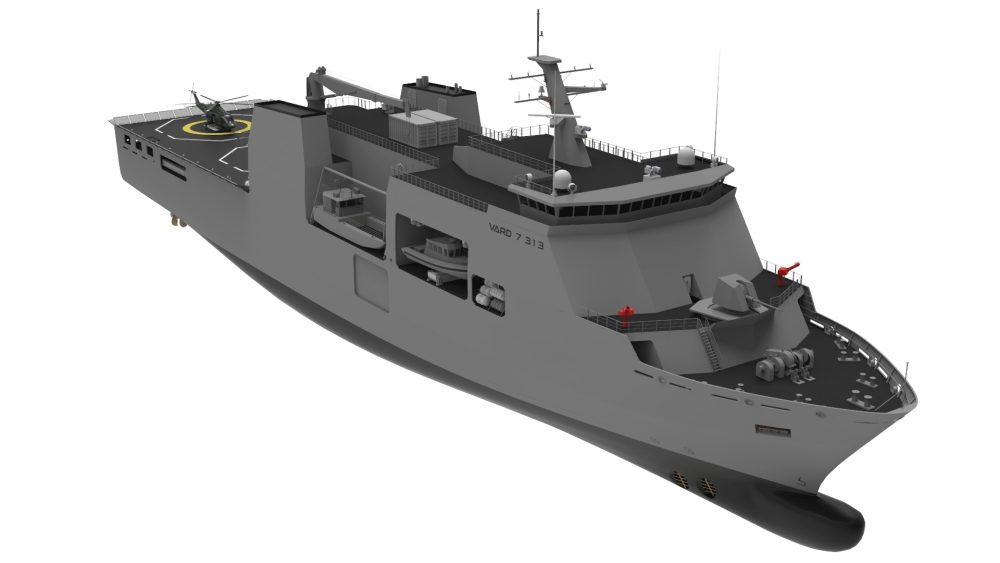 Shipyards across the globe are investing in tooling, digital technology, and expanded facilities to remain competitive. Changes in maritime mission profiles have meant that the previous paradigm of single-purpose vessels for single mission types is no longer valid. New ship designs need to be flexible to be able to perform multiple tasks on a single base platform.
Hence the birth of multi-mission vessels.
Navy and commercial ship designers are expanding the limits of what a single vessel class should be able to do in the future. And virtually every major and minor shipbuilder is getting into this market as the demand for marine vessel versatility the multi-mission concept can provide makes strategic and financial sense.
New capabilities can be added to such craft with innovation built into compact modules that can be married to the base vessel's internal and external structure, giving the platforms a longer life while reducing overall lifetime running costs.
Exchangeable and interchangeable
Whether for naval, commercial, scientific, merchant marine, or other use, the idea is to have a basic design of a ship, including a large hull, with internal storage and stowage decks, weather deck stowage and additional accommodation, propulsion, internal and external structure, and crew complement, that can be "added to" by exchangeable modules.
In the case of naval vessels, these could be different armament load-outs, search and rescue (SAR) packages, surveillance enhancement, tactical sealift, maintenance support, deployable command and control facilities, enhanced medical services, and other auxiliary services.
Indeed, they could be anything the Navy and its designers think appropriate for a defensive, offensive, or even civilian support mission.
The list of add-ons that can be tailored to suit different mission profiles can be further enhanced by making systems such as support for unmanned underwater vehicles (UUVs), rigid-hull inflatable boats (RHIBs), and disaster relief stores. A launcher could be provided for fixed-wing unmanned aerial vehicle (UAV) operations, or a flight deck capable of handling single or multiple helicopters.
They will have the utility to transport and deliver troops, vehicles, equipment, and supplies from anywhere in the world in support of amphibious warfare and littoral manoeuvre, with a mix of ship-to-shore offloading and logistics capabilities allowing support to naval operations through landing craft, boat operations, multi-spot aviation and replenishment at sea.
The list of capabilities is limited only by the imagination and engineering nous of the designers.
Smaller paramilitary boats like offshore patrol vessels that can be reconfigured on the fly for duties such as coastguard, anti-piracy and anti-smuggling, mine sweeping, SAR, and maritime traffic management. Again, for as many uses that the size of the vessel can support.
Commercial vessel base
Moving away from strictly military examples, other vessel types that are being researched for multi-role platforms, such as those for coastal security, emergency support, and scientific uses, include a commercial container ship that can be converted into a multi-purpose naval support ship, able to offer a range of capabilities.
These include ship-to-shore and ship-to-ship material supply and replenishment, humanitarian assistance and disaster relief, fleet medical support, helicopter maintenance, and command and control facilities.
The multi-role support ship for humanitarian assistance and disaster relief operations, a paper published by VARD Marine of Canada in June 2021, laid out their thinking behind the multi-role support ship (MRSS) concept.
They deemed that the vessels under this umbrella must have the operational flexibility to swiftly respond to a variety of scenarios by being able to be rapidly reconfigured to projected demands with the requisite payloads, cargoes, and specialist personnel embarked. Governments, military. and civil organisations gain an immense number of choices they can make to be in a posture of quick response and agility.
VARD Marine MRSS concept
According to the paper, their MRSS vessels would have four attributes:
• Maintain a flexible stance by including big, configurable spaces with the capacity to carry cargo and a variety of mission payloads (as mentioned above).
• The MRSS platform can have a commercial vessel base and operate with a small crew, frequently using a two-crew rotation arrangement. In many organisations, the complement can be made up entirely of civilians or a mix of civilians and soldiers. Additionally, there are facilities for ordinary mission personnel who may embark as needed to support capabilities like special forces operations and helicopter operations.
• These vessels can be built with the endurance and range needed to deliver payloads to distant places. The MRSS must be able to function independently in a variety of settings. While performing other tasks, like training exercises or patrol responsibilities, these vessels can also be pre-positioned inside areas that are prone to natural disasters and can stay on station for extended periods of time.
• Space, weight, and power reserves should be standardised in MRSS designs specifically for the periodic embarkation of modular mission payloads and/or force packages. For maximum mission flexibility, a standard interface specification (e.g., deck loading, securing arrangements, couplings and connections, power, data, securing arrangements) is specified. The payload may be embarked and used from the ship if it complies with the interface requirements.
Vard Marine has a suite of proven designs for vessels with operational and performance capabilities needed by navies, coastguards, and other maritime security agencies around the world.
They are designed to the same military standards as surface combatants, and Vard Marine's approach is different to design vessels to high-quality commercial standards and fit them with payload configurations according to the range of needs required by its clients.
It has produced a wide variety of ships based on its Vard 9 Series, which includes marine research vessels, floating power plants, and icebreakers. The icebreakers and ice-capable ships are all about extremes. Their strength, their power, their missions and equipment – and above all the seas they operate in – are like nothing else on earth.