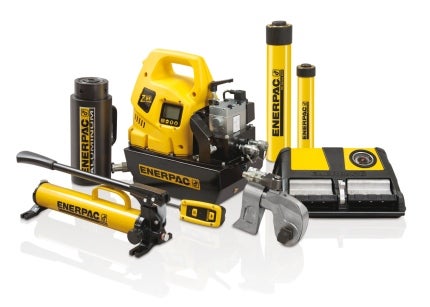 Enerpac is a designer and builder of nautical engineering and maintenance tools. Its equipment can provide significant energy efficiency compared with manual products. Whether you are working on land or in the dock, Enerpac has a wider range of tools than any other provider in its field. The tools it supplies improve safety and productivity for shipbuilders.
Shipbuilding products and hydraulic expertise
Enerpac has gained significant experience using hydraulic systems to carefully move and position large structures. This internationally-recognised experience has allowed Enerpac to play a leading role in the movement of some of the world's largest works of engineering.
The company produces a range of products that are available around the world, and supported by local industry. It uses its experience in electronics, engineering, hydraulics and steel construction to help you complete your projects safely and efficiently.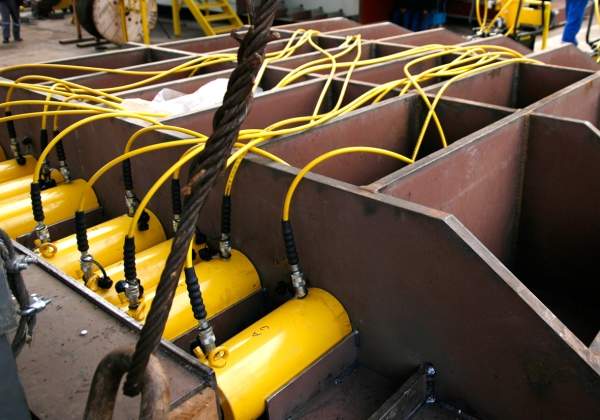 Enerpac hydraulic cylinders, jacks and rams for precise lifting, pushing and pulling applications to move and position structures during installation and assembly, outfitting and rigging.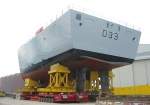 Shipbuilding: hydraulic lifting and load transfer. Prior to welding the blocks together to form the hull, the Enerpac synchronous lifting system lifts, weighs and positions the blocks.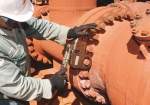 Enerpac bolting tools for controlled tightening and loosening: S and W‐Series rigid steel torque wrenches guarantee durability and maximum versatility in bolting applications in maintenance, repair and operation.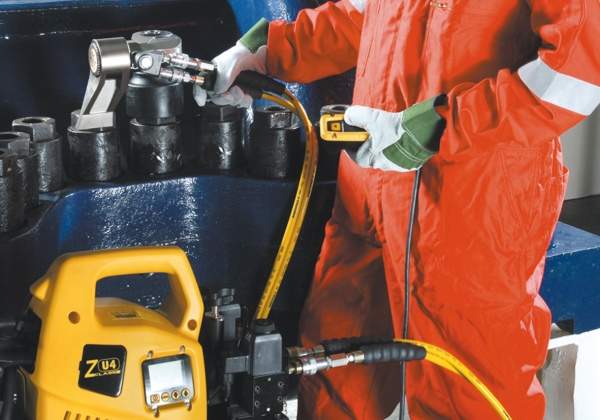 Enerpac offers a wide range of hydraulic torque wrench pumps, with electric or air motors to power single or double-­acting hydraulic torque wrenches.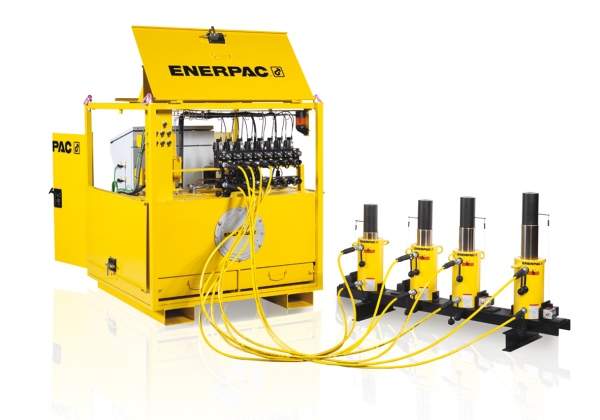 Enerpac's EVO-­Series multi-­functional synchronous lifting system monitors and manages lifting, lowering, stage lifting, weighing and centre of gravity (CoG) in alignment and load transfer procedures of non-­uniformally distributed heavy loads.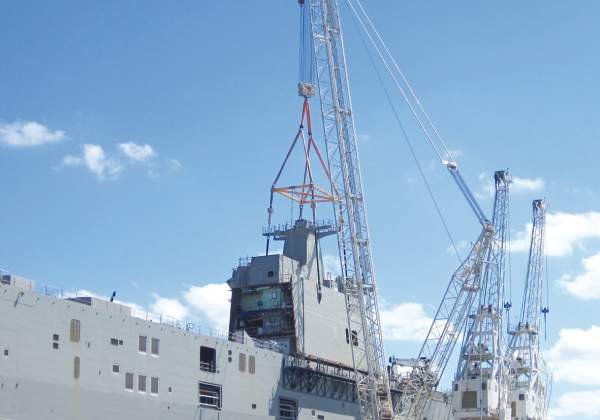 Enerpac SHS‐Series SyncHoist load positioning systems. Perfectly synchronised balance: ship module installation; accurate hoisting and positioning enhancing a crane's capability. Pre-programmed positioning, tilting and aligning with wireless remote control.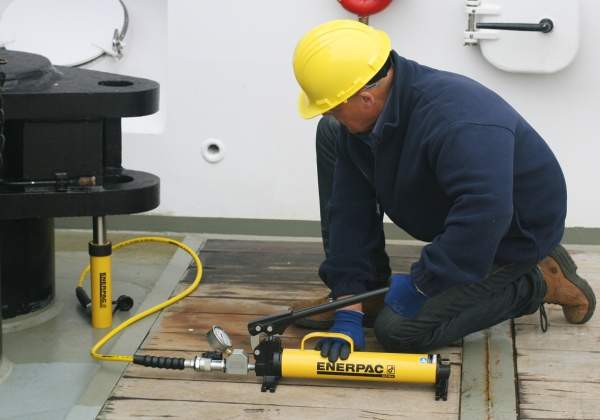 Enerpac cylinder-­pump sets are the optimum match of hydraulic cylinders, pumps, hoses, gauges and adaptors. The quickest way to start working right away with low height, hollow plunger and general-purpose cylinders.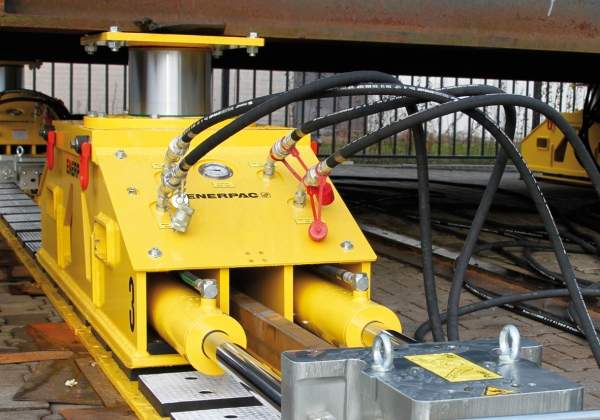 Heavy transport solutions and remote-controlled hydraulic actuation. Enerpac skidding systems consist of a series of skid-­shoes powered by hydraulic push-­pull cylinders, travelling over a pre-­constructed track.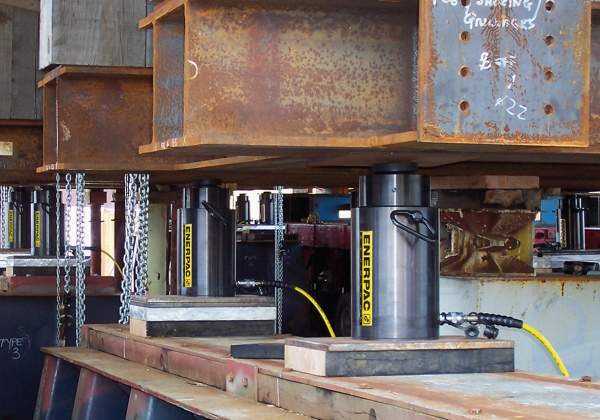 Hydraulic ship lifting with Enerpac RACL-­Series aluminium lock nut cylinders. The lock nut provides mechanical load holding for extended periods.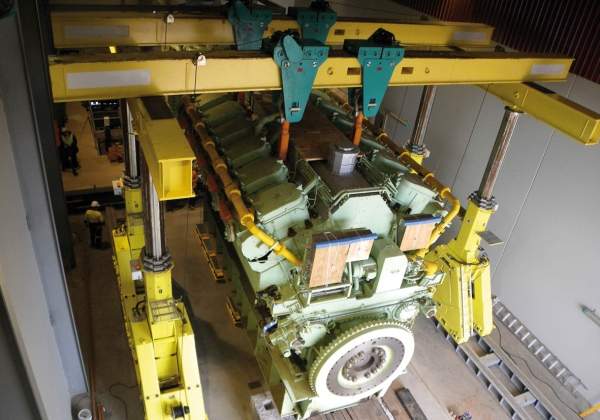 Enerpac hydraulic gantries for the most demanding lifting and rigging operations. Heavy lifting systems that offer control and stability, even in confined spaces.
Enerpac knows all about:
Heavy lifting
Hydraulic gantries
Incremental launching equipment
Jack-up systems
Levelling and weighing systems
Load positioning systems
Platform launching and lifting
Permanent hydraulic installations
Strand jack systems
Strand jack gantries
Skidding and stage lift systems
Synchronous lifting and hoisting
Self-propelled modular units (trailers)
Self-erecting towers
Subsea cylinders
Hydraulic cylinders, jacks, lifting products and systems
The company has an extensive selection of cylinders and lifting systems, which are supported and stocked by an international network of distributors.
The company can provide shipbuilding tools for:
Bending
Clamping or holding
Levelling
Lifting and jacking
Lowering
Pulling
Pushing
Stressing and tensioning
Testing
Welding
These can be used for hull fabrication and assembly, outfitting, rigging, load out and ship transport.
Enerpac also provides different sets of hydraulic cylinders and lifting systems:
High tonnage cylinders
Hollow plunger cylinders
Lock nut cylinders
Low height cylinders
Pull and spread cylinders
Rams and jacks
Stage lift cylinders
Steel and aluminium cylinders
Synchronous lifting, levelling, weighing, hoisting and load positioning systems
Shipbuilding bolting tools
If you require precise and effective force from bolting equipment, Enerpac can help. Its products will make your working environment a safer, more productive place. Enerpac's comprehensive bolting product line means that you can start and finish the job without having to look anywhere else for tools and accessories. It includes:
Bolting integrity software
Bolt tensioners
Controlled bolting
Flange alignment and maintenance tools
Flange spreaders
Joint assembly and separation tools
Multipliers
Nut cutters
Nut splitters
Pipeline joint integrity
Torque wrenches
Wrench and tensioning pumps
Hydraulic pumps and valves
Durability, reliability and safety are essential requirements in high-pressure hydraulic pumps, which is why Enerpac stocks a wide range of options. It has over a thousand different power unit configurations, so that you have the right pump, with the right force for the job.
Its range includes:
Air-driven pumps
Battery-driven pumps
Electric-driven pumps
Foot-pumps
Gas-powered pumps
Hand pumps
High-pressure hydraulic pumps and valves offer a lifetime warranty, meaning that you can focus on the job, rather than the tools. They also work well with Enerpac's hydraulic cylinders, tools and accessories, meaning you can get all of your equipment in one place.
Hydraulic tools for ship builders
Enerpac's range of dedicated hydraulic tools can fulfil a number of different applications. This flexibility means that you will find the tool to do your job. It also means that the most demanding tasks can be carried out safely and correctly.
Its hydraulic tools include:
Hydraulic and mechanical pullers
Hydraulic cutters
Lifting wedges
Machine lifts
Maintenance sets
Pipe benders
Punches
Spread cylinders
Ship maintenance and supplies for remote locations
Enerpac's distributors and service centres are spread around the world. They can help you make the most your products, no matter how remote your location is. By providing new products and maintenance, the company ensures that you can keep working.
It has over 150 sales specialists, and service and engineering support personnel in 17 international locations. This means that it is the obvious choice in the construction, energy, railroads, manufacturing, mining, metals transformation, oil and gas, power generation and shipbuilding industries.
Commitment to health and safety, security, environment and quality
Enerpac knows that the best way to build good relationships with its customers is by providing quality products, which let them focus on the job at hand. The company also maintains a commitment to the health, safety and security of its own employees, as well as the communities it conducts business with. Its entire manufacturing process, from design to delivery, is carried out in accordance with ISO 9001:2008 (quality management).