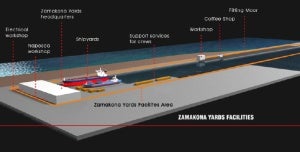 As part of our programme to improve our services for our customers, we are proud to inform you that work has commenced at our shipyard at Las Palmas de Gran Canaria, Repnaval (Zamakona Yards), increasing the capacity and tonnage or our slipways. Specifically, we are preparing our slipway Nº 4 to receive vessels of 120m length and 20m breadth with lightweight tonnages of 5,500t for flat bottomed vessels and 4,500t for keeled vessels. The work is expected to be completed in January 2014.
Interested readers can see the details of the project. We are confident that with this investment Repnaval will continue to be the shipyard of reference in the port of Las Palmas, Gran Canaria, expanding our capacity to offer quality services for the maintenance and repair of your vessels and those of other ship owners and operators.
Zamakona Yards is one of Spain's main shipbuilding and ship repair groups. With more than 40 years of experience in the industry both in the...