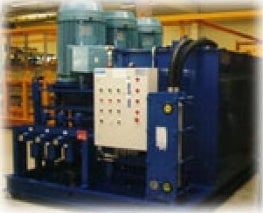 Ezra upgrade PSV for methanol and special chemical cargo features
Express deliveries of upgrade-packages has become a daily event at PG, as vessels are upgraded either for hydraulic agitation, or chemical cargo handling, to meet more demanding charterers and secure proper handling of payable cargo offshore. Ezra took a three-week delivery of a set of PG-SLA 125 twin-screw, low shear special cargopumps with a corresponding HPU and LCC to operate.
Major PG-Submix agitator retro-fit-deliveries performed by express!
As many as eight newbuild MMC 887 PSVs were recently delivered from Fujian Mawei SY / China to Tidewater Marine, and were retrofitted for heavy-duty mud agitation by PG. In total, 128 PG-Submix 60 / 80s, 8 HPUs and corresponding control systems were delivered within a two months period from ordering.
These are perfect projects for PG, since PG Automation, PG Construction and PG Hydraulics participate with significant deliveries to meet the very challenging delivery situation from the ship's owner. Most of them have already been already commissioned in Namibia and Singapore. A job very well done – dare we say!
PG Oil & Gas completes massive deliveries for ConocoPhilips and Statoil
PG Oil & Gas tripled its revenues during 2012, and shipped massive deliveries for Valemon to Samsung in Korea, and Eldfisk / Ekofisk Aker and Kværner in Norway during January and February 2013. Full string-test of pumps up to 1,300m³ an hour at full head, and numerous FATs were performed at PG Drammen 24/7 as the year started! Great notes were given from very pleased customers, for high quality products manufactured the highest specifications in the market place!