Comsys is a leading provider of reliable power quality systems for the maritime and offshore industries. Through improved power quality, we help our clients to improve the safety of their vessel and reduce the environmental impact of their operations.
We can assist in each stage of the process from design to installation, including surveys, commissioning and training of the crew. Using our wide knowledge and experience, we aid our clients in complying with current and future regulations, whilst at the same time improving their productivity, saving fuel and reducing the cost of their electrical power infrastructure.
Power and harmonics
Harmonics cause nuisance tripping, equipment failure, navigation errors and increased fuel consumption.
For these reasons, class notations set limits on harmonics. A ship or rig has a weak grid translating into a much more sensitive power system. Power disturbances affect operational safety and energy consumption. Older mitigation solutions generate relatively high power losses directly translating into high fuel consumption, managing to only solve the problem locally on individual equipment. Using Comsys' Active Dynamic Filters (ADF), the vessel can handle a large amount of variable loads compensated through central active filtering.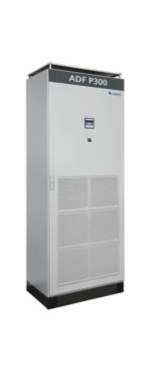 ADF P300 active filter.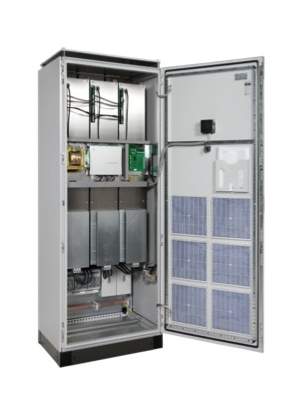 ADF P300.

Space-saving ADF P100 active filter.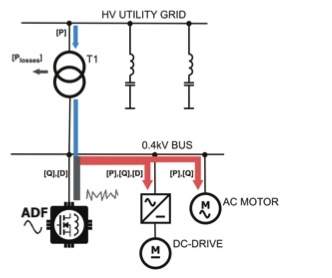 ADF installation.
Ensuring good power quality onboard the vessel secures a safer and more productive operation.
Active dynamic filters
The Comsys ADF is an active filter that can be placed anywhere on the main busbar. It will keep the THD level on the busbar within the class notation limits. This allows the rest of the system to be designed using only very reliable six-pulse VFD loads, saving size, weight and complexity. No heavy phase shifting transformers or unstable front end inverters are required onboard. By filtering the loads through the main busbar, all systems, including auxiliaries, are taken care of independently of each other.
The ADF active design can not be overloaded and allows remote monitoring and logging of the power quality status onboard.
Space-saving active filters
The ADF's footprint can be up to 75% smaller than an 18-pulse system or up to 40% smaller than an active front end system, saving considerable deck space, especially when electric propulsion is used.
Weight savings are also significant, especially compared with 18-pulse systems, as no transformer is required.
Power supply safety
Comsys offers its solutions in modular sections, enabling a high degree of adaptability, as well as availability. Our standard system design offers n+1, but can be greatly increased by applying several control units with automatic running master functionality. This means that if one master unit trips, the remaining systems will reconfigure with a new master.
Automatic resonance sensing is a unique feature used for marine applications, whereby the power grid's dynamics change dramatically based on the power supply and demand. If the ADF senses a resonance frequency, it adapts, thereby ceasing the escalation of any dangerous events.
Minimising power consumption
Comsys' ADF system is installed in shunt with the loads, and is sized to compensate only the disturbances, which make up around 15%-25% of the total power. The result is an overall power consumption that is up to 2.3% points lower than active front end drives or 18-pulse drives.
Adaptability and compliance
The user-friendly web server interface allows easy-to-understand parameterisation, while the unique self-diagnostic functions enable a very easy-to-commission system.
The ADF's active architecture enables it to adapt to changing loads, making it future-proof.
All systems offered by Comsys are designed for demanding marine conditions, and therefore fulfil marine and offshore standards.
Service and support
Comsys has more than 14 years of experience in power quality, producing active filters. We custom-make our services and systems for different types of installations and applications, and can provide a worldwide service through our network of representatives.