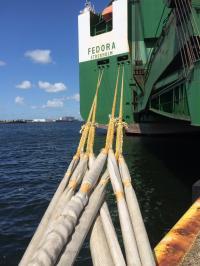 Lankhorst's 'Through Life, For Life' rope support is the theme of Lankhorst Ropes' booth at this year's SMM exhibition in Hamburg from the 6-9 September, in Hall A1, booth 506. Also featured on the Lankhorst booth will be the award winning A3 splice and Tipto Winchline ropes.
Lankhorst Ropes' Through Life, For Life service gives operators a portfolio of rope service life support and sustainability benefits unmatched in the industry. From development of a mooring plan to rope selection and management through predictive service-life rope testing and training, Lankhorst provides complete 'Through Life' rope service. Lankhorst's expertise on a variety of applications and knowledge of worldwide conditions offers operators longer rope service-life, easier handling and safe operation.
'For Life', Lankhorst is committed to Green manufacture which combined with a longer-lasting rope service life, and ultimately rope recycling, translates into levels of sustainability that make a significant contribution to operators environmental policies. "Lankhorst Ropes' 'Through Life, For Life' service combines sustainability and good business sense to offer our customers longer lasting, environmentally friendly high performance ropes" says Hans Pieter Baaij, commercial director, Lankhorst Ropes.
Lankhorst Ropes' online rope certificate service gives customers instant access to the information they require rather than relying on paper copies or contacting customer services. Certificates are often lost during filing or transportation but maybe required immediately to trace and identify ropes. By providing direct access to rope certificates, Lankhorst customers are able to instantaneously check all of their ropes' details including construction, diameter, length, minimum breaking load and end termination.
Lankhorst Ropes' Tipto Winchline and A3 splice have each received 'Innovation in Ship Operations' awards. Tipto Winchline reduces the threat to crew from mooring rope snap back. Using its expertise in yarn production and rope construction, Lankhorst Ropes has developed the Tipto Winchline to provide a safer mooring rope.
Based on Lankhorst's Tipto yarn, the seven strand rope features a Tipto over-braided jacket to protect the rope from wear and tear during handling. Importantly, the jacket fulfils a vital safety function. If the rope breaks due to excessive load, the braided cover acts as a net, capturing the two parted ends. The jacket absorbs the generated energy from the broken rope, and thus reduces the effects of snap back.
The A3 splice sets the standard for ease of rope handling and splice strength. With the trend towards fewer crew, the A3 splice is lighter, stronger and smaller than traditional splices. It has 100% efficiency, which means there is no loss in rope strength due to splicing. The A3 splice also makes rope handling easier during mooring and towing operations; there is no doubling of the rope or splice stiffness in the mainline commonly experienced with traditional rope splicing.
For more information on Lankhorst maritime ropes or to arrange a meeting at SMM 2016, contact Lankhorst Ropes.