Nor Crane & Winch Group is one of the market leaders in pulling and lifting equipment for the offshore and marine market. Nor Crane & Winch is a specialist provider for electrical and hydraulic deck machinery of the offshore and marine industry.
A strategic business setup enables Nor Crane & Winch to stay competitive and offer a reliable support to clients. Capabilities include:
Norway: engineering, control components
UAE: sales, project management, service and contracts
Singapore: testing, commissioning and service
China: manufacturing, assembly, testing and final completion
India: sales office
Brazil: sales office
Marine and offshore winches
Nor Crane & Winch specialises in tailor-made equipment and can provide complete deck machinery packages including electro hydraulic / PTO / electrical drives linked up to main engine diesel electrical drives. All winches are designed to international class rules and can be delivered to full class certificates. Complete packages include, but are not limited to, the following equipment.
Harbour tugs: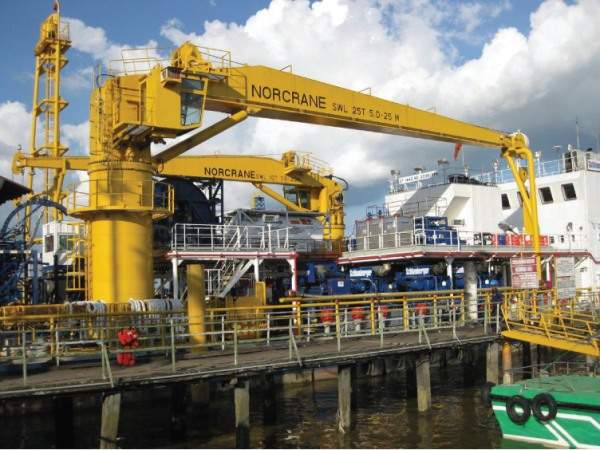 Offshore crane.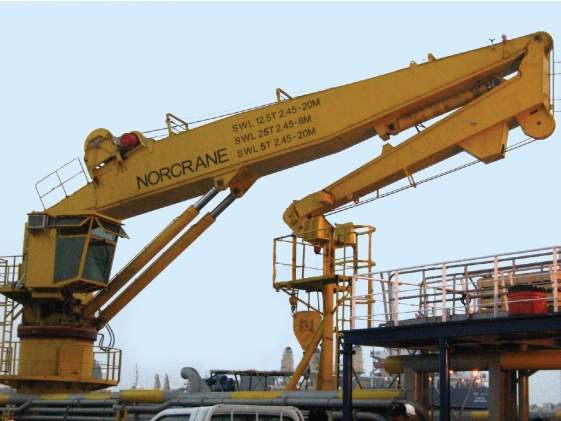 Offshore knuckle crane.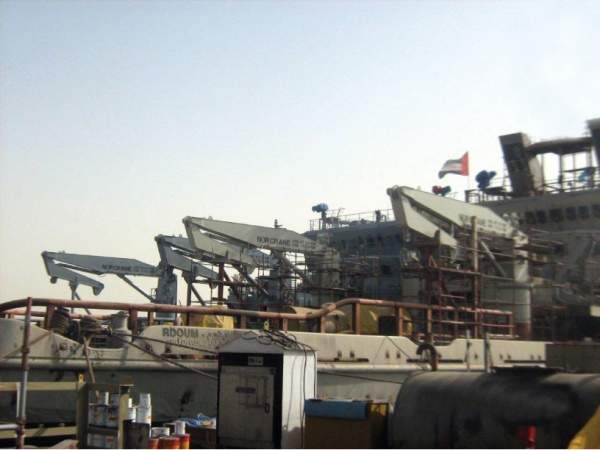 Cranes under installation.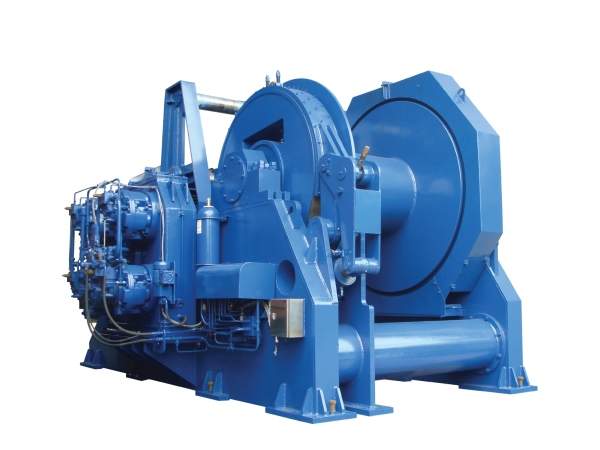 Anchor handling / towing winch.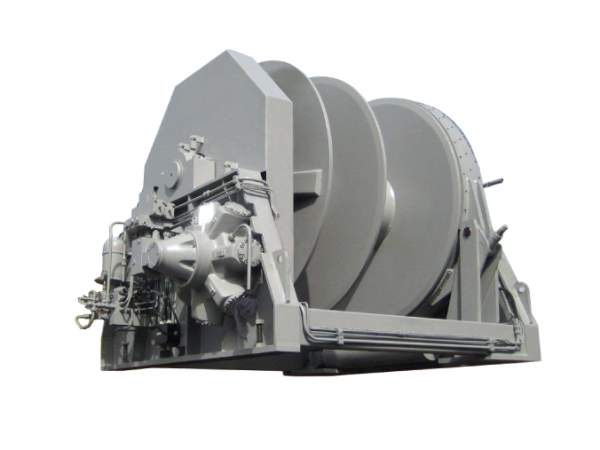 Towing winch.
Forward or aft towing winch
Anchor windlass (can be combined with Forward Towing Winch)
Towing hooks
Towing winches (can be delivered for full escort service inclusive render / recovering based on each client's requirements)
Winches (can be delivered both with electrical or hydraulic drives)
Platform supply vessels:
Anchor windlass (can be combined with mooring drum)
Capstan
Tuggers
Sternrollers
Service crane (can be delivered with both electrical and hydraulic drives)
Anchor handling / towing / construction vessels:
Anchor windlass (can be combined either with mooring or towing drum)
Capstans
Tuggers
Single or double drum towing or anchor handler winches up to 300t pull – 450t brake holding
Sharjaw / towing pins
Sternrollers
Provision cranes both deck and rail mounted
Offshore cranes
Accommodation / workbarges:
Mooring systems including sheaves and fairleaders
Service cranes
Bulk carriers:
Mooring systems
Cargo cranes
Hose handling cranes / provision cranes
Marine and offshore cranes
All cranes are designed according to international class rules and can be delivered with full class certificates. All offshore cranes can be delivered fully complaint with the API 2 Specification.
Provision cranes / hose handling cranes:
Fixed, telescopic and knuckle jib up to 10t @ 20m radius, hose handling up to 15t @ 20m radius (can be delivered fully prepared for zoned area). Fixed jib type.
Cargo cranes:
27t @ 30m radius, standard bulk configuration
Marine service cranes:
Can be delivered with all three configurations for fixed, knuckle or telescopic jibs upto 30t @ 25m radius
Offshore cranes:
Knuckle or fixed jib configurations up to 50t, up to 20m radius (can be delivered with full heave compensations)
Marine and offshore services / supply and services
Nor Crane Marine & Offshore Services is offers clients unparalleled expertise and experience within mechanical, hydraulic and electric design, troubleshooting, installations, recondition, testing and supply of components.
Oil and gas:
Specialises in hydraulics for offshore – onshore rigs and rig equipment. Recondition and manufacture of hydraulic drives and power packs for skidding systems, jacking systems, top drives, and others. Fully experienced to undertake turnkey contracts for piping installations, hydro testing, chemical cleaning, and hot oil flushing for pre-commissioning of all rig equipments.
Marine:
Performs full survey, inspection and troubleshooting for all third-party equipment such as cargo / marine cranes, windlasses and mooring systems and davits, inspection for ballast controls, hydraulic and electrical systems, hydraulic steering gears / hydraulic for hatch covers, and others. Also offers service and maintenance agreements that cover full assessment on all pulling and lifting equipment onboard.
Hydraulic and electric systems:
Design and manufacture of hydraulic power packs, hydraulic controls, starter cabinets, electrical controls
Reconditioning:
Overhaul and testing of hydraulic motors, cylinders, valves and pumps
Site services:
Troubleshooting, surveys and inspection of all hydraulic equipment. Installation, start-up and commissioning of hydraulic equipment such as winches, cranes, powerpacks, cylinders, and others.
Trading:
With access to its parent company's procurement system, Nor Crane Marine & Offshore Services has a unique sourcing opportunity for components direct from makers such as Kawasaki, Hagglund, Oil Control, Danfoss and other major component manufacturers
Machining and fabrication:
Nor Crane Marine & Offshore Services is capable of undertaking mechanical structure fabrication work with its own long term experienced in-house fabrication managers
Pre-commissioning services for process systems
Nor Crane Marine & Offshore Services has years of experience on pre-commissioning servicing both for onshore and offshore process plants (refineries, onboard / offshore production as FPSOs / FSOs, pipe and umbilical testing).
Hydrotesting
Chemical cleaning
Hot oil flushing
Pigging / gauging
Bolt tension / torqing
Video inspection
Nitrogen helium leak detection (with cooperating partners)
Umbilical testing, electrical / hydraulic