Electro-Med Marine Systems
Sales, Installation and Repair of Marine Electronics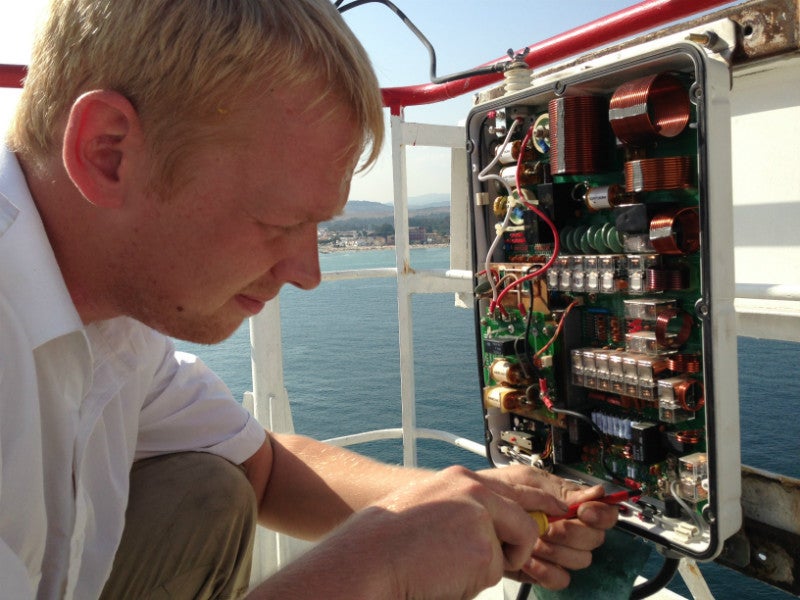 Electromed is a small company specialising in the sales, installation and repair of marine navigation and communication equipment. We have been servicing shipping in Spain, Gibraltar, Morocco and beyond for the past 30 years and have a vast history of service experience to draw upon.
We are a small team and officially represent a small portfolio of manufacturers, including Furuno, Kelvin Hughes, Sperry Marine, Tokyo Keiki, Navico, Stratos Global and Transas Marine.
Marine navigation and communication equipment
Our engineers are very experienced and our company ethos ensures that they are constantly attending training and refresher courses with the above manufacturers.  Our second priority after training is to ensure that we stock a huge amount of spare parts also for the manufacturers that we represent. This ensures that we maintain a very high proportion of first time fix attendences.
Satellite communications airtime
We are a large provider of economically priced airtime for all satellite communications for equipment such as Inmarsat and Iridium.
Satellite communications equipment
Electromed provides hardware for any type of satellite communications at a very competitive rate for sales and installation. We have carried out many installations, including voyage data recorders, radars, gyrocompasses, auto pilots, radio and satellite communications equipment. Some of these have been in shipyards around the world while others have been when the ships are at anchorage or underway on passage.
The majority of our installations are requested and paid for by the manufacturers that we support. This is because they know they will receive quality installation at a very competitive rate.
Repair of marine equipment
With offices in Gibraltar, Algeciras and Barcelona, Electromed can ensure we provide a large area of operations across the whole of mainland Spain, the south of France, Gibraltar and Morocco.
Our pricing is carefully monitored to provide a fair cost for successfully repairing your equipment. We also offer travel prices at an extremely competitive rate, ensuring that we can provide an alternative to locally-based companies who all too often do not achieve a first time fix.
We strive to provide a timely response, quality of response, positive results and value for money for all of our customers.
Electro-Med Marine Systems Images
Electro-Med Gibraltar Office
Electro-Med Algeciras
Avenida del Burgo 104,
Santa Margarita
La Linea de la Concepcion
11300
Cadiz
Spain
Electro-Med Barcelona
Passeo del Collet 4 ESC A 3-2
Castelldefels
Barcelona
08860
A Coruna
Spain
Electro-Med Liverpool
26 Woodvale Court
Banks
Southport
Liverpool
PR9 8FT
Merseyside
England