Marinejobs.co.nz is a recruitment service provider catering for the marine sector, operating mainly in New Zealand but enjoying considerable exposure and success overseas as well. From land-based positions to seafaring work, we make placements across the full breadth of the marine sector. Our business continues to grow through an expanding network of contacts and the word-of-mouth of happy customers.
Marine jobs
The wide range of professions we focus on includes:
Boat builders (wooden, aluminium and steel)
Shipwrights and cabinet makers
Interior and fit-out / systems specialists
Welders and fabricators
Fairers and painters
Naval architects and design / CAD draughting staff
Marine technicians
Marine engineers
Marine electricians
Workshop staff
Riggers
Composites specialists (construction and design)
Seafarers and offshore crew
Sales, service management, financial and administrative personnel
Marine industry recruitment
Marinejobs.co.nz assists skilled individuals into appropriate jobs in the marine industry, with a service geared specifically to fulfil customer requirements.

New Zealand's marine sector is a key global player in terms of the range and quality of its vessels constructed for local and international customers.

New Zealand boat builders, sailors and crew will be found in marine sectors all over the world.

Whether driving a CAD design programme or working down in the engine room, Marinejobs.co.nz places skilled professionals in industry positions.

We find the right role to match your marine trade skills.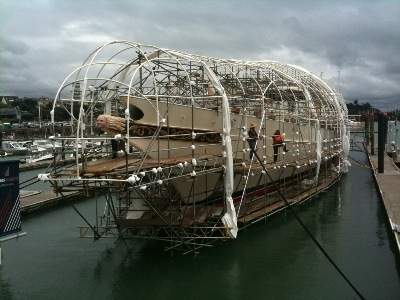 Athena, once the world's largest private sailing yacht, being prepared for her first full respray in Auckland.
We receive job specifications from client companies, and review our extensive database of personnel to find a fit, or extend the search through dedicated online advertising. All shortlisted candidates are interviewed, and if successful will be introduced to the company for closer consideration, supported by a detailed profile. Career backgrounds will be checked thoroughly and verbal references solicited in order to ensure the right match of skills and personality to client needs.
Everything we do is on a 'no win-no fee' basis, so it costs an employer absolutely nothing to give our service a try. Fees are all-inclusive and come with a simple 'no quibble' guarantee.
Marine industry candidates
We are choosy about who we work with, and openness, integrity and honesty are at the heart of our operations. In a relatively small industry, our reputation is inextricably linked to the quality of our candidates.
Overseas applicants
If a candidate is inbound to New Zealand from overseas, we strive for as much preparation as possible ahead of arrival. This way we can make the best of the time available on the ground and help to steer clients and candidates through what can appear to be a daunting process.
With an ever-expanding global network of highly-skilled and experienced professionals, Marinejobs.co.nz is very competitive in the recruitment sector and possibly unique in the world of marine recruitment. Call Rob Everall today to find out more.