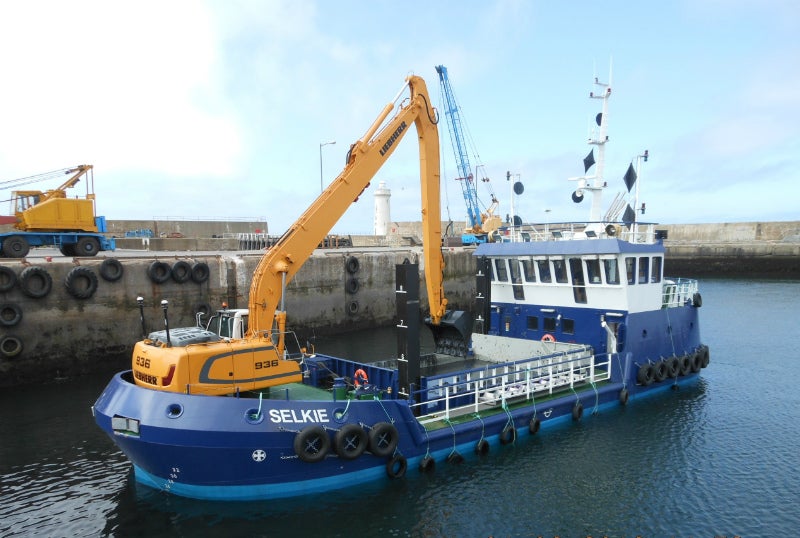 Moray Council were pleased to announce the delivery and acceptance of a new 25.7m Dredger, MV 'Selkie', in May 2016. The vessel was built in new facilities at Buckie in the North-East of Scotland, by Macduff Shipyards, having been put out to EU tender for both the design and the build process. Macduff Ship Design was successful in its bid for the design, while Macduff Shipyards won the build contract.
The vessel is unique in its design to cope with the challenges of dredging the small harbours on the Moray coast, many of which have narrow entrances. The dredger was designed with this in mind, having a relatively narrow beam of 8.20m and moulded depth of 3.40m. The vessel is fitted with a Leibherr 936 excavator unit built to a marine specification and mounted on deck with a capability of dredging up to 8m below the waterline.
As well as the excavator unit, the vessel is fitted with two spud-legs for maintaining position in the harbour, which are controlled by two 10T spud-leg winches with both local and wheelhouse controls. Other deck equipment includes two capstans and an anchor windlass.
The hopper itself can hold up to 147m³ of spoil at a maximum specific gravity of 1.80. Finning supplied two CAT C18 Acert engines, each 479bhp at 1,800RPM coupled to two Twin Disc MGX – 516 gearboxes, and two auxiliary engines – C4.4 at 51kW. Propulsion systems were supplied by Kort Propulsion, with 1,500mm propellers and a KT 150 bow thruster. Steering gear was supplied by Wills Ridley.
The vessel, classed by the MCA, is designed to accommodate a crew of three with a galley and messing facilities, three single cabins, a WC and a laundry.
'Selkie', named by primary school students after a mythological Scottish creature, has already carried out a number of successful dredging operations in her short time in service, part-dredging both Buckie and Burghead harbours. This has helped the crew to familiarise themselves with the operation of the vessel, as well as to prove her capability. As well as dredging harbours within the local authority, the council also hopes to gain contracts for dredging operations in other harbours around Scotland.
Macduff Ship Design provides naval architecture and marine consultancy services for commercial and fishing vessels. 
Macduff Ship Design completed work on the 90ft Atlantic Titan fishing vessel, which was delivered to Canada.