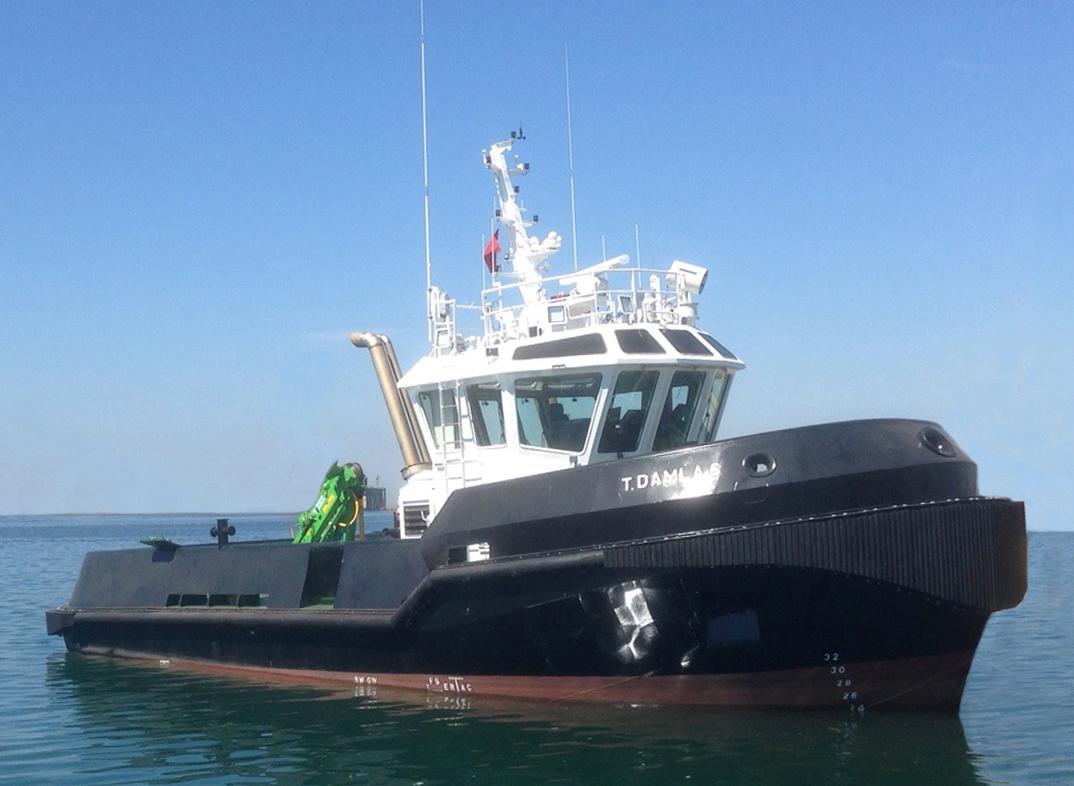 The first half of 2016 has been busy for Macduff Ship Design, with several new and ongoing projects on the drawing board as well as setting up the new survey division of the business, named Macduff Marine Surveyors. The company has also taken on new technical staff, enhancing the office dynamic and adding capability.
Relationships with existing clients also continue to strengthen, with several vessels currently in build to complete a large order of vessels built by Turkish Shipyard Tor Marine for the Saudi Sea Port Authority. These vessels have included three further 30m tugs, a dive vessel, a garbage vessel and three pilot vessels.
We are also pleased to announce a new contract for two 27.5m pilot vessels being built in Turkey, also by Tor Marine, with tank testing recently having been completed at the Wolfson Unit in Southampton. This was carried out in conjunction with the owners in order to optimise speed / powering and seakeeping abilities.
The vessel performed adequately in tests and small design modifications were made to improve her performance further. The build is now well underway in Turkey. Macduff Ship Design was responsible for providing a full set of standard design and outfitting drawings, as well as construction drawings and stability information. Detailed steel kitting information was sub-contracted to Submarine, another Turkish company that works closely with Tor Marine, before being checked by MSD.
Designed for a maximum complement of ten crew and four pilots, the 27.5m pilot vessel will be capable of maintaining station for a minimum of seven days in all weather conditions, whilst also being able to keep up a speed of 14.5kn at 80% MCR.
Macduff Ship Design has also enjoyed working with another Turkish shipyard, RMK Marine, on a series of craft encompassing two 19m tugs, two 15m service boats and five 10m mooring vessels. These orders have helped Macduff's growing collaboration with shipyards around the world and the vessels have now been successfully handed over to their new owners.
Macduff Shipyard number 673 'Venture III', for which structural information and modelling to DNV class approval along with hull and preliminary stability was completed by Macduff Ship Design, has arrived in Macduff for machinery and final interior outfitting. Stability information will also be completed by Macduff Ship Design when the outfit is complete.
The hull was kitted and built at Finomar Shipyard in Szczecin, Poland before being transported by tug to Macduff. At 30m in length, the vessel boasts a fish room capacity of 642 boxes and 74 fish bins and a fuel capacity of 99,000l.
Macduff Ship Design provides naval architecture and marine consultancy services for commercial and fishing vessels. 
Macduff Ship Design completed work on the 90ft Atlantic Titan fishing vessel, which was delivered to Canada.