Anglo Belgian Corporation Awarded Contract for the Supply of Two Dual Fuel Engines for New DEME dredger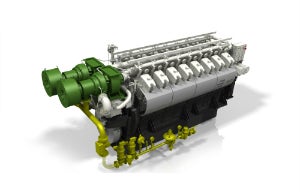 Anglo Belgian Corporation has announced the sale of two 16VDZD dual fuel engines that will power a new build vessel for Belgian dredging, environmental and marine engineering group DEME.
This agreement was officialised with the Dutch shipyard Royal IHC.
This contract confirms Anglo Belgian Corporation's know-how in the development and production of advanced propulsion solutions for the maritime industry. The commissioning of the dredger 'Minerva' is scheduled for late 2016, making it the first dredging vessel that will be equipped with dual fuel engines, in addition to DEME's other trailing suction hopper dredger 'Scheldt River' that will be built and put into service around the same time.
Both dual fuel engines run on diesel (MDO) and liquefied natural gas (LNG) to meet both ecological (stricter emission standards) and economic challenges (fluctuating oil prices) to strengthen the global competitiveness of DEME. Each of the dual fuel engines will develop 2,400kW at 900rpm, and meet the stringent IMO Tier 3 emissions standards.
These engines will independently meet these standards without using after-treatment systems, such as SCR or oxidation catalysts.
The medium speed V-engine belongs to the DZ family, and provides the perfect balance between performance and investment.
Anglo Belgian Corporation area sales manager Jean-Pierre Props said: "We have many years of expertise in the development and production of engines designed for ships that are to be used worldwide. However, it's the first time that we will supply dual fuel engines for the dredging industry. We are therefore delighted about this new mission."
DEME head of new building and conversion Jan Gabriel said: "We had already heard a lot about Anglo Belgian Corporation but had never worked together until now. During our discussions it was their Anglo Belgian Corporation technical knowledge and expertise that became apparent.
"The two 16VDZD engines fit perfectly into the concept of the trailing suction hopper dredger 'Minerva' in terms of power, size, and in particular that they are available in dual fuel execution. In addition, the low maintenance costs played an important role in the choice of ABC. We look forward to a constructive cooperation."
Royal IHC Category Manager Peter Bickel said: "Royal IHC is focused on the continuous development of design and construction activities for the specialist maritime sector. It is the global market leader for efficient dredging and mining vessels and equipment and a reliable supplier of innovative ships and supplies for offshore construction. It's from that perspective that the engines of Anglo Belgian Corporation are a perfect match."
The engines of Anglo Belgian Corporation are characterised by their reliability and longevity. In addition, they are also very maintenance and repair-friendly which results in an exceptionally low lifecycle cost.