ABC engines are synonymous with reliability and good performance under the hardest and most demanding conditions, while offering low fuel and lube oil consumption. As important as the performance is easy maintenance, ensuring long periods between overhauling and offering an engine with a low engine noise level for a user-friendly work space.
The characteristic medium speed below 1,000rpm and cleverly engineered distribution of the loads ensure a low mechanical deterioration and therefore guarantees a long life of the engine and its components. This ensures long periods of continuous operation. The best quality indicator of our work and engines are those clients who have trusted us for generations, installing our engines in their ships and who share this trust from father to son.
Medium-speed diesel gensets
Anglo Belgian Corporation supplies power solutions for electricity production. The development of the diesel engines has run parallel to the development of industry and electricity. ABC engines proved to be a prime mover; compact, simple, reliable and efficient. Gensets based on ABC engines are widely used in ships, power plants, industrial groups and emergency gensets.
Environmentally-friendly fuel-flexibility
ABC engines are designed to operate anywhere under the hardest conditions. Fuel flexibility and respect for the environment are two of the keywords associated with ABC. Our engines are available in executions able to work on HFO, dual fuel, vegetable oil or animal fats. The gas operation mode of the dual fuel engine brings the emissions to the lowest levels while operating using bio-fuels.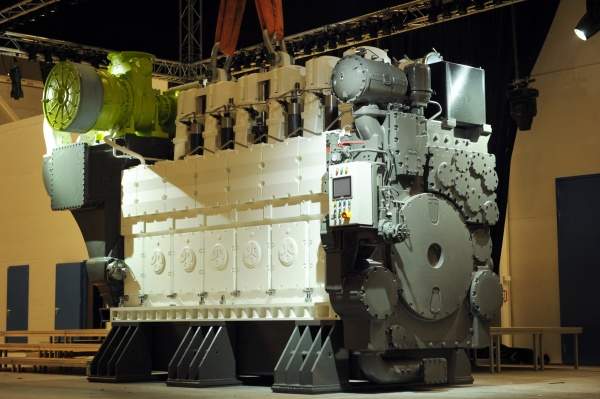 The new 6DL36 engine can use a wide array of fuels.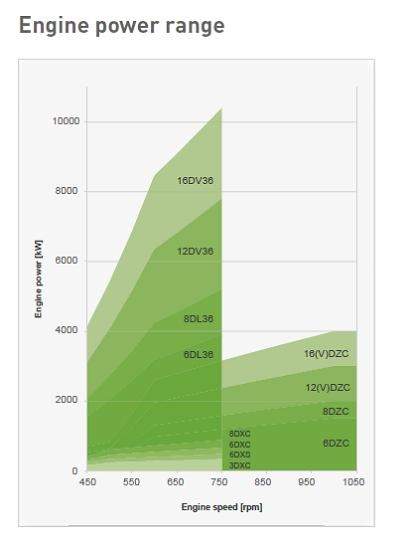 ABC engines can produce a lot of power below 1,000rpm.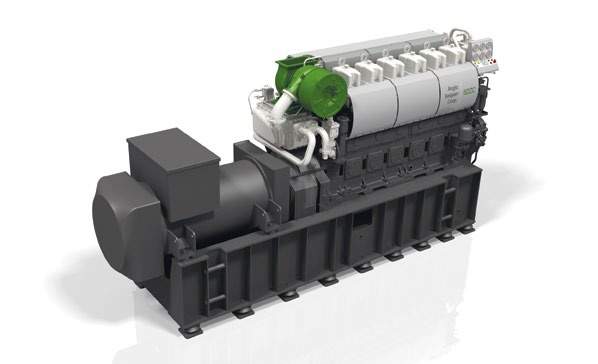 A dual fuel engine can run on diesel oil at any time.
From genset to turnkey solutions
The ABC expertise in engineering combined with a reliable network of partners allows us to deliver complete or partial turnkey solutions all around the world. The 32.5MW power plant in Brazzaville is an example of ABC turnkey engineering, 10VDZCx16VDZC operating on HFO bring the necessary power for the development and stability of the zone. ABC has developed many similar projects all around the world.
De-centralised power
As a continuous power source or as emergency units, in parallel with the grid or in island operation, ABC gensets bring power to those industrial or civil projects where the availability of power is a must. They are available as a containerised solution.
Re-powering locomotives
ABC engines are designed for heavy-duty operation under the most demanding conditions. The DZC engine is one of the most robust and reliable engines on the market. Under the hardest conditions and situations, the DZC family has earned the trust of those whose business depends on smooth performance, of diesel-electric or hydraulic locomotives.
Bio-fuel engines
ABC has always understood the importance of bio-fuels, that's why a large part of its research and development budget is invested for emission reduction and bio-fuel applications. The company is always looking for new challenges in alternative fuel sources.
Subject to some simple, but effective adaptations, the robust engines of ABC can run on almost all bio-fuels. The company is always looking for new challenges in alternative fuel sources. Subject to some simple, but effective adaptations, ABC's engines can run on:
Vegetable oils such as rapeseed, palm, colza, soya, and nuts
Animal grease such as pig, chicken and lamb tallow
Aggregates including used frying oil and byproducts of oil
In the dual-fuel version they can also use natural gas, LNG, bio-gas, landfill gas, and wood gas
Dual fuel engines
ABC dual fuel engines are specially modified diesel engines able to run using gas with a small amount of diesel as pilot fuel. Furthermore, the dual fuel design still allows operation of the engine using 100% diesel when gas supply is not readily available.
ABC dual fuel engines are able to operate using natural gas, LNG, landfill gas and other alternative gases. ABC dual fuel engines have worked successfully as de-centralised energy generation units around the world. Now, with special certification of Bureau Veritas, the dual fuel engines take on a very important role in maritime propulsion using LNG, especially in those ships operating close to regasification stations and in LNG tankers.
Service and training
Anglo Belgian Corporation operates throughout the world with branches in more than 70 countries. These divisions provide on-site commissioning, installation works, repairs and preventive maintenance and advice for ABC engines 24/7. ABC's large-scale stock of spare parts ensures that components can be sent within hours to any location in the world. In addition to this service, local service stations provide the fastest delivery with their individual substantial stock of spares and consumables.
ABC Academy
The service department offers tailored training programmes for clients and new partners, according to specific requirements, and can take place at the plant in Ghent or anywhere else in the world. ABC training courses are taught by veteran and experienced technicians who will be glad to share their know-how and enthusiasm for ABC engines.