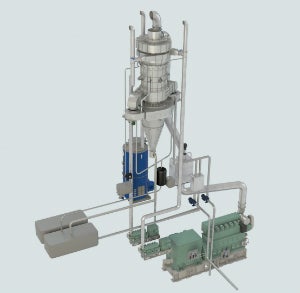 Huanghai Shipbuilding Company has awarded a contract to Clean Marine for the supply of exhaust gas cleaning systems (EGCS) on two reefer / fishing support vessels, which are currently under construction.
The contract also includes an option for delivery of additional EGCS on two identical sister vessels.
The vessels are owned by EF Transport (Malta), whose fishing fleet is primarily engaged in the North-East Atlantic, and is therefore highly exposed to the current IMO legislation, which calls for a maximum 0.1% sulphur level in air emissions in emission control areas (ECA).
The installation of Clean Marine EGCS will enable the new reefers to comply with the existing and future emissions regulation without switching to more expensive fuels.
With an EGCS installed, the vessels can burn cheap and readily available heavy fuel oil instead of marine gas oil. Operating costs will stay low and there is no need for complex and risky fuel-switching. From 2020, the global emission level must not exceed 0.5%, which also makes EGCS an attractive solution for vessels trading mainly outside the ECA.
The Clean Marine system supplied to Huanghai Shipbuilding is a 'Multistream' scrubber designed to clean 30,000 kg of exhaust per hour. The scrubber will remove both sulphur oxides (SOx) and particulate matter from the emissions from one main engine and two auxiliary engines. The system is a hybrid type which can operate seamlessly in both open loop and in closed loop (zero discharge mode).
Installation of the EGCS is scheduled to take place in 2016.
Clean Marine's CEO Nils Høy-Petersen says: "Clean Marine has again proven our technically superior and commercially competitive product. These contracts confirm the growing market demand for Clean Marine's Allstream EGCS.
"We are very pleased to be working closely with Huanghai Shipbuilding to deliver a cost-effective solution to help the owner comply with existing and pending emissions regulations."
Clean Marine offers a proven, futureproof EGCS which enables vessels to trade in all waters and ports well within the IMO and local regulations. The system's integrated fan and gas recirculation technology allows the one EGCS unit to simultaneously serve all combustion units, including the boilers. This 'Allstream' feature is valuable for vessels with many exhaust sources.
Clean Marine is pleased to announce our participation at Nor-shipping in Oslo, Norway, from 30...