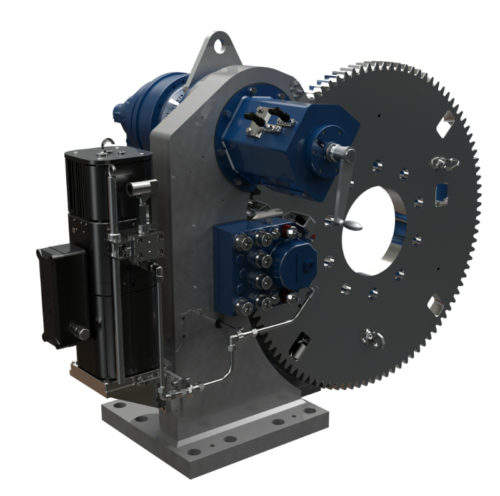 Dellner Brakes has announced the launch of its range of 'plug and play' electrohydraulic braking systems to the US market at the International Workboat Show in New Orleans, US.
Combining the very best of Swedish and German engineering from Dellner Brakes and sister company Pintsch Bubenzer, the new BUEL STL system provides a compact, self-contained solution for stopping, turning and locking ship propeller shafts on vessels of all sizes, as well as for industrial applications.
The system combines elements from Dellner Brakes' innovative stopping, turning and locking (STL) systems with Pintsch Bubenzer's patented BUEL electrohydraulic thruster / power package. Needing no external piping, the system is compact, easy to install and, with the BUEL using only half a litre of high-performance synthetic oil (compared to as much as 30 litres of hydraulic oil in standard hydraulic power units), are cheaper to run and environmentally-friendly too.
Dellner Brakes CEO Marcus Aberg said: "The new BUEL STL is the perfect solution for customers looking for a high performance, self-contained braking system that's simple to fit and operate. We are very much looking forward to showcasing this exciting new product at IWBS as part of our full portfolio of brakes and clutches for the marine industry."
At its simplest, the new system combines a Pintsch Bubenzer BUEL Model G with a powerful Dellner disc brake. Customers can then choose to add a Dellner locking device, available with hydraulic, electric or manual power. Those requiring a full STL system can then also add a Dellner electrical continuous turning device, which uses an electric gear wheel to move the brake disc and attached shaft to any position.
The stopping, turning and locking functions can be operated individually or as a fully automated system. There is also a wide range of options for the system interface, from manual hand operation to electronic control panels and even remote wireless operation through a smartphone or tablet.
Dellner Brakes' STL systems fit around the ship propeller shaft to enable faster directional changes with maximum maneuverability. They also help lower fuel consumption, reduce load on propulsion systems and make routine maintenance quicker, easier and safer. Securing the propeller prevents damage to the shaft and bearings if the vessel is drifting or buffeted by waves.
It also allows ROVs and divers to operate around the propeller blades in safety. When in harbour, using the turning function to rotate the propeller can also help to reduce marine growth on the blades and lubricated shaft bearings.