KTR's marine couplings are used worldwide and in various applications. These include main and auxiliary drives and every kind of deck equipment, such as ballast pumps, windlasses and high-load cranes.
Couplings for water jet drives
KTR offers couplings for water jet drives. Low draught, greater manoeuvrability, higher speed, reduced threat of injury, better machine protection (no damage to drives when getting dry), less vibration and smoother running are among the benefits of water jet drives.
Marine mechanical engineering coupling
KTR has a coupling solution suitable for multiple applications: the double-cardanic RADEX-N composite, a special type of the RADEX-N steel lamina coupling that has proven its importance in mechanical engineering. Its extremely stiff laminas made from stainless spring steel allow the coupling to compensate for high displacements with low restoring forces.
The RADEX-N composite coupling has a special feature: the CFK spacer. It bridges long distances between the driving shaft and impeller without any additional bearing.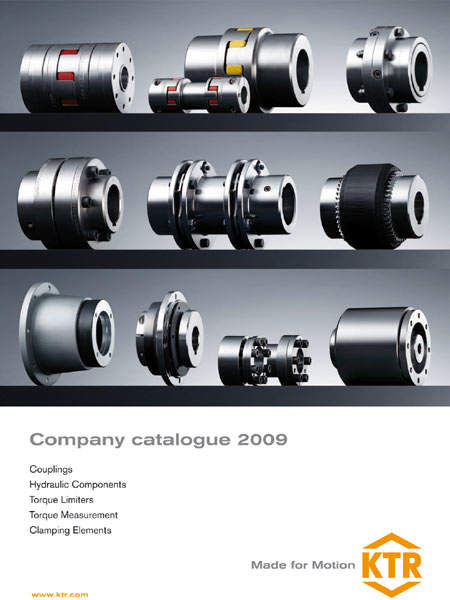 KTR's marine couplings are used worldwide in main and auxiliary drives and deck equipment.<br/><br/><br/><br/><br/><br/><br/><br/><br/><br/>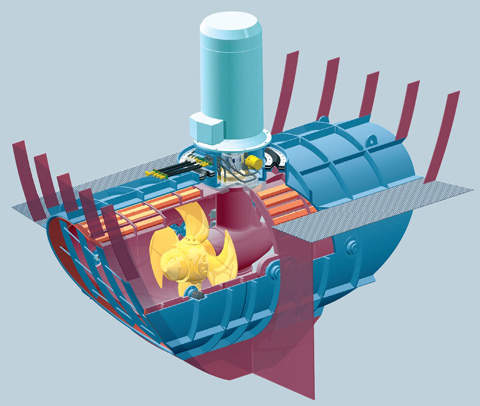 KTR can supply couplings for tunnel thrusters.<br/><br/><br/><br/><br/><br/><br/><br/><br/><br/>

KTR marine couplings can be used for water jet drives, pumps, compressors, generators, hydraulic components, winches and cranes, deck equipment, azimuth drives and bow thrusters.<br/><br/><br/><br/><br/><br/><br/><br/><br/><br/>

Manuals for KTR marine couplings are available on CD.
Navigating, manoeuvring and tranversing couplings for bow thrusters
The majority of freight and passenger vessels as well as an increasing number of yachts are equipped with bow thrusters or transverse rudders for better manoeuvrability in harbours.
Transverse rudders are usually driven by a complex combination of electric motors and angular gears. The ROTEX couplings' damping torsional vibrations have proven their worth on such applications.
Shock and vibration-dampening couplings
The ROTEX coupling is mounted accurately between motor and gearbox. Due to its short design it is quite easy to assemble and disassemble. It is also totally maintenance-free.
The ROTEX dampens all shocks and vibrations that result from the operation of the rudder. It also reliably compensates for axial, radial and angular displacements, which results in a longer service life for drive components.
Couplings for azimuth drives
For the propeller unit in the azimuth drive driven by an electric motor, the use of a ROTEX coupling in combination with a KTR-SI overload system is recommended. This combination protects the gearbox of the propeller unit against high-torque shocks and increases the service life of the drive system, especially if the steering unit collides with the seabed. An example of this is when the vessel is manoeuvring in shallow water.
Clamping sets
Using the CLAMPEX KTR 400 and 402 clamping sets will help keep your ship on course. These products have been developed, in particular, for high loads, high alternating torques and high torsional forces. The non-positive shaft-hub connection has been designed for large shaft diameters up to 400mm and is able to transmit much higher torques and axial forces than a positive-locking connection: on the sea up to 500.000Nm, on industrial applications on land even more.
Couplings for deck equipment
Loading containers, weighing the anchor, hoisting the draw nets, launching the lifeboats – wherever there is anything to move up or down on the sea, KTR couplings are involved. KTR's marine couplings are found not only in various driving systems, but also on every type of deck equipment.
Shaft coupling for winches and cranes
The torsionally flexible ROTEX shaft coupling is used on deck winches and cranes. It is not only important to transmit the torques powerfully, but also to use them as a safety limitation, for example if a log gets caught in the winch or a draw net is caught on the seabed.
Couplings for hydraulic components
The ROTEX is also used in numerous electric power packs in marine hydraulics. Our BoWex coupling is proven on hydraulic power packs in combination with IC-engines, using the BoWex curved-tooth gear coupling as a highly flexible BoWex-ELASTIC or torsionally rigid BoWex FLE-PA flange coupling. Both couplings can be plugged in axially and are therefore easy to disassemble.
Couplings for marine pumps
KTR offers a large range of couplings for pumps used on marine vessels, such as the torsionally flexible jaw couplings ROTEX and POLY-NORM or the torsionally stiff steel lamina couplings RADEX-N and RIGIFLEX.
Couplings for marine compressors
On marine compressors, couplings should be compact in design and characterised by a high resistance to media and temperature. Here the torsionally flexible ROTEX or the highly flexible flange coupling BoWex-ELASTIC are good options.
Fail-safe couplings for generators
Sometimes a separate power source is required on board ship. This is not a problem with a powerful marine generator and a fail-safe coupling. ROTEX and BoWex-ELASTIC are again first choice: compact, flexible, transmitting high torques and damping vibrations.