ESC Global Security
Maritime Anti-Piracy Security Services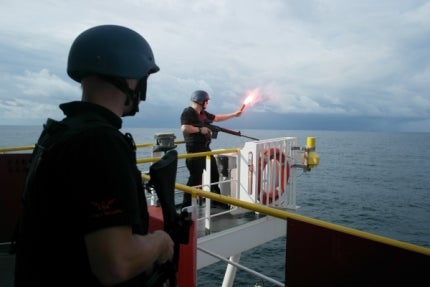 ESC Global Security is one of the world's leading private maritime security companies, providing high-standard and privately contracted security solutions for vessels sailing in high-risk areas around the Indian Ocean and Gulf of Guinea.
We offer state-of-the-art security risk management based on the ability to define risk, assess security weaknesses and opportunities, and to choose the best security option for each client. The result is a focused maritime security solution that saves the customer time and money, while efficiently delivering success.
Maritime and anti-piracy security in the Indian Ocean
ESC Global Security provides a fully customised maritime security service in correlation with the actual threat risk. The package of services includes a balanced mix of on-site training, operational security techniques and tactics, non-lethal counter-measures and armed response.
ESC Global Security is:
Ready to legally embark and dispatch security teams from all the major harbours in the Indian Ocean and Red Sea regions
Licensed by governments around the Indian Ocean
Supported by professional indemnity insurance up to $5m
Committed to using deterrence primarily and force only as a last resort
Always following and exceeding the latest best management practices (currently BMP4)
Composed of European ex-military and law enforcement personnel with extensive experience from NATO, EU and UN missions, as well as vessel protection operations
An ISO 28007 security company
Vessel preparation and security measures
Our principles of vessel preparation for security include:
Physical hardening of the vessel (according to best management practices)
Security drills conducted with the crew of the vessel
Training levels of security teams always meet high international standards
Our principles for the use of force include:
Early and active use of visible, non-lethal measures
Clearly defined warning procedures
Use of lethal force is always the last resort
Flexible security services for high risk areas
Here's what makes us different from other private maritime security companies:
Serving a wide range of clients, from small fleets up to the biggest ship management companies worldwide
Vetted by numerous respected flag-states, ship managers and P&I clubs, with a 100% success rate
First and currently the only company licensed to provide security services on Belgian flagged vessels
Currently serving approximately 35 vessels in each given month, enabling us to offer the most competitive rates without sacrificing quality
Highly trained and directly hired and vetted personnel, with extensive experience from NATO, EU, UN and ATALANTA missions
All teams have 24/7 access to medical consultancy service via radio
Thanks to the experienced staff in our operational centre, we can board our teams within 48hr notification time. Needless to say, our personnel are familiar with all flag-state regulations and can therefore send out the requested paperwork within hours of appointment
Fully licensed and legally procured weapons and security equipment, all duly licensed to ESC Global Security
ISO 9001:2008 certified, accredited member of SAMI and signatory of iCoC
Contractually engaged with MSS Global to undertake the conformance assurance assessment of the ESC management system against the demands of ISO 28000:2007 with ISO PAS 28007:2012 in early July
Fully insured and compatible with Bimco Guardcon contracts
In the maritime security market since early 2010, the company itself was established in 1992
ESC Global Security Images
Global Service
Soo 2
10414 Tallinn
Estonia
ESC Global Security Cyprus
36, Griva Digeni Avenue
Georgiou & Thelmas Paraskevaides Foundation, 1066 Nicosia
P.O Box 23829, CY 1686, Nicosia
Cyprus
cyprus@escgs.com
ESC Global Security Greece
ESC Global Security India
C/o. Sivagami Commercial Company Pvt. Ltd.
202 Anna Salai, Chennai-600 002
India
india@escgs.com
ESC Global Security Panama
Organización Institucional , S. A.
Calle Carlos M. Arias No. 23
Panama
panama@escgs.com