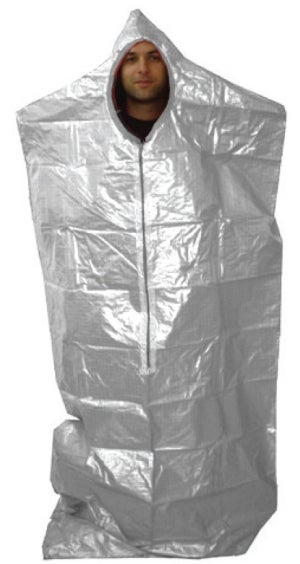 EVAL's Thermal Protective Aid (TPA) (product code 4843) is approved according to SOLAS LSA CODE MSC 81/70. It is designed for hypothermia protection during prolonged exposure in life rafts and rescue boats, keeps survivors warm and protected against rain, wind and cold. It is made of waterproof fabric with low thermal conductivity to reduce heat loss of convective and evaporate heat of those who use it. Shall be worn over lifejacket and can be easily removed when not needed. Optional it can be provided with sleeves.
Suit size: One-size-fits-all.
Temp. Range Protection: -30°C to +20°C
Storage conditions: Storage in dry place -30°C to +80°C
EVAL E.G. Vallianatos S.A. was founded in 1976 and operates in its privately owned premises under ISO – 9001: 2008 accredited while EVAL's products are certified by LLOYD'S, PRS, TUV and RINA.
EVAL S.A. is a European producer of SOLAS MED and offers a full range of safety equipment for leisure boats up to cruise vessels, meeting the latest standards (CE approvals, SOLAS L.S.A. CODE – CE 96/98 approvals, IMO MSC.200(80) & IMO MSC.207(81). Lifejackets, inflatable lifejackets, lifebuoy, lifejackets and lifebuoy lights, CE buoyancy aids etc
The company's product range exceeds the 6.000 codes of marine accessories, docking and anchoring equipment, standard, electrical and electronic equipment, hydraulic equipment, fishing equipment, water sports etc.
EVAL's export activities expand worldwide including the European Union, East and Central Europe, Russia, Middle East, United Arab Emirates, Africa, Canada, Asia and Australia.
EVAL has a strong client-oriented philosophy based on the company's best possible infrastructure, specialized personnel, active Research and Development department, vigorous quality control tests throughout the whole production line, effective client-service and 37 years of experience in the global market.
EVAL has paid attention to its quality control department that is well equipped and staffed with specialized engineers. Adherence to regulations is ensured as every single lot sample is thoroughly tested before entering the market and there is a continuous co-operation with the Notified Bodies.
EVAL produces high-quality products that are exported around the world.