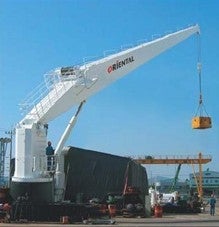 L.A. Maritime, a long-time provider of inspections and services on lifeboat and freefall davits, is pleased to offer inspection, maintenance, and repair of marine cranes manufactured by Oriental Precision & Engineering of Korea (OPCO) to customers worldwide.
L.A. Maritime president Dieter Liebich said: "OPCO is one of the world's leading manufacturers of marine cranes. Their cranes are found on offshore platforms, cargo vessels, and in shipyards. We are pleased to be among the small group of companies authorised to service and test this equipment."
L.A. Maritime's senior service engineers travelled to the OPCO training facility in Busan, Korea, where they gained hands-on experience and certification for:
Deck cranes
Hose handling cranes
Provision cranes
Knuckle cranes
Electric slewing cranes
Monorail cranes
Engine room cranes
Offshore cranes
Gantry cranes
Additionally approved by Lloyd's Register to survey, test, and service cranes and other lifting appliances, Mr Liebich added: "Inspection service is not complete without a load test. We also offer load tests of up to 500 tonnes with our own inspected and certified water bags and load cells."
All OPCO marine crane inspection services and multi-tonne load-testing are readily available in North America, where L.A. Maritime dispatches service engineers and equipment from their warehouse and workshops in Los Angeles, Houston, New Orleans, and Miami.
Since starting business operations in 2003, providing service on marine diesel engines, president Dieter Liebich, a master mariner and mechanical engineer, has grown the business to include inspections on lifeboats and davits, general ship repair, sale of spare parts and LSA equipment, crew training, and technical consultation.
If you are assessing the advantages of a ship monitoring system but are put off...