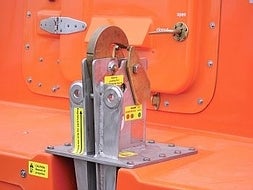 L.A. Maritime provides a variety of solutions to vessel owners and offshore operators who must replace ageing and potentially dangerous lifeboat release mechanisms before the mandatory change-out date of 1 July 2019.
L.A. Maritime president Dieter Liebich said: "We are the authorised service representative for many lifeboat manufacturing companies. Whether your lifeboats were made in Europe, Asia, or the United States, we have a cost effective solution for you."
If your hooks must be up-dated, release mechanisms can be brought up to current regulations via three different means:
Modify or retrofit the existing release mechanism to achieve mandatory standards set in SOLAS MSC.1/Circ.1392
Replace the old release hooks with the newest model from the same manufacturer
Install new hooks from a different manufacturer
Mr Liebich added: "L.A. Maritime recently completed re-hooking on four vessels where the most cost-effective solution was to replace the outdated hooks of one manufacturer with new hooks from a different maker. In fact, this procedure gave a better result than modifying the original hooks. The new hook was less costly for the customer also."
The consequences of failing to bring old release hooks up to modern standards could be severe: non-compliance will result in costly delays, penalties, or detentions.
L.A. Maritime provides offshore operators and shipping customers with the speediest possible service with operating service hubs in Houston, Miami, New York, New Orleans, Vancouver, Bahamas, and its headquarters Los Angeles, US.
If you are assessing the advantages of a ship monitoring system but are put off...