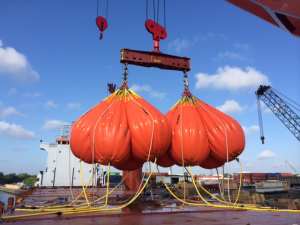 G.C. Maritime has performed multiple five-annual, 275t load tests on three heavy-lift marine cargo cranes on-board a ship that belongs to one of the biggest heavy-lift operators in the world.
Following cargo operations, service engineers conducted five tests on three Neuenfelder Fährdeich (TTS NMF) cranes using G.C. Maritime's own 35-tonne water bags, 150t load cells and calibrated flow meters. Two cranes were tested at 275 tonnes by simultaneously suspending five water bags, each filled to 27.5t, from the ends of the cranes' spreader bars.
The secondary hooks of these cranes were then tested at 40 tonnes each. The third crane was tested at 88 tonnes.G.C. Maritime general manager Hans Haneveld said: "This sort of operation requires close cooperation with the ship owner, the charterer and us. We inspected and prepared all equipment ahead of time to avoid unnecessary delays.
"Because of meticulous advance planning, G.C. Maritime was able to complete all five tests in just 18 hours, allowing the vessel to return to work six hours earlier than the superintendent's original projection.
"We inspected and prepared all equipment ahead of time to avoid unnecessary delays," Mr Haneveld added: "We minimize the customer's costs by creating the most efficient time frame, and because we supply a full staff, there is little involvement of the vessel's own crew."
G.C. Maritime provides offshore operators and shipping customers with the speediest possible service by operating service hubs in Los Angeles, Miami, New York, New Orleans, Vancouver, Nassau and its home base in Houston.
Since beginning business in 2003 by providing service on marine diesel engines, company president Dieter Liebich, a master mariner and mechanical engineer, has grown the business to include inspections on lifeboats and davits, general ship repair, sale of spare parts and LSA equipment, crew training, service on marine and offshore cranes, and technical consultation.
If you are assessing the advantages of a ship monitoring system but are put off...