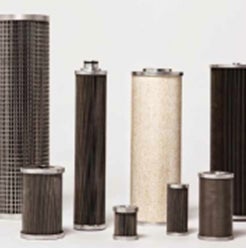 For more than 30 years, FIL-TEC-RIXEN GmbH of Germany has manufactured some of the highest-quality replacement filters for marine and industrial applications.
Now, L.A. Maritime, the only US representative of FIL-TEC-RIXEN, offers these filters to US customers.
With a full 12-month warranty, FIL-TEC filters from L.A. Maritime will keep all of your systems, whether fuel, oil, air, water, or gas, running trouble-free.
Project manager Sven Buck says, "Although the savings and shipping time on each filter is different, one thing is always the same – the customer's satisfaction when he replaces the OEM brands with FIL-TEC-RIXEN filters."
LA. Maritime and FIL-TEC-RIXEN offer custom filters, too. Your drawings or existing model will be faithfully reproduced to your specifications.
Extend the service life of your equipment with filtration accessories:
FIL-TEC's differential pressure indicator lets you know the accumulation of debris on your filter's surface.
FIL-TEC ultra-sonic cleaning units provide removal of the most stubborn dirt and debris.
Analogue or electronic control systems for automatic backwashing filters
Oil separator cartridges and accessories. If we don't have your size, we can make it.
Quality-tested pneumatic accessories, electrical parts, valves, seals, and more.
L.A. Maritime provides offshore operators, ship yards, and shipping customers with the speediest possible service by operating seven service hubs in North America: Houston, Miami, New York, New Orleans, Vancouver, Bahamas, and Los Angeles.
If you are assessing the advantages of a ship monitoring system but are put off...