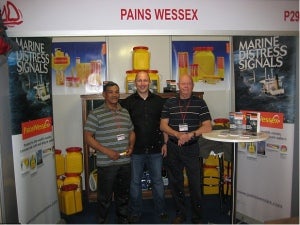 Pains Wessex marine distress signals have been exhibited at the Cape Town Boat Show, in South Africa.
Global Key Account and Strategic Projects Manager, Holger Muegge, visited South Africa and supported distributor Ronden on its stand at the three-day show.
Mr Muegge also held discussions about the marine distress signal sector in South Africa and market strategies.
Ronden's Kevin Price says there was a good level of interest in Pains Wessex products at the International Cape Town Boat Show, at the International Convention Centre.
"It was pretty much on a par with last year and is a reflection of the economy. We had a steady feed through and there is always interest there."
The market in South Africa is in a similar position, he says. "We are maintaining our sales position. The market is quite small and as new boat sales are under pressure, we rely on replacement sales rather than new sales.
"All things considered, we have been quite happy with the year we have had and are optimistic about next year."
Pains Wessex products are manufactured by Drew Marine Signal and Safety, the world's leading supplier of marine distress signals.
Drew Marine Signal and Safety has manufacturing sites in Bremerhaven, Germany and Pamplona, Spain. The business is headquartered in Havant, Hampshire, UK, and has offices in Melbourne, Australia.
The company is a specialist in manufacturing, marketing and selling marine distress signals that are technically complex to produce and it has a strong, established global network of more than 200 distributors, all experts in the sale of Class One pyrotechnics.
Pains Wessex products have been helping to save lives for more than 100 years and are specified by the world's navies, merchant fleets, fishing vessels, rescue services, airlines and leisure craft.
Drew Marine Signal and Safety is at the forefront of campaigning for improved global marine safety regulations to ensure the safety of mariners throughout the world.