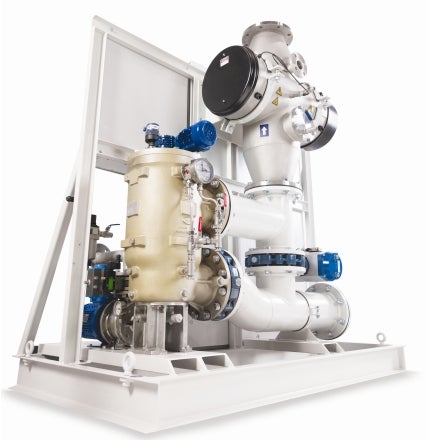 Hyde Marine, Inc. is a world leader in ballast water treatment systems (BWTS) designed to control the spread of non-indigenous aquatic organisms. Owners and operators committed to operating their vessels in a responsible, sustainable and economical way rely on the Hyde GUARDIAN Gold™ BWTS to provide an IMO type-approved solution to maximize their ship's environmental compliance. Hyde Marine is a pioneer in early ballast water research and continues its position as a technology leader and an integral part of Calgon Carbon UV Technologies.
Ballast water treatment systems
The Hyde GUARDIAN Gold BWTS is an IMO type-approved ballast water management solution offering the smallest footprint on the market for easy installation. This economical shipboard treatment inactivates aquatic organisms and controls sediment in ballast water as required by existing and pending regulations.
The Hyde GUARDIAN Gold BWTS combines auto-backflushing filtration followed by reliable ultraviolet (UV) disinfection in a robust, automatic, chemical free process. UV treatment performance is unaffected by water salinity or temperature and does not produce hazardous byproducts or increase corrosion risk.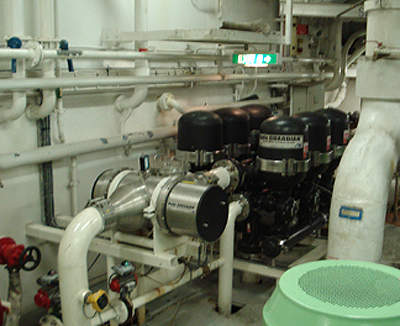 Hyde GUARDIAN retrofit on cruise vessel.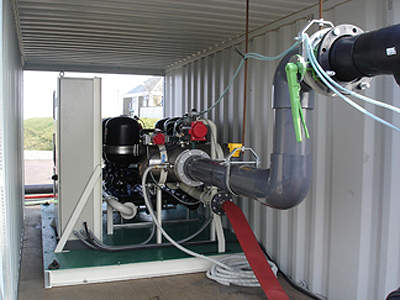 Hyde GUARDIAN portable system in ISO container.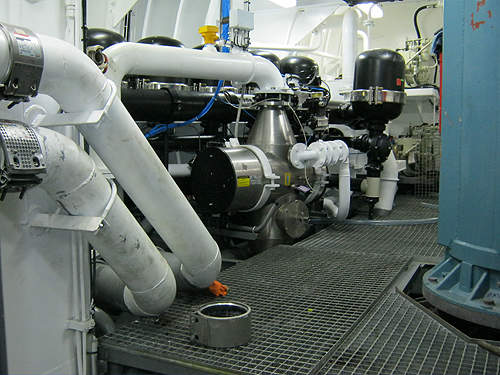 Hyde GUARDIAN installed on offshore service vessel.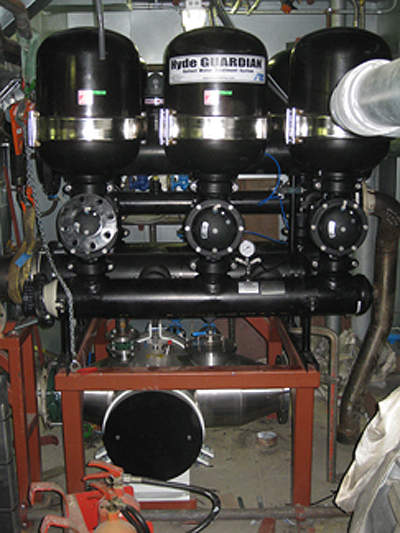 Hyde GUARDIAN installed in existing machinery space.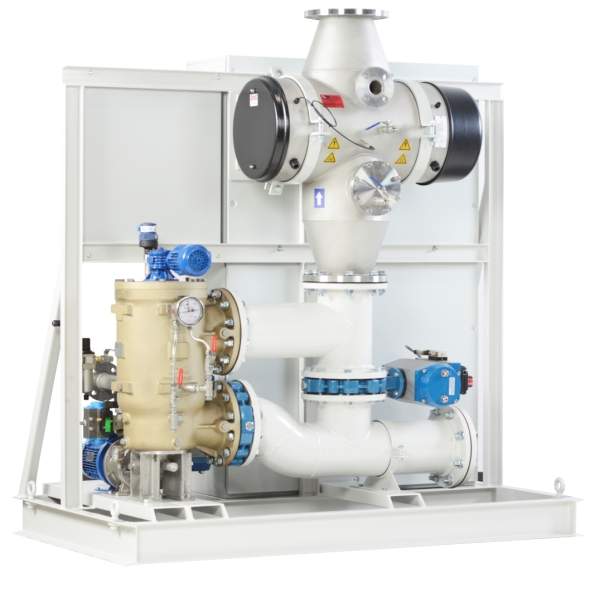 Hyde GUARDIAN Gold™ Ballast Water Treatment System (HG250G), ideal for retrofit installations.
Chemical-free ballast water treatment
The totally chemical-free Hyde GUARDIAN Gold system offers a compact design, low power consumption scaled according to capacity and low pressure drop. These advantages make it a technically attractive and cost-effective solution for any type of vessel.
Advantages of the Hyde GUARDIAN Gold BWTS include:
Effective, reliable and fully automatic filtration, as well as UV treatment designed specifically for ballast water treatment (BWT)
Capacity from 60m³/hr to 6,000³/hr
Reduced power requirements
Continuous and increased flow to ballast tanks
Compact and modular design
Experienced retrofit partner
Ballast water treatment for new or existing vessels
The Hyde GUARDIAN Gold system is suitable for a broad range of treatment requirements based on our many years of experience, and can be retrofitted in-situ to existing vessels or installed in newbuilds with no downtime.
With more than ten years of shipboard operating experience (aboard the "Coral Princess") and as the first system accepted into USCG STEP, Hyde Marine has sold more than 320 systems for all vessel types and sizes. It also has the longest history and most experience with retrofit projects and installations.
Hyde Marine is a market leader in the large emerging BWT market. The Hyde GUARDIAN BWTS received International Maritime Organization (IMO) type approval in April 2009, and was the one of the first BWTS to receive USCG AMS approval in April 2013. In December 2013, the newly launched Hyde GUARDIAN Gold BWTS received IMO type approval.
About Hyde Marine
Hyde Marine traces its origins to the Hyde Windlass Company established in Bath, Maine, in 1865. The company established a reputation as a reliable and respected supplier of equipment and services to the marine market with deck machinery, steering systems, oil/water separators and marine chemicals. As early as 1995, Hyde Marine became aware that the ballast water in ships was carrying thousands of species of aquatic animals and plants. These invasive organisms were creating problems for the marine environment and human health in and around the Great Lakes area, threatening the economies that depend on healthy aquatic ecosystems.
Hyde Marine's close association with the Great Lakes shipping community and focus on marine environmental problems led to the company's early involvement in testing of BWT technologies as a partner with the University of Michigan. This effort led directly to Hyde Marine's participation in the Great Lakes Ballast Technology Demonstration Project (GLBTDP). This program conducted early tests of filtration technology for BWT aboard a Canadian Great Lakes bulk carrier, the Algonorth. These early experiments and further shipboard and land-based testing of many different types of BWTS configurations led directly to the development of the Hyde GUARDIAN BWTS.
About Calgon Carbon
In 2010, Calgon Carbon Corporation (NYSE: CCC) acquired Hyde Marine, Inc. as part of its UV Technologies Division. This acquisition combined the considerable worldwide drinking and wastewater treatment expertise of Calgon Carbon with Hyde Marine's many years of experience in shipboard ballast water systems. Calgon Carbon has more than 25 years of experience in the use of UV technologies for disinfecting drinking water and municipal wastewater, treating industrial wastewater and remediating contaminated water. Calgon Carbon UV systems are installed worldwide and treat more than 15 million metric tonnes of water per day. Today, Hyde Marine operates out of a modern 60,000ft² facility near Pittsburgh, Pennsylvania, where the company designs, supports and manufactures the Hyde GUARDIAN BWTS.