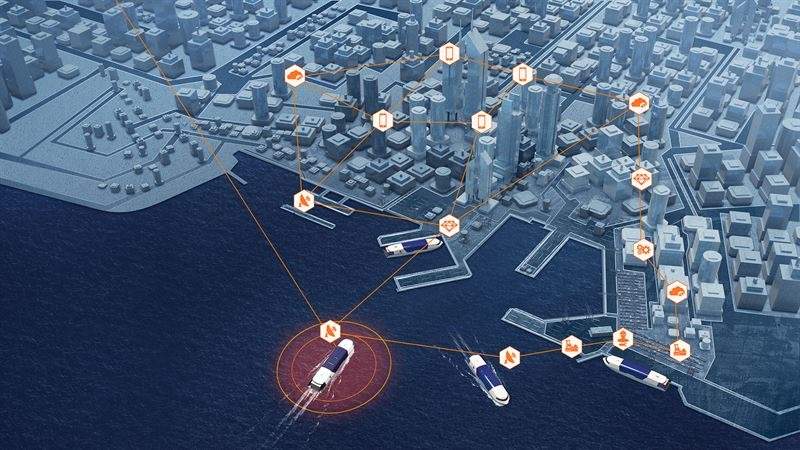 Wärtsilä purchased UK-based marine navigation solutions provider Transas for €210m, in order to help accelerate the former's Smart Marine Ecosystem vision.
Scheduled to be completed by the second quarter of last year, the proposed deal was expected to allow Wärtsilä to establish an ecosystem that is digitally connected across the entire supply chain through secure, smart and Cloud-based applications.
Transas was formed in 1990 to provide a range of marine navigation solutions, including complete bridge systems, digital products and electronic charts.
---
A new fully automated container terminal was opened at Yangshan Port in Shanghai, China.
The terminal was built with a $2.15bn investment and represents the fourth phase of Shanghai Port's Yangshan Port project.
It is capable of handling a maximum of 6.3 million twenty-foot equivalent units (TEUs) of cargo.
---
A report from global nonprofit business network BSR unit Clean Cargo Working Group revealed that carbon dioxide (CO2) emissions from ships operated by 22 of the world's major ocean container carrier lines witnessed a drop last year.
The Trade Lane CO2 Emissions Factors report includes data from over 3,200 ships operated by the 22 ocean container carrier lines.
According to the report, the average CO2 emissions per container per kilometre from the 22 lines, which represent 85% of the world's containerised shipping, fell by 1% from 2016 to last year.
---
The International Maritime Organization (IMO) adopted an initial strategy to reduce at least 50% greenhouse gas (GHG) emissions from the global shipping sector by 2050, compared to 2008.
Adopted by IMO's Marine Environment Protection Committee (MEPC), the strategy has set out the future vision for international shipping, the levels of ambition to reduce GHG emissions, and guiding principles.
The strategy also includes short, mid and long-term measures with possible timelines and their impacts on the Member States.
---
Vard secured a contract worth approximately Nkr250m ($29m) from Yara to build an autonomous electric container vessel named Yara Birkeland.
Yara Birkeland is slated to be built under a collaboration that was initially formed between Yara and technology company Kongsberg in May 2017.
The completed container vessel is expected to be delivered from Vard's Brevik yard in Norway by 2020.
---
Indian ports developer Essar Ports (EPL) concluded an investment of more than Rs28bn ($441m) in its Salaya and Vizag terminals, situated in the states of Gujarat and Andhra Pradesh respectively.
The investment is expected to help increase EPL's revenues by around 30% in the 2018-2019 fiscal year via the support of third-party cargo growth at the sites.
EPL CEO Rajiv Agarwal said: "The two fully integrated and automated facilities at Salaya and Vizag further the goal of port-led development set by the Government of India and our Hon'ble Prime Minister Shri Narendra Modi.
---
Capital Product Partners (CPLP) signed a $1.65bn definitive transaction agreement to spin-off its crude and product tanker business into a separate publicly listed company, which will merge with subsidiaries of DSS.
Following the spin-off, CPLP will continue as a master-limited partnership supported by medium to long term charters producing stable cash flows in the container sector.
The new company, which will be known as Diamond S Shipping, will have an asset portfolio of the combined product and crude tanker fleet of CPLP and DSS, totalling 68 tankers (52 product tankers and 16 crude tankers), with an average age of 7.8 years.
---
Italian oil and gas contractor Saipem agreed to purchase ultra-deepwater, heavy-lift and construction vessel Lewek Constellation for $275m.
The 3000t vessel, which was built in 2013, was previously owned by bankrupt EMAS Chiyoda Subsea.
Saipem said that the vessel is ready to be promoted for commercial opportunities.
---
German company Flensburger Schiffbau-Gesselschaft & Co.KG (FSG) won a €165.2m deal from Irish Continental Group (ICG) to build a new cruise ferry.
The vessel will be designed to accommodate 1,800 passengers and crew, and will feature capacity for 5,610 freight lane metres to carry 330 freight units per voyage.
The ferry is expected to be delivered before mid-2020 and will be operated by ICG division Irish Ferries on the Dublin-Holyhead route.
---
Denmark-based shipping line AP Moller-Maersk is set to trial Sea Machines Robotics' situational awareness technology on-board its Winter Palace ice-class container ship.
Under the deal, Sea Machines' computer vision, Light Detection and Ranging (LiDAR) and perception software will be installed on-board the Maersk vessel to improve its transit operations.
The Sea Machines solution uses artificial intelligence (AI) to enhance at-sea situational awareness, object identification and tracking capabilities.