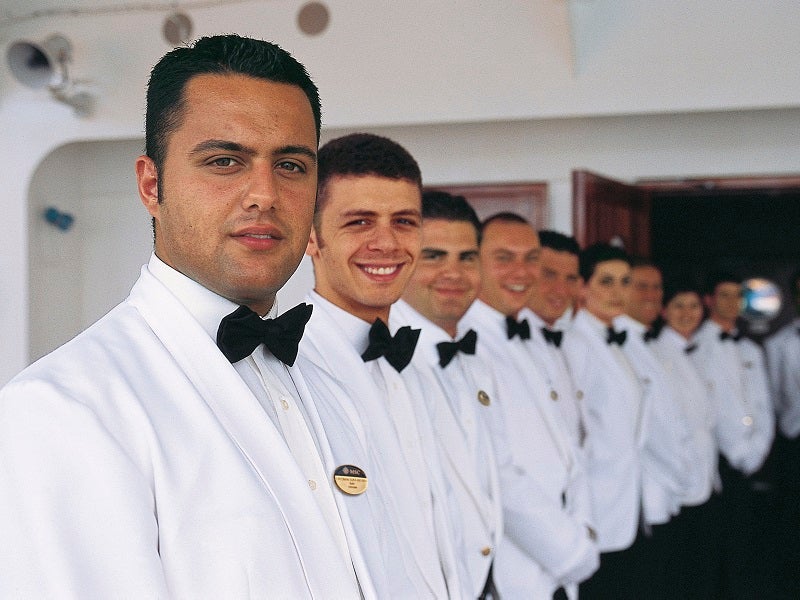 With more than 30 million passengers expected to cruise by the end of 2019, the cruise industry is growing in popularity and size. The Cruise Lines International Association (CLIA) reported that the global economic impact in 2017 was equivalent to 1,108,676 full-time jobs (with $45.6bn spent on salaries).
But with the number of new cruise ships launching into the market combined with the evolving expectations from passengers towards cruises as a holiday destination at sea is potentially creating a recruitment crisis for cruise lines.
There are currently a quarter of a million seafarers employed in the cruise industry and research by Cruise Industry News shows that 70,000 new crew and officers need to be hired each year for turnover. Adding another 10,000 each year, the report says, means around 80,000 crew need to be recruited annually.
Recruitment for unprecedented growth
MSC Cruises' €13.6bn projected growth is unprecedented in the cruise industry as it expands its fleet to 29 cruise ships by 2027.
"In the next five years we'll need 37,000 new crew with a peak of 10,000 in 2023," says Magali Bertolucci, Director of Crew Development and Strategy at MSC Cruises. "Finding such a large number of new recruits is a challenge, especially given that many other cruise lines are similarly looking to hire in significant numbers as well, but with good planning and a strong relationship with recruitment companies we'll achieve our aims."
Bertolucci says that MSC Cruises does well with retention and repeat contracts, which helps with the hiring drive, but that the company constantly looks at potential new markets as sources of recruitment.
"In the next five years we'll need 37,000 new crew with a peak of 10,000 in 2023."
"Africa, including South Africa, is becoming more important in our recruitment drive. We've been bowled over by the quality and calibre of the staff sourced from the continent," she says. "For example, we're the only cruise line seeking new recruits in Kenya and they have been absolute shining stars."
As MSC Cruises has a diverse mixture of nationalities on board, crew are often required to have language skills so they run standardised online tests in conjunction with the language school at Grenoble University, as well as one-to-one tests, depending on the role.
Back in 2015, MSC Cruises adjusted their recruitment strategy and cut the number of recruitment agencies they were working with so they could raise the bar for finding crew with higher educational standards.
"At that time, we had up to about 50 agencies around the world and today we're working with less than 20, depending on what areas we're looking to recruit," she says. "The consolidation programme has worked, and we've seen higher standards of crew join us and importantly many have come back to us the following season."
Working with the right partners is key for recruitment success concurs Dieter Jaenicke, chairman and founder of the Viking Maritime Group, which provides recruitment, cadetships and training for the cruise (and superyacht) industry.
Recently, Sir Richard Branson and Virgin Voyages CEO Tom McAlpin officially opened Viking Maritime Group's new training centre and state-of-the-art bridge simulator in Portsmouth, MSA Solent. As well as Virgin Voyages, Windstar Cruises and Marella, among others, are also looking to train here.
"I think recruiting good staff has always been a problem and it is not going to get any better," he says. "The current recruiting grounds for crew is the Far East with the Philippines being the most prolific. Most senior officers come from Europe and the ex-Russian states with a few from the Philippines and India," he adds. "These areas have not been exhausted, but care is needed to find partners to ensure the crew you hire come well trained not only in STCW [Standards of Training, Certification and Watchkeeping for Seafarers], but the culture of your product."
Crew retention challenges
Director of cruise operations at the Norwegian Seafarers' Union Lena Dyring says that along with looking for new recruits, cruise companies will have to fight harder to retain the seafarers they have employed and keep them happy.
She says one of the biggest challenges in the cruise industry, and the larger shipping industry as a whole, is the "lack of continuous employment".
"The vast majority of seafarers worldwide are employed on a contract to contract basis and although most are rehired, this causes a constant insecurity for seafarers," says Dyring. "There is a constant pressure and anxiety for performance to be at a top level, but it also contributes to seafarers underreporting mental and physical health situations they (rightly or wrongly) think will impact their chance of being rehired."
"The vast majority of seafarers worldwide are employed on a contract-to-contract basis and this causes constant insecurity for seafarers."
The Seafarers' Happiness Index, which monitors issues from wellbeing, mental health and family contact, shows how loneliness can be a serious issue for crew. Reduced crews, quick turnaround times, seven-day working weeks and less social interaction time can all take their toll.
In the last report, August 2019, issues included: lack of shore leave, little time to develop social bonds (affecting teamwork and camaraderie), and lack of internet connectivity.
One of the problems is the cost of internet connectivity to keep in touch with family. "I think the majority of the companies still charge – some a lot and some more reasonable fees," Dyring says. "I can tell you which companies offer free internet, namely Viking Cruises and Virgin Voyages – they both use this as a recruitment tool."
Dyring believes that free internet connectivity would make a big difference to crew satisfaction and happiness. "Younger adults see internet connectivity as a human right these days (and it was declared a human right by the Human Rights Commission) so offering good, free (or at least reasonably priced) internet connectivity is a must in this day and age."
Equal opportunities
There are more women at the helm in the cruise industry than ever before, such as Belinda Bennett at Windstar, the industry's first black female captain, Kate McCue on Celebrity Equinox and Captain Wendy Williams as Master of Scarlet Lady. Yet, overall, the International Transport Workers' Federation (ITF) estimates that just 28%-30% of workers on cruise ships are women.
Creating opportunities for women is another way to meet recruitment needs in the industry. Dyring says this could also help with retention. "A more gender-balanced workforce has also been shown to increase the workplace satisfaction for all workers and makes sense as part of a toolbox to hold on to your employees in this competitive market," she says.
Bertolucci says that MSC Cruises is currently at 24% for new hires in 2019 and that the company has a "determined ambition and action plan to really boost the percentage very significantly."
"A more gender-balanced workforce has been shown to increase workplace satisfaction for all workers."
Dyring says one reason it is harder to reach women and encourage them to look for work at sea, is related to cultural beliefs in their home countries. "Many societies are more traditional in their approach and we see that families do not think it would be safe or appropriate for their daughters to work at sea," she says.
"We encourage cruise lines to include the families in the recruitment process so that the family understands that working in the cruise industry is safe and that it offers seafarers a great career path and financial security for their daughters."
Jaenicke thinks there is a pool of untapped resources in the UK that isn't gender-specific. "Currently in the UK we have a rating to officer scheme which allows those who did not have the correct qualifications when commencing a seagoing career, or did not want to be an officer at that time to study, get sea time and transfer to an officer programme," he explains. "I think if this was rolled out in the cruise industry it would give us a large untapped source of overlooked young people who did not make the grade."
He says that it would give recruits the opportunity through vocational training and skills to achieve their goals, not only in the deck and engine departments but also in hospitality. "It also gives an opportunity to cruise lines to 'mould' their staff and create a better work culture," he adds.
Ultimately, though he says tackling the crew shortage globally is all about resources. The successful cruise lines will be the ones "who are prepared to train crew through a career road map, offer competitive wages with good leave (and not forgetting company pensions), so those crew have a future, not only with their employer but after they retire."