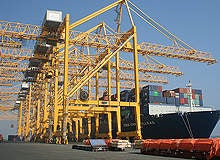 Established in 1949, the Liebherr Group first made its name with mobile, easy-to-assemble and affordable tower cranes. Today, however, the company has a group turnover of nearly 7m Euros (approx $9m), a workforce of over 32,000 and is one of the leading names in the construction machinery business.
Liebherr first became involved in the container crane market in 1967 when it opened a production facility in Ireland. The facility initially produced small ship-to-shore cranes up to Panamax class (a size limit for ships travelling through the Panama Canal) for the UK and Irish markets, as well as rail mounted cranes with load capacities in the 30t to 35t range for local railways.
Operations have since gone global and Liebherr container cranes are now found in 90 ports in over 40 countries worldwide. The production facility – still based in Ireland – now produces cranes capable of handling small feeder vessels right up to the colossal Megamax sized container vessels. Lifting capacities vary from 40t up to a staggering 120t.
To find out more we spoke to Liebherr Container Cranes manager of sales and marketing Gerry Bunyan
Alex Hawkes: As container vessels have continued to grow in size and capacity, how have container crane manufacturers such as Liebherr had to rise to the new challenges of the shipping industry?
"Port operations worldwide will only continue to grow which will ensure an ever increasing demand."
Gerry Bunyan: Ship-to-shore cranes are continuing to increase in size, which also brings improvements to speeds and load capacities.
This trend also impacts on the demand for backup equipment such as rail mounted gantries (RMG), rubber tyred gantries (RTG) and straddle carriers.
With continued investment in research and development combined with ongoing improvements to our production facilities, which includes the installation of a new state-of-the-art computer-aided design and computer-aided manufacturing (CAD/CAM) plant, we have continued to stay ahead of the latest trends and demands of the industry.
AH: How are Liebherr's container crane designed to complement the individual requirements of port operations worldwide?
GB: Ship-to-shore cranes are custom built products as crane design has to meet individual client technical requirements, specific standards and climatic conditions. Crane dimensions are always project specific. The most popular crane size in the present market is our Super Post Panamax Model which can handle up to 18 container wide vessels.
Liebherr cranes have a number of unique design features, including our specially designed main beam and boom structures and a built drive system specifically developed for the container handling industry. This system features all the advanced technology required for today's market and its high performance and reliability is internationally renowned in the port sector.
AH: What regions in particular are currently driving the container crane market and where are Liebherr container cranes most prominently found?
GB: The Middle East, South America and Europe continue to be the areas of greatest demand for our products. Liebherr has container handling gantry cranes in operation in more than 90 Ports in over 40 countries.
"Ship-to-shore cranes are custom built products as crane design has to meet individual client's technical requirements."
Specific ports which currently use our cranes include the Port of Khor Fakkan in the UAE, Port of Jeddah in Saudi Arabia, Port of Buenos Aires in Argentina, Port of Montreal and Port of Halifax in Canada, Port of Koper in Slovenia and Port of New York in the US.
We also have four ports in the UK which use our cranes, including Liverpool, Felixtowe, Tilbury and Southampton.
Our container cranes are manufactured in Killarney, Ireland, which also produces other cranes models such as rail mounted ship to shore, rail mounted gantry stacking cranes, rubber tyre gantry cranes and straddle carriers.
AH: How does Liebherr feel that's its new generation of container cranes are starting to change the face of the shipping industry?
GB: One of the most important recent developments in crane design is the introduction of the Tandem Lift Megamax size Container Cranes, which allows for the simultaneous handling of two 40ft/45ft containers with a capacity of 80t under lifting equipment. Four of these cranes have been installed in the Port of Khor Fakkan in the UAE as part of a 16 strong Liebherr crane fleet there.
Unlike a number of its competitors, Liebherr manufactures its own electrical controls and driver systems – which it offers in both AC and DC power. This has allowed us to constantly incorporate new safety, functionality and operator comfort features into our machinery.
AH: And finally, where does Liebherr see the future for container cranes and will market demand continue to demand greater size and capacity?
GB: Port operations worldwide will only continue to grow and new markets are appearing all the time, which will ensure an ever increasing demand for containers and in turn cranes to handle them.
Liebherr is confident that the demand for high quality European built products will continue particularly in the port sector, where reliability of performance and longevity – the usual lifetime of a container crane is roughly 30 years – is the expected standard.