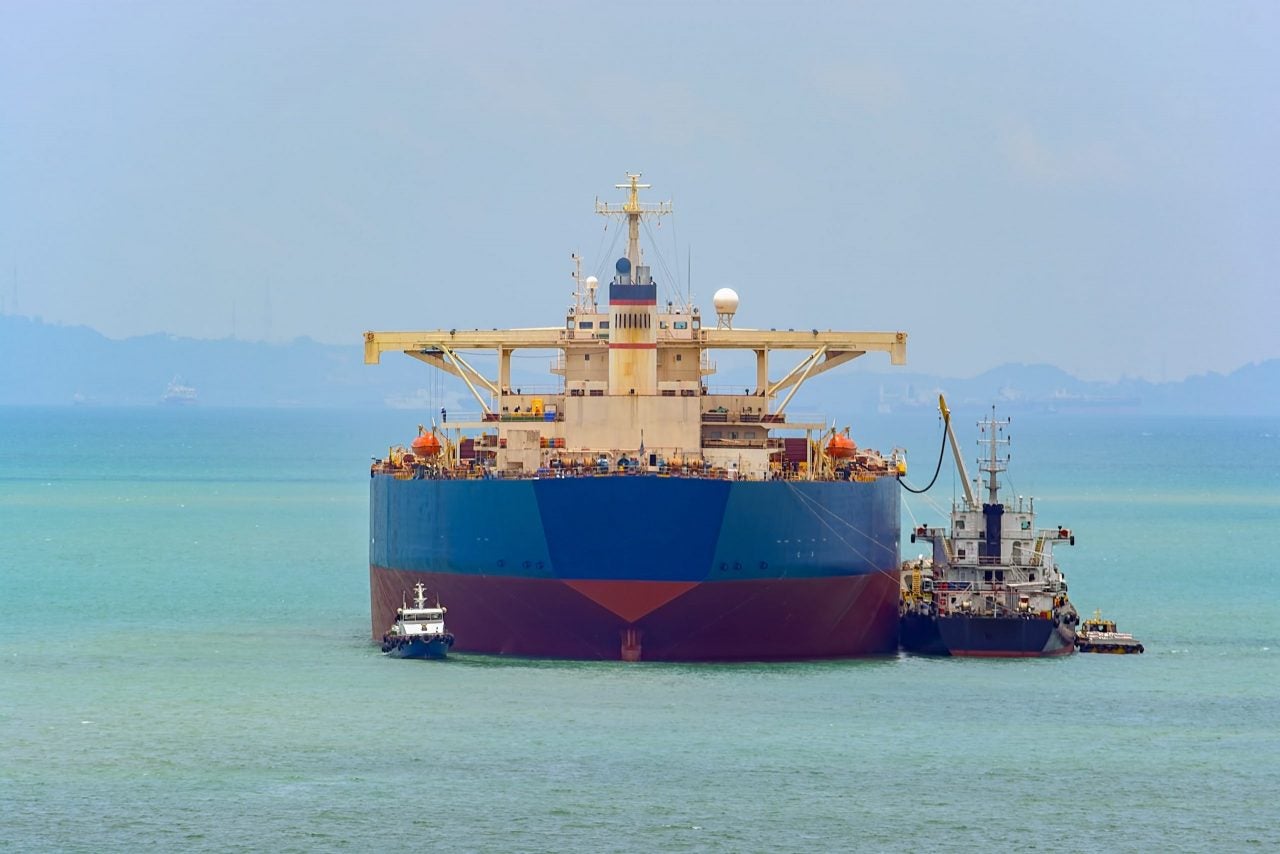 Using a combination of AI and technology, FuelTrust is assisting the maritime industry with its technology platform to authenticate marine fuel lifecycles. Using the technology, the company can digitally verify data from shared sources, ensure and validate decarbonisation and compliance, and also identify the potential risk of bunker fraud – the potential fraud which sees the sale and purchase of smuggled or stolen bunker fuel to avoid custom duties and other taxes.
The AI technology, named 'Digital Chemist', allows users to trace the lineage of a fuel batch – which could help combat issues such as fuel fraud. The technology provides enough data to ensure, with certainty, that fuel X at the point of combustion was sourced from batch Y originally.
The technology also allows for insight into when, where, and who supplied the fuel – allowing ship owners to mitigate the chances of bad fuel purchase, and therefore avoid financial impacts.
Frankie Youd: Could you provide an outline of the background of the company?
Darren Shelton (DS): FuelTrust was founded in 2020 to apply AI and blockchain technologies to some of the maritime industry's most pressing global environmental, social, and governance challenges.
FuelTrust combines expertise from both the worlds of technology and shipping, with founders representing experience from IBM Watson and IBM Cloud and Moran Shipping agencies. We combine an in-depth understanding and knowledge of the world of marine energy and the latest in deep technology innovation.
FuelTrust came out of the need to solve a problem. It started when I was at Moran, the largest private shipping agency in North America. I'd noticed that larger players starting to lean towards blockchain for post-trade finance settlements, and started to become familiar with blockchain in smart contract area. 
I saw an opportunity to use this to look at the issues stemming from IMO 2020, for demonstrating compliance for ship owners in the fuels they were using. I realised I needed to talk to someone smarter than me, so I called Jonathan Arneault, who was at IBM, with a track record in IT and engineering, and has been part of several successful start-ups.
The original intention was 'let's not just start a company', but 'let's solve a problem.' As we looked deeper into the fuels market we saw bigger issues with quality, traceability, and significant amount of fraud in the market.
Operating with an expert team and fast growth trajectory, FuelTrust is a data science company with green tech SaaS solutions, helping customers reduce risk and enhance compliance by lowering waste and pollution to empower a greener fleet. FuelTrust recognises that maritime fuels are 12% of the global fuel market but lead to over 3% of emissions and claims – and is bringing its technology and expertise to the industry to create a cleaner environment and healthier world.
The company is using blockchain and AI to trace the provenance of marine fuels, could you explain this technology and how it works?
FuelTrust's technological solution uses AI and blockchain to enable secure end-to-end visibility, ensure compliance, and mitigate fraud and risk across the global fuel lifecycle.
FuelTrust uses patented blockchain technology as a tool to provide an indisputable record of fuel transactions throughout the supply chain. FuelTrust uses hybrid blockchain to give suppliers, owners, and all users, permission-dependent access to permissioned data. By creating a decentralized, immutable store of information, FuelTrust customers benefit from a record of information – a single source of truth – to which they create and control access.
The AI technology traces the links between fuel at source, through to combustion and emission. Essentially, we have created an AI-powered 'digital chemist' that can simulate combustion, and thereby look at a fuel and work out what its journey through the supply chain looks like. The FuelTrust technology enables insight to be drawn quickly about the quality, density, GHG emissions, and provenance of fuel reliably.
The technology can detect differences between batches of fuels, even if they are from the same provider allowing shipowners and suppliers to benefit from quality and emissions advantages that would otherwise go undetected. Suppliers can reliably differentiate and "de-commoditize" their products, even in highly competitive or untrusted markets.
What are the key benefits this technology provides to the industry?
The bunkering industry is historically opaque, and buyers must constantly mitigate against the risk of quantity and quality discrepancies. This has been exacerbated by a transforming marine energy market, as new blends and new refiners have recently emerged to offer IMO 2020-compliant fuels. 
FuelTrust gives owners confidence in the fuel they buy, empowering better decision making and enabling them to buy better high-quality fuel. 
Fuel suppliers must show ship owners and operators that the fuel they sell is safe, compliant, of high quality, accurate quantity, and sustainable. Currently, due to the lack of insight into the fuel supply chain, suppliers cannot gain any advantage by supplying better quality fuel. 
By documenting the fuel supply chain in a way that buyers can trust, suppliers can build a reputation as high-quality suppliers, bolstered by real-time views of on-hand fuel content and quality, to gain a significant competitive advantage.
FuelTrust provides the tools for owners and charterers to demonstrate compliance with emissions regulations and assists with ESG reporting. Because of their ability to analyse different batches of fuels, our platform provides accurate emissions estimates for historical benchmarks, allowing owners to benefit from accurately reporting past emissions reductions. 
The company allows for actionable insight, regulatory reporting, and cargo shipper ESG reporting capabilities to fleet owners that are not easily, timely, or cost-effectively possible on their own
How can companies  become involved with this technology?
Proven fuel quality, contract compliance, and outcome-based analysis of delivered fuels will allow suppliers to create additional profit and garner a larger market share. FuelTrust will enable suppliers to further differentiate their product by providing their customers with insight into remaining onboard fuel, a real-time view into predicted fuel needs by port, and the ability to rapidly respond to fuel purchase RFQs.
Fuel suppliers must protect themselves in the event of quality claims, but that is challenging given the complexity of the supply chain. FuelTrust delivers the data and verification that enables this protection. With a permission-oriented blockchain platform, FuelTrust's products, such as Bunker Insights, can document a fuel's journey through the supply chain without risking disclosure of commercially sensitive information.
In the case of claims, FuelTrust's Bunker Insights application provides parties with pre and post-purchase insight into the history, consumption, chemical compatibility, and combustion of fuels, and alerts to potential risks, problems, or non-compliance.
What are the current issues the industry is facing in regards to fuel fraud?
The international shipping industry and the marine energy or bunker market are traditionally non-transparent and fragmented, resulting in fuel quality and quantity issues. Any contamination in the fuel sector can spread quickly and be difficult to trace back to its source. Any fraudulent activity in the maritime industry results in billions of dollars being lost annually across the industry.
As bunker fuels account for up to roughly 60% of a vessel's operating expense, any fraudulent activities impacting this cost amounts to a substantial loss for vessel owners/operators. For example, the industry commonly accepts up to a 3% loss due to short bunkering, which equates to a financial impact of roughly $3.6bn a year. Additionally, credible research points to fraud loss of more than 7-10% annually.
The key causes of bunker discrepancy are fuel temperature and volume at time of delivery, fuel moisture content, and more disturbingly, contaminants, which can be added at any point in the supply chain.
Effective monitoring can catch all of these issues, through fuel analysis and voyage benchmarking, which allows owners and operators to validate vessel performance against an expected baseline. 
At the same time, using digital technology to record transactions allows bunker suppliers, owners, charterers, and operators to resolve any disputes more easily, in a supply chain that currently relies heavily on paper-based documentation. This in turn enables all parties to agree on fuel provenance, thus building trust, reducing costs and mitigating risks. 
How does this technology help the maritime decarbonisation journey?
The industry faces its most significant existential challenge in tackling climate change and meeting the shipping industry's decarbonisation and broader sustainability targets. Driven by regulators and a new mandate from many global influencers to see ESG at the forefront of business, shipping is being forced to be more transparent and open. 
For instance, nearly 50% of the global ship finance portfolio comes from signatories to the Poseidon Principles – an organisation that sets strict criteria for shipowners and operators access to finance and their ability to operate. 
Shipping's energy transition will impose tremendous logistical challenges and financial risk, requiring a comprehensive compliance system to solve. A trusted, transparent, and traceable marine fuel ecosystem will be critical, particularly with fuel costs likely to increase with future fuels.
FuelTrust products create insights that reduce risk and improve ESG outcomes by authenticating relationships across the marine fuel lifecycle, digitally verifying data from shared sources, validating decarbonisation and compliance, and identifying potential fraud and risk. With deep insight into when, where, and from whom quality fuel is supplied, our solution allows you to alleviate the financial impact of low-quality fuel, mitigate regulatory risk, and empower sustainable shipping. 
Ultimately, our real-time data intelligence provides visibility into the marine fuel ecosystem enabling a more trusted, transparent, and sustainable global commercial shipping fleet and a brighter future for our industry and society.
FuelTrust's recently launched product, Bunker Insights, uses a combination of artificial intelligence and blockchain technologies to establish an unalterable record of fuel transactions and to analyse and identify chemical risks and changes in fuel. The bunker Insights application makes it simple for ship owners and charterers to monitor and manage fuel risk, allowing the industry to adopt more sustainable practices backed by meaningful insights into the fuel cycle, by empowering sustainability through validated decarbonisation. 
Are there any plans for further technology development?
FuelTrust has various upcoming products and technologies in the pipeline for early 2022. 
The recent launch of FuelTrust's Bunker Insights application offers teams the information they need to identify and avoid fuel risks and makes it easier to monitor and manage a cleaner, greener fleet. 
By leveraging existing industry-wide standard documentation and commercial information with its patented AI Digital Chemist, FuelTrust provides Bunker Insights users with better intelligence on fuel quantity and quality, machinery compatibility and regulatory compliance. With an overall view of the fuel lifecycle – from well to wake –Bunker Insights provides all transaction parties with an independent assessment of risks.
The upcoming AI and Blockchain-enabled technologies FuelTust have created aim to help the industry validate carbon emissions, mitigate against poor quality marine fuel, identify, and differentiate fuel quality, and reduce fraud and errors along the value chain.