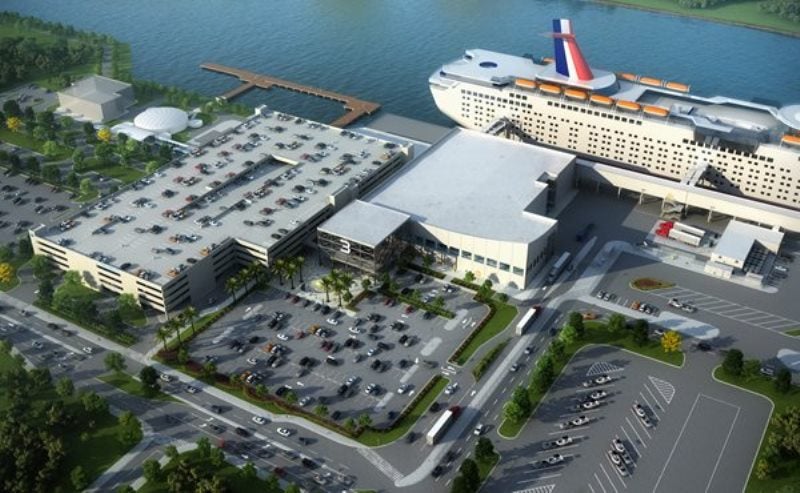 Canaveral Port Authority awarded a $108.5m contract to Ivey's Construction for building its new Cruise Terminal 3 project.
The contract agreement has been approved by the Canaveral Port Authority Board of Commissioners.
Approval follows a selection process conducted by a five-member Port Canaveral selection committee that favoured Ivey's bid over a partnership of HJ High Construction of Orlando and Suffolk Construction of West Palm Beach, which placed an $83m bid for the development of Cruise Terminal 3.
---
The majority of British ports have little or no transition plan in place for Brexit, reveals a survey report published by executive search firm Odgers Berndtson.
CEOs and directors of just 16% of the UK ports said that they have made "significant or practical plans" for Brexit.
The remaining executives were equally divided between ports doing "only some high-level planning" and nothing at all.
---
The Government of India commenced commercial operations in parts of the Shahid Beheshti Port, Chabahar in Iran, by taking over the terminal area, cargo handling equipment and the India Ports Global Chabahar Free Zone (IPGCFZ) office.
Development has enabled India to operate a port outside its border for the first time.
IPGCFZ began its commercial activity by receiving a Cyprus-registered bulk carrier MV Macheras, which carried 72,458t of corn as cargo.
---
TraPac completed the expansion of its marine terminal at the Port of Oakland in the US with an investment of $67m.
The company has taken two years to complete the waterfront expansion, which has almost doubled TraPac's presence at the port from 66 acres to 123 acres.
Expansion has increased the number of TraPac's ship-to-shore cranes at the terminal from four to seven, while a third 1,400ft-long dock has been added for berthing of mega container ships.
---
Washington State Ferries (WSF) in the US unveiled a plan to add 16 vessels to its current fleet with an aim to offer a more reliable service.
The vessels are set to replace the company's existing fleet of 23 vessels. Half of the current fleet is expected to be retired by 2040.
Of the new vessels, 13 ferries will replace vessels that are due for retirement, while three vessels will serve as substitutes for other ferries when they are out for maintenance and to drive growth.
---
Automation's role in the global transport industry will be 'evolutionary' rather than 'revolutionary', a report by the International Transport Workers' Federation (ITF) and World Maritime University (WMU) predicted.
The new 'Transport 2040: Automation Technology Employment – the Future of Work' report was prepared by WMU and highlights the kind of changes automation and advanced technologies will bring to the transport industry.
The report says that, though high levels of automation will take place in the future, qualified people with the right skill sets will still be required.
---
A study conducted by scientists from Germany's University of Bonn, along with their colleagues from St Augustin and Rostock University, has revealed that the use of high-tech air-trapping materials on ship hulls could help reduce up to 1% of global carbon dioxide (CO2) emissions.
The study found that oil tankers could save up to 20% of fuel due to reduced drag resulting from the use of such materials.
Use of high-tech surfaces can double the antifouling effects, which involves the reduced growth of organisms on the hull.
---
The Government of Singapore unveiled two initiatives to further strengthen the country's maritime industry.
Initiatives include the Singapore War Risks Insurance Conditions (SWRIC) and the creation of an interoperability structure for electronic trade documents for the maritime and trade industries.
Announcing the initiatives, Singapore Transport and Health Senior Minister of State Dr Lam Pin Min said: "The close partnership between the government, the industry and Singapore Shipping Association (SSA) is a unique competitive advantage for Singapore."
---
A fire that broke out on-board two Tanzanian-flagged cargo tankers travelling off the coast of Russia claimed the lives of ten people.
Crew members went missing following the incident, which took place in the Kerch Strait near Crimea, according to Russia's Novorossiysk maritime rescue centre.
The Kerch Strait between Crimea and southern Russia is a focus of tension between Russia and Ukraine.
---
The Port of Rotterdam Authority in the Netherlands unveiled an incentive scheme to help reduce carbon dioxide (CO2) emissions from the shipping sector.
As part of the 'Incentive Scheme Climate-Friendly Shipping' scheme, the port authority will provide €5m in funding for projects and demonstrations that utilise low-carbon or zero-carbon fuels.
Shippers, shipping companies, fuel manufacturers and suppliers, as well as engine manufacturers and service providers can submit their applications to receive funding under the scheme.