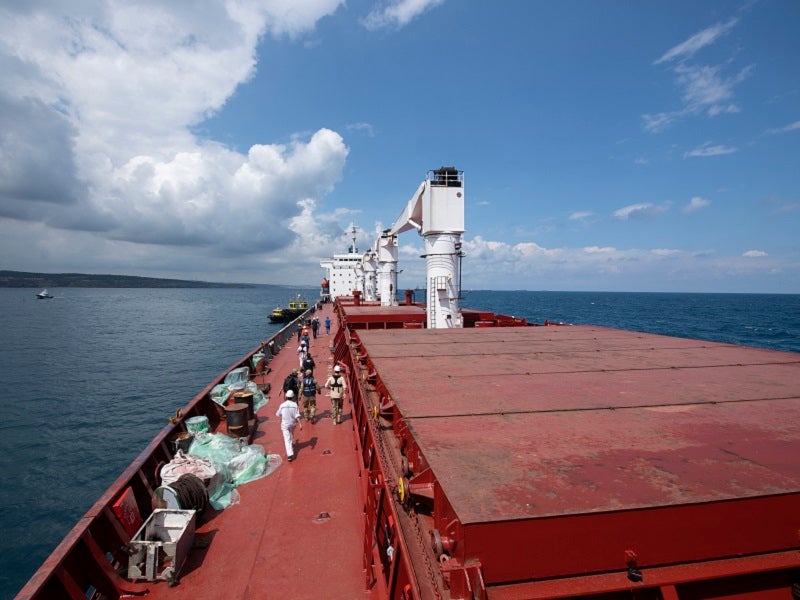 The Black Sea Grain Initiative, brokered by the United Nations, Türkiye, Russia, and Ukraine in order to enable millions of tons of grain and other foodstuffs to leave Ukrainian ports, has transported more than 400,000 metric tons of produce since operations began on 1 August.
Daily releases from the Initiative's Joint Coordination Centre (JCC) have tracked the shipments, with merchant ships loading up from the Ukrainian Black Sea ports of Odesa, Chornomorsk, and Pivdennyi, before departing for markets such as Lebanon, the UK, Türkiye, Iran, Singapore, and elsewhere.
Ukraine's ports have been blockaded since Russian military operations resumed on 24 February this year with a full-scale invasion of Ukraine, driving west to capture much of the country's coastline in a bid to cut Kyiv from the lucrative resources of Black Sea maritime trade. Prior to the war, Ukraine was one of the world's largest exporters of grains and global food prices skyrocketed as Russia stopped all merchant traffic from travelling to Ukrainian ports.
According to UK Government data, in 2021, Ukraine provided 30.9% of Egypt's grain and wheat consumption, 7.7% of Yemen's, 7% of Bangladesh's, and 11.7% of Morocco's. Previously, 96% of Ukrainian grain was exported through the Black Sea.
As part of the JCC, NATO member Türkiye will inspect, inside its territorial waters, shipping coming to and from Ukrainian ports to ensure there are no breaches of the agreement such as the transport of arms and other materiel.
This arrangement will see Ankara effectively aiding in the enforcement of a maritime arms embargo on Ukraine. The vast majority of NATO member states are supporting Ukraine's fight against Russia following Moscow's renewed invasion on 24 February this year, supplying arms and other military equipment in a bid to prevent the overthrow of President Volodymyr Zelenskyy's government in Kyiv.
To date, a total of 437,804 metric tons of grain have been transported out of Ukrainian ports from 20 merchant vessels. According to VesselFinder, which monitors AIS data from shipping, once loaded the vessels head to the Bosphorous North or Istanbul anchorages, where the inspections appear to be taking place.
Of the vessels approved by the JCC so far, five are flagged to Liberia (Arizona, Sacura, Petrel S, Ocean Lion, and Osprey S), three to the Marshall Islands (Star Laura, Riva Wind, Star Helena), two to Türkiye (Rahmi Yagci and Polarnet), and single ships flagged to Belize (Sormovskiy), St Kitts & Nevis (Efe), Lebanon (Brave Commander), Malta (Rojen), Barbados (Fulmar S), and Sierra Leone (Razoni). It was unclear which flag state the Mustafa Naciti, Glory, Navistar, and Sara were sailing under.
Notable shipments
On 1 August, the 18,500t M/V Razoni, under the authorisation of the JCC, sailed from the Ukrainian port of Odesa loaded with grain, with Lebanon as its destination. According to a UN release, the Razoni carried over 26,000 metric tons of corn.
As of 12 August, the Razoni appears to have been retasked from Lebanon and instead headed to Mersin, Turkey, arriving on 11 August. Its next destination has been listed as Egypt, a prime recipient of Ukrainian grain prior to the Russian invasion.
On 11 August, the JCC authorised the outbound movement on 12 August of the Star Laura from Pivdenniy and Sormovskiy from Chornomorsk carrying 60,150 metric tons of corn and 3,050 metric tons of wheat respectively. Further movement was authorised, pending inspections, of the Efe and Sara to head to Odesa, Ukraine.
On 10 August, the joint inspection teams clear three outbound vessels, Arizona, Sacura and Mustafa Naciti, and two inbound vessels, Petrel S and Brave Commander, which were en route to Chornomorsk and Pivdenniy respectively.
Earlier this week, on 8 August, the Ocean Lion and Rahmi Yagci were approved to move from 9 August from the port of Chornomorsk carrying a cargo of 64,720 metric tons of corn to Incheon, South Korea, and 5,000 metric tons of sunflower meal to Istanbul, Türkiye, respectively.
Meanwhile, the Sacura and Arizona were authorised to depart on 8 August from Pivdennyi and Chornomorsk carrying respective cargos of 11,000 metric tons to Ravenna, Italy, and Iskanderun, Türkiye.
On 6 August, the Glory (66,084 metric tons of corn to Istanbul, Türkiye), Star Helena (45,000 metric tons of meal to Nantong/Machong, China), Riva Wind (44,000 metric tons of corn to Iskanderun, Türkiye), and Mustafa Necati (6,000 metric tons of sunflower oil to Monopoli, Italy) were approved to depart from Chornomorsk and Odesa on 7 August, their combined total of 161,084 metric tons of foodstuffs the largest daily quota to date.
On 4 August, the JCC approved the departure of three vessels from Ukraine, two from Chornomorsk and one from Odesa, carrying a total of 58,041 tons of corn through the maritime humanitarian corridor under the Black Sea Grain Initiative.
The vessels, which were authorised to begin transit on 5 August, were the Polarnet from Chornomorsk with a cargo of 12,000 metric tons of corn destined to Karasu, Türkiye, the Navistar, which was anchored in Odesa, with a cargo of 33,000 metric tons of corn heading to Ringaskiddy, Ireland, and the Rojen, with a cargo of 13,041 metric tons of corn to Teesport, UK.
According to the UN, the initial agreement to ship food produce out of Ukraine through the JCC runs for 120 days starting from 22 July, with an estimated capacity to export up to five million tons of grain and foodstuffs per month. The JCC has agreed a maritime humanitarian corridor 111 nautical miles long and three nautical miles wide, with authorised vessels required to remain within this area or in defined holding areas off the Ukrainian and Turkish coastlines.
Shipping is monitored by the JCC using terrestrial and satellite means. Through public navigational announcements, other parties engaged in shipping in the area have been informed of the establishment of the maritime humanitarian corridor, the UN said in a 7 August release.
Further, the UN said that shipping companies decide on the movement of their vessels based on commercial activity and procedures, with the JCC in Istanbul authorising movement of vessels in and out of the Black Sea based on the requests it receives from the Ukrainian port authorities.
The JCC shipping procedures also includes security arrangements for the safe passage of commercial vessels and other civilian vessels engaged in the initiative, including for emergency and medical response.