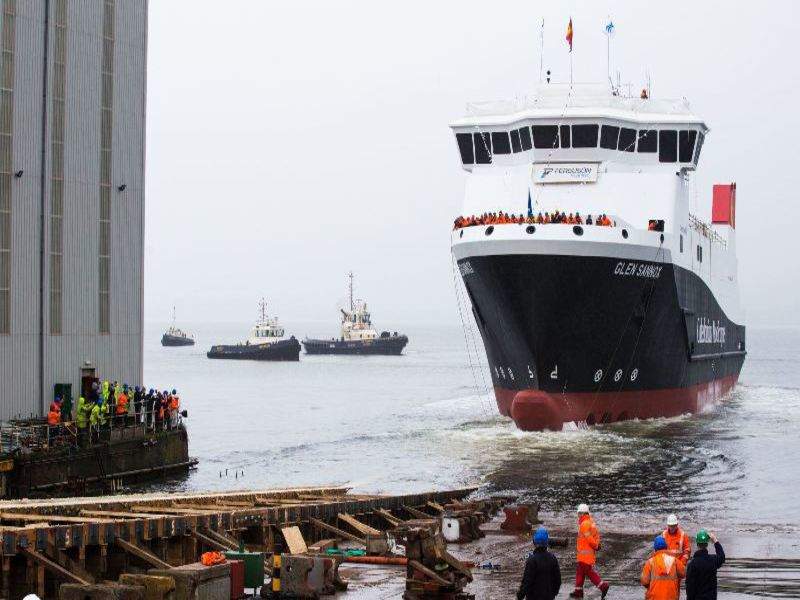 New LNG-powered ferry launched at Ferguson shipyard, UK
Clyde Blowers Capital unit Ferguson Marine Engineering (FMEL) launched the first of two new liquefied natural gas (LNG) powered ferries at its shipyard at Port Glasgow in Scotland.
The environmentally friendly, vehicle passenger vessel is named MV Glen Sannox and is being designed and built in the UK.
It is set to be owned by Caledonian Maritime Assets (CMAL).
---
EU member states approved EU Emissions Trading System revision
Member states of the European Union (EU) gave their approval to revise the EU Emissions Trading System (EU ETS), which seeks to reduce greenhouse gas emissions.
The approval was based on a provisional deal that was reached by the EU Parliament and Council around two weeks previously, which related to the revision of the EU ETS for the period after 2020.
The revision is intended to help the EU achieve a significant part of its commitment to reducing greenhouse gas emissions by at least 40% by 2030 that was originally made under the Paris Agreement.
---
Construction of $149m ship repair facility started in India
Cochin Shipyard (CSL) began the construction of a new ship repair facility at Cochin Port Trust in Kerala, India, with an investment of Rs9.7bn ($149m).
The new site will be known as the International Ship Repair Facility (ISRF) and is set to be built on a 40-acre plot of land at the Cochin Port Trust, which has been leased by CSL for the project.
ISRF will feature a 130m by 25m ship lift system with a total lift capacity of 6,000t, as well as six work stations.
---
NSW Government unveiled Newcastle Cruise Terminal design
The Government and New South Wales (NSW) in Australia and the Port of Newcastle unveiled the design of the new Newcastle Cruise Terminal, which is expected to be built on an area of roughly 3,000m².
The purpose-built facility will be equipped with various facilities for passenger drop-off and pick up, coach parking and vessel provisioning.
Funding for the A$12.7m ($9.7m) site is set to be provided via the NSW Government's Restart NSW Hunter Infrastructure Investment Fund.
---
US' Port of Portland set to resume container service
The Port of Portland in Oregon, US, was set to resume container service after nearly one and half years following Singapore-based Swire Shipping commencement of container shipping operation at the port's Terminal 6 (T-6).
Swire Shipping will provide a mix of general, non-containerised cargo and container service beginning in January next year as part of the new development.
The service is expected to be offered once per month and will feature export shipments of Western Star trucks to Australia, as well as export containers to Australia / New Zealand and import containers from Asia.
---
Singapore's MPA developed criteria to allow drone use for ship surveys
The Maritime and Port Authority of Singapore (MPA) developed a set of acceptance criteria that is intended to facilitate the use of drones in the inspection of cargo tanks on-board Singapore-registered ships.
MPA previously conducted several trials using aerial drones to survey ships' cargo tanks to prepare the acceptance standards, which are expected to be completed by the first quarter of next year.
The criteria will form a part of MPA's newly introduced service enhancements and training programme for Singapore-registered ships and maritime companies following completion.
---
APM Terminals opened new terminal in Puerto Quetzal, Guatemala
APM Terminals opened its new terminal at Puerto Quetzal in Guatemala with an investment of $180m.
The new APM Terminals Quetzal facility is situated 98km away from Guatemala City and is equipped with fast and highly efficient trucker turnaround procedures that are intended to reduce travel periods for visiting trucks.
It is capable of handling 340,000 twenty-foot equivalent units (TEUs) of cargo and will be operated under a joint venture (JV) arrangement between APM Terminals (85%) and the IFC – World Bank (15%).
---
Skangas and Titan LNG partnered to improve LNG bunkering services
Norway-based Skangas signed a memorandum of understanding (MoU) with the Netherlands' Titan LNG to jointly develop a single-stop liquefied natural gas (LNG) bunkering solution to benefit ship operators.
The collaborative project also intends to make LNG available for marine customers across the wider European region, as well as optimise LNG delivery services.
Skangas CEO Kimmo Rahkamo said: "This is a step in the right directions for us.
---
Lindblad selected Ulstein to build new expedition ship
US-based Lindblad Expeditions Holdings contracted Norwegian shipbuilder Ulstein to build its new polar expedition vessel, which will be a part of the Lindblad Expeditions-National Geographic fleet.
The contract also includes an option to build two additional ships to be delivered by 2021 and 2022.
Lindblad's new vessel will be built at the Ulstein's Ulsteinvik site in Norway, and is due to be delivered in Q1 2020.
---
Rolls-Royce revealed new yacht concept with hybrid propulsion
Rolls-Royce revealed a new luxury yacht concept that features advanced digital technology and hybrid propulsion based on liquefied natural gas (LNG) fuel and battery power.
The new concept is known as 'Crystal Blue' and has been unveiled along with its support vessel Blue Shadow at the Global Superyacht Forum (GSF) in Amsterdam, the Netherlands.
The 62m-long vessel concept is designed to accommodate more than 12 passengers and 12 crew members.