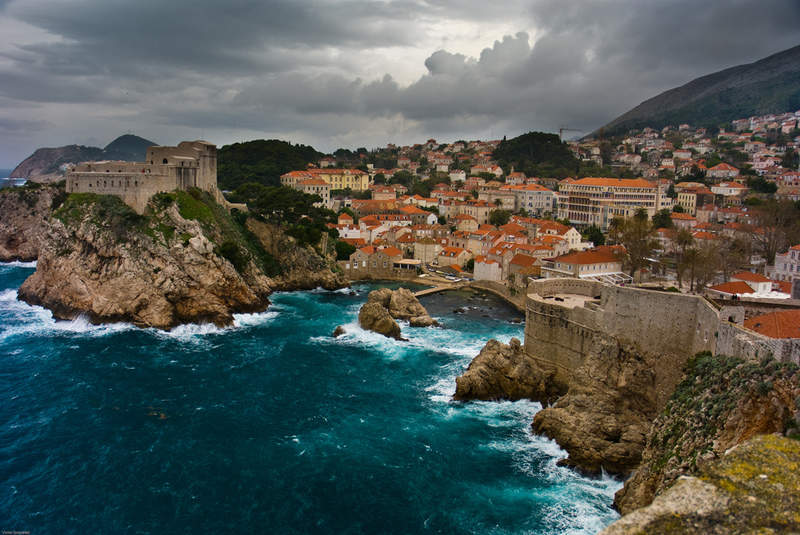 As one of the top cruise destinations on the Adriatic Sea, Croatia's Dubrovnik has seen its number of tourists steadily increase over the past few years.
In August however, the city joined a handful of other highly popular cruise hotspots, such as Venice and Barcelona, in their fightback against "overtourism", a phenomenon primarily associated with cruise passengers descending en masse onto a city's main attractions during peak season.
Among the growing local anti-visitor sentiment, the cities' councils argue that cruise ships, allowing thousands of passengers to disembark at once, bring little economic benefit to the city, block vital public spaces and the proliferation of tourist accommodation is pricing residents out of the city centre.
Dubrovnik's unique architecture is protected by Unesco, which has imposed a limit of 8,000 people per day inside its medieval walls. Last year, the organisation issued a warning regarding its heritage status due to mass crowding.
Between January and September 2017, Croatia welcomed a total of 540 cruise trips, most of which (65.7%) stopped in Dubrovnik, according to the Central Bureau of Statistics.
Despite a significant drop of 17.5% in the number of foreign cruise ship arrivals compared to the previous year, as well as a 13.7% drop in the number of passengers, the effects of that slowdown were barely noticeable in the heart of the city, where at peak time, Croatian media reported that it could take up to 40 minutes to walk the city's 300-metre pedestrianised walkway.
In response, newly elected mayor Mato Franković suggested the limit should be brought down to only 4,000 people per day, and in an open letter to the Cruise Lines International Association (CLIA) he urged the cruise lines to help protect Dubrovnik, saying the city was at a turning point.
Dubrovnik's change of heart is good news for some of Croatia's other destination cities, however, who seem happy to welcome those turned down by their teeming rival.
Zadar's growing ambition
Just under 400km north along the Croatian coast, another popular cruise destination is Zadar, a modern city that also offers a choice of ruins and old churches.
Its shore is also host to a one-of-a-kind sea organ, designed by local architect Nikola Basic, which comprises of a system of pipes and whistles, laid out into stone steps that descend to the sea. As sea waves roll against the steps, notes are produced.
Zadar is one of the cities that have recorded growth in cruise traffic over the past three years. Data from its Port Authority shows that passenger numbers have almost tripled in the period from 2014 to 2016, from nearly 53,800 to just under 136,500.
In October, Dubrovnik's former mayor Andro Vlahusic commented on Frankovic's proposal, saying that his decision will mostly benefit Zadar.
The new Port of Gaženica is currently under construction, expected to be fully opened from April next year, which will be able to accommodate the largest cruise ships in the world.
"Zadar will no longer only be halfway between Dubrovnik and Venice, but will have a port that will have a growing significance," the country's president Grabar-Kitarović said last year.
The city hopes to increase the number of tourists it attracts to reach 170,000 in 2018.
"Split" opinions
Due to its advantageous position on the Mediterranean, between Venice and Aegean Sea Port, Split is one of the most popular calling ports in the Adriatic. This year, Split was the country's second most popular destination, welcoming 171 ship visits between January and September.
An old Greek settlement, Split became the heart of the merchandise trade for the Adriatic at the beginning of the 20th century and today it is one of the most important economic areas of the country.
Over the years, Split has continuously invested in its port infrastructure to support increased passenger traffic. According to the Port Administration, 246 cruises are already planned to harbour in the city in 2018, with an increase in vessel sizes, due to recently installed larger berths, and the growing number of tourists these will bring.
The city's rising popularity was not embraced without concern, however.
This summer, local residents were issued warnings to avoid the area around the Diocletian Palace, situated a five minute walk away from the harbour, due to expected bottlenecks and overcrowding caused by thousands of tourists disembarking.
The president of the "Green Dalmatia" association,Zeleni Dalmacije, called it a "stampede" in a letter to Mayor Andri Krstulović, and said: "We have nothing against cruise arrivals, but we think we should act like Dubrovnik. We prefer smaller circles, up to two arrivals the same day. Please note that there are frequent conflict situations between cruise visitors and stationary tourist visitors who stay longer in the city and enjoy spending on restaurants and excursions."
Rijeka: a new arrival on the cruise map
The third largest city in Croatia, Rijeka is a budding contender for one of the most attractive places to visit on the Adriatic Sea, famous for its medieval architecture and Italian Renaissance influences.
The city began to emerge as a tourist destination for cruises in 2015, and since then, the number of passengers has risen from 9,082 to 13,874 just over the course of one year.
At the beginning of the year, Rijeka joined 20 organisations and institutions from Italy, Croatia, Spain, Portugal and Albania to develop sustainable tourism through improved cruise-related logistics and transport planning.
The main goal of the LOCATIONS Programme, co-financed by the European Regional Development Fund, was to support local authorities in the development of low-carbon mobility plans associated with cruising, as well as to optimise the ways of dealing with passengers on cruise ships, goods and services flow.
"The challenge facing the project partners lies in planning mobility solutions for cruise liner transport […] by preserving natural and cultural resources in city destinations to protect their attractiveness over time," the Rijeka's Port Authority states on its website.
Meanwhile, the city is also undergoing works under the Rijeka Gateway Project, which includes a new passenger port terminal, alongside the creation of a 260m long pedestrian zone and promenade, complete with catering establishments and a customs office to meet incoming international maritime traffic.
In October, Rijeka welcomed Viking Ocean Cruises' newest ship, the Viking Sun, a 930-passenger cruise ship on its maiden voyage.