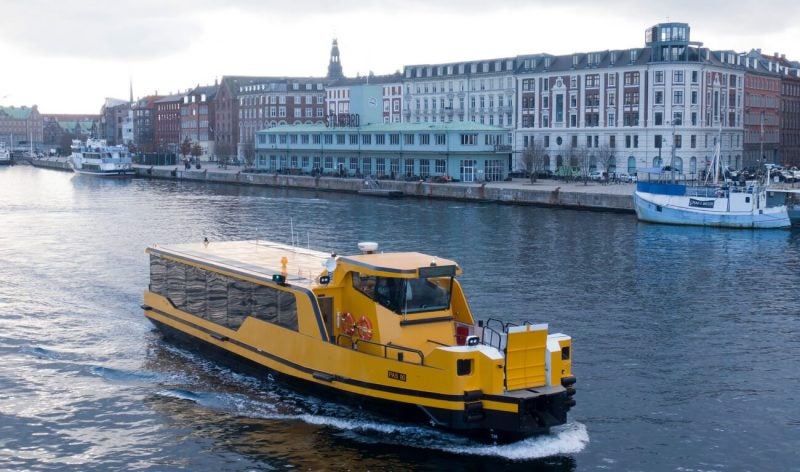 Public transport company Arriva Denmark has received five Damen Ferries 2306 E3 from Damen Shipyards Group.
The vessels are operated by Arriva on behalf of Danish public transport agency Movia.
The vessels are based on the E3 philosophy Damen, which is environmentally friendly, efficient operation and economically viable.
Movia issued the public tender for the vessels and aimed to upgrade the service to make it sustainable and cleaner.
In July 2018, Damen Shipyards Group secured a contract from Arriva Denmark to provide five fully electric ferries that will serve Copenhagen, Denmark.
The ferries reduce the NOx emissions of public transport in Copenhagen by 2.5%, CO₂ emissions by 10% and particulate emissions by 66%.
The vessels were developed using different 'innovative, digital shipbuilding techniques'.
Damen used computational fluid dynamics (CFD) for the hull design to reduce resistance in the water and 'cutting-edge software' analysed the relationship between propeller speed and engine torque.
Battery packs were used, which resulted in reduced weight, energy consumption and costs of operation.
The ferries feature a network of sensors for remote monitoring. The remote monitoring department of Damen set up a dashboard to track sailing patterns, battery lifecycle, swell dynamics and other parameters.
Damen sales manager Martin Verstraaten said: "This, in my opinion, is where Damen really add value to a project. Our involvement is not limited to the shipbuilding scope alone, we take responsibility for the entirety of the project.
"We provide a focal point where all partners involved the project come together to fulfil their individual roles in alignment with one another. With this, the project benefits from the cohesive, centralised direction for maximum efficiency."