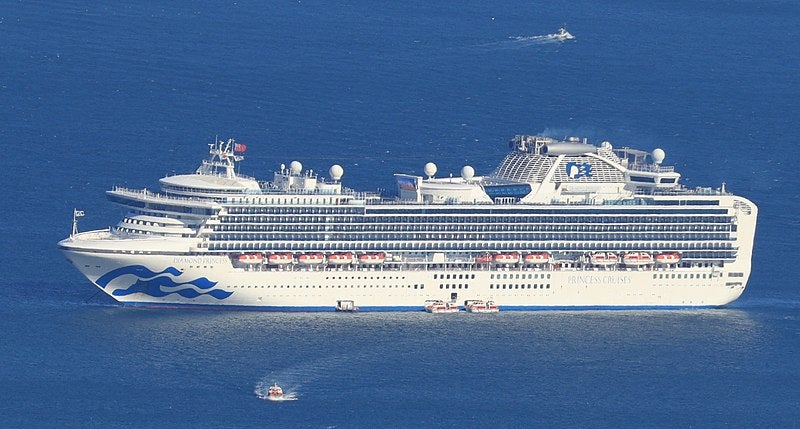 ---
Visit our Covid-19 microsite for the latest coronavirus news, analysis and updates
---
Follow the latest updates of the outbreak on our timeline.
Confirmed cases of the coronavirus on Diamond Princess, which is quarantined in Japan, have nearly doubled with 135 total cases.
The Japanese Ministry of Health, Labour and Welfare said that of the 439 passengers tested so far, 135 results came back positive. On 9 February, 70 cases were confirmed on the Diamond Princess.
The epidemic has so far killed 1,018 and infected more than 43,000 people.
Japan has 161 confirmed cases that include 135 cases on the ship. The country has reported one recovered case with no deaths so far.
On its arrival in Japan, the ship was carrying 1,045 crew and 2,666 passengers.
Princess Cruises said: "Since it is early in the quarantine period of 14 days, it was not unexpected that additional cases would be reported, involving individuals who were exposed prior to the start of the quarantine."
Of the newly confirmed cases, four are from Australia, one each from Canada, the UK and Ukraine, 45 passengers from Japan, three from the Philippines, and 11 from the US.
Last week, Japanese health authorities quarantined the cruise ship for 14 days at Yokohama, Japan.
A passenger that was on board the cruise ship in January had tested positive for the coronavirus in Hong Kong.
Passengers who are still on board are tuning into the Oscars and movies to pass their time on the ship. Passengers have also praised the crew for handling the situation.
The ship will be quarantined until 19 February, 'unless there are any unforeseen developments'.
The Indian crew on the ship have appealed for the Government of India to rescue them as the virus is spreading quickly.
Experts said that the quarantine could have the opposite effect on the people on the ship and could accelerate the spread of the virus.
University of Washington infectious diseases associate professor  John B Lynch said: "Similar to the situation in Wuhan, but at a smaller scale, by quarantining the ship, the crew members are being forced to stay together, which increases the likelihood of transmission.
"We have to remember that quarantines protect those outside the quarantine, not those within."
Hong Kong health authorities allowed passengers on board Dream Cruises' World Dream cruise ship to leave after the completion of control measures.