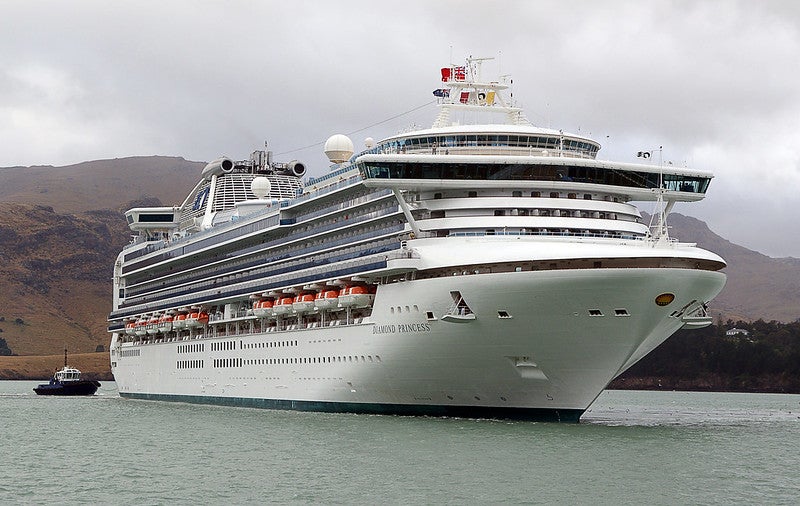 ---
Visit our Covid-19 microsite for the latest coronavirus news, analysis and updates
---
Follow the latest updates of the outbreak on our timeline.
Additional six passengers have tested positive for the coronavirus on the Diamond Princess cruise ship, which is quarantined in Japan, bringing the total cases to 70.
The Japanese Ministry of Health, Labour and Welfare has stated that of the 336 passengers tested so far, 70 were confirmed to be infected. As of 7 February, 61 cases were confirmed.
The ship was carrying 1,045 crew and 2,666 passengers when it arrived in Japan.
However, according to reports by local media broadcasters TBS and NHK, an additional 60 cases have been confirmed on the ship, taking the total to 130.
Additionally, Princess Cruises has announced a full refund of the cruise fare to all guests aboard the ship.
The refund includes the air travel, hotel, ground transportation and prepaid shore excursions. Guests will also not have to pay for any incidental charges for their time on ship.
For the cruise that ended on 4 February, Princess Cruises has announced that guests will receive a cruise credit equal to the fare paid.
Last week, Japanese health authorities quarantined the cruise ship for 14 days at Yokohama, Japan.
A passenger that was on board the cruise ship in January had tested positive for the coronavirus in Hong Kong, China.
Originating in Wuhan, China, the epidemic has so far killed 910 and infected 40,547 people in 29 countries, with the majority of the cases being reported from China.
Japan has 95 confirmed cases, which includes 70 cases on the ship, with no deaths so far. The country has also reported one recovered case.