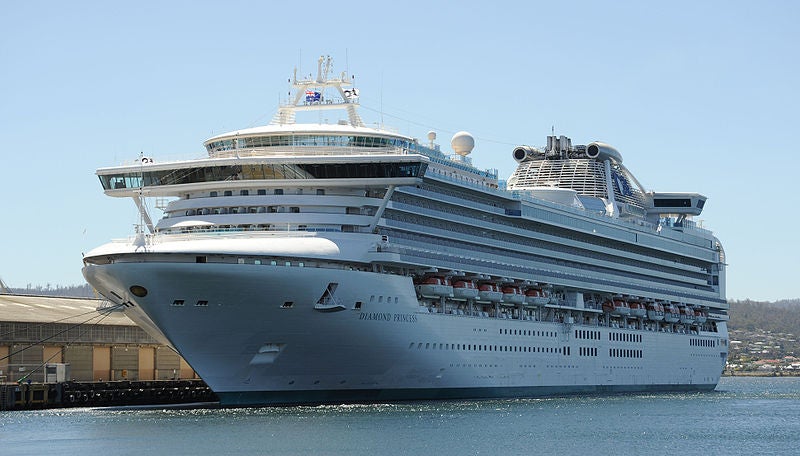 ---
Visit our Covid-19 microsite for the latest coronavirus news, analysis and updates
---
Follow the latest updates of the coronavirus (Covid-19) outbreak on our timeline.
Read about the effect of coronavirus (Covid-19) on cruise ships.
---
The Indian Ministry of External Affairs has announced that it has evacuated 119 Indian citizens from the quarantined Covid-19-infected Diamond Princess cruise ship in Japan.
The flight carrying the evacuated passengers landed at Delhi airport in the morning of 27 February after departing from Tokyo.
Of the 119 Indian citizens, there were 113 crew members and six passengers on board the Diamond Princess. India has also evacuated two Sri Lankans, one Nepalese, one South African, and one Peruvian.
All the evacuated passengers will be quarantined for 14 days in an Indian Army quarantine facility in Manesar, Haryana.
On 25 February, the Indian Embassy in Tokyo announced that a charter flight is being arranged.
The Diamond Princess was carrying 138 Indians on board with 132 crew and six passengers when it was quarantined on 5 February.
The ministry said that 16 Indians tested positive for coronavirus (Covid-19) and will continue to receive treatment in Japan.
The ministry added that the Indian Embassy in Tokyo is in contact with the infected individuals and is continuously monitoring their recovery.
Three of the Indian crew members refused to board the flight back to India and wanted to complete their period of extended quarantine implemented by the Japanese Government.
The quarantine of the ship was completed on 19 February when the first passengers who tested negative were allowed to disembark.
The government extended the quarantine period as crew members continued to carry out their regular duties during the initial 14-day quarantine.
The US, UK, Hong Kong, Canada, Australia and the Philippines evacuated their citizens from the cruise ship.
Japanese authorities confirmed that 705 people tested positive with four deaths so far.
The epidemic has killed over 2,800 and infected approximately 82,000 people around the world. India has reported three cases with no deaths.