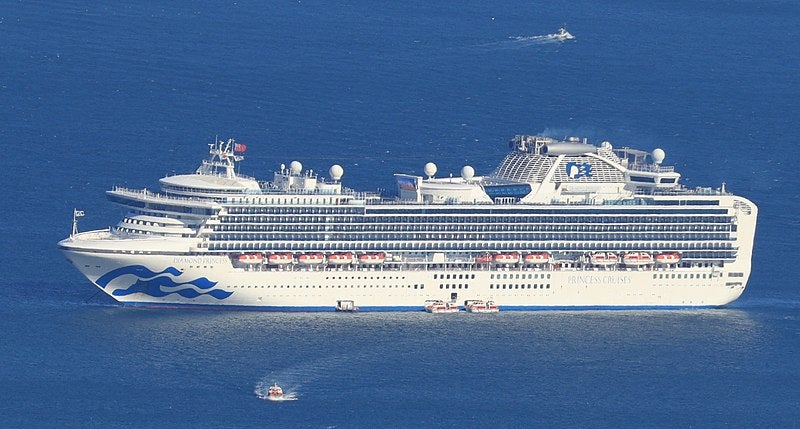 ---
Visit our Covid-19 microsite for the latest coronavirus news, analysis and updates
---
Follow the latest updates of the coronavirus (Covid-19) outbreak on our timeline.
Read about the effect of coronavirus (Covid-19) on cruise ships.
---
The Philippines Department of Foreign Affairs (DFA) has announced that 445 Philippine nationals were evacuated from the quarantined Diamond Princess cruise ship in Japan.
The ship carried 538 Filipinos, including 80 who tested positive for the coronavirus (Covid-19). The infected Philipinos will undergo treatment in Japan.
Earlier this week, the Philippines Department of Health (DOH) said that the country will repatriate approximately 400 citizens as 59 passengers tested positive.
The country used two Philippine Airlines (PAL) chartered flights from Tokyo Haneda Airport to Haribon Hangar in Clark Airbase, Pampanga.
The citizens were permitted to leave the ship after they tested negative for the Covid-19. Japan Self Defense Forces has managed the process of disembarkation and transfer to the airport via bus.
The first flight carried 309 passengers, a two-member DFA repatriation team and a four-member DOH health response team and landed at 10.10pm local time on 25 February.
The second flight carried 136 passengers with a two-member DFA team and a five-member DOH team. It arrived at Clark Airbase at 12.12am local time on 26 February.
All the evacuated citizens, the DOH and DFA teams and PAL flight crew will undergo a 14-day quarantine at Athletes' Village in New Clark City, Tarlac.
Canada, Australia, Hong Kong, the US, and the UK have evacuated their citizens, while India is expected to evacuate its nationals on 26 February.
The epidemic has so far killed approximately 2,750 and infected more than 81,000 people around the world.
The Philippines has reported three cases and one death.