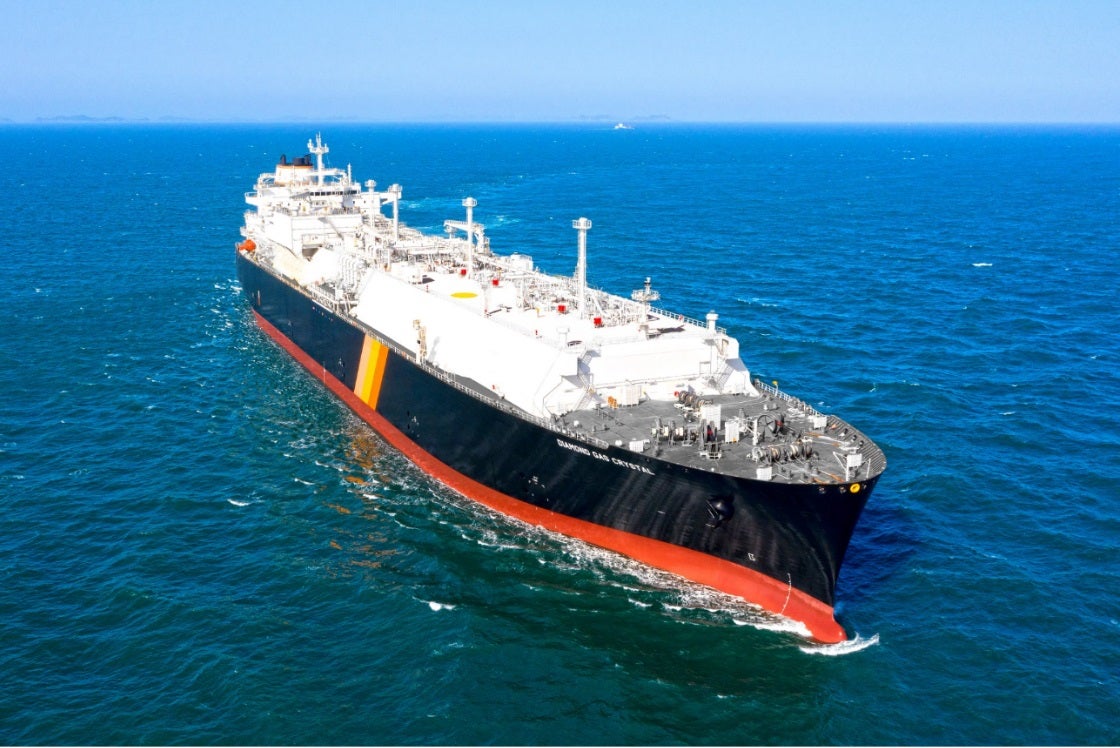 Japan-based shipping company Nippon Yusen Kaisha (NYK) has taken delivery of a new liquefied natural gas (LNG) carrier, named Diamond Gas Crystal.
The Singapore flagged vessel has been constructed at Hyundai Samho Heavy Industries (HSHI).
Diamond Gas Crystal is owned by NYK, Asia LNG Transport Dua (ALT Dua), and Mitsubishi Corporation (MC) via a joint venture, Diamond LNG Shipping 5 Pte.
NYK owns 25% of the joint venture while ALT Dua and MC hold a share of 50% and 25%, respectively.
This vessel will carry LNG from the LNG Canada project in British Columbia as well as other global sites.
This will take place under an 18-year time-charter contract with Diamond Gas International.
Diamond Gas International is a fully owned MC subsidiary with a holding in the LNG Canada project.
The NYK Group will be in charge of the management of Diamond Gas Crystal.
The vessel features a WinGD-made dual-fuel slow-speed diesel engine, the X-DF diesel engine.
This fuel-efficient engine can run on marine gas oil or boil-off gas kept in the cargo tank.
With a length of 297m and breadth of 46.40m, the vessel has a gross tonnage of 117,564. The carrier's cargo tank capacity is nearly 174,000m³.
The Gaztransport & Technigaz (GTT) made tank will feature a GTT Mark III flex cargo containment system, including insulating substances to suppress the rate of boil-off.
In addition, the vessel is equipped with a re-liquefaction system that can utilise re-liquefied excess boil-off gas and divert it back to the cargo tank.
In April, NYK joined a new project aimed at creating standards for the safe use of ammonia as a marine fuel.
Along with other shipping firms, NYK will carry out safety evaluations for the purpose of establishing standards for the use of ammonia.