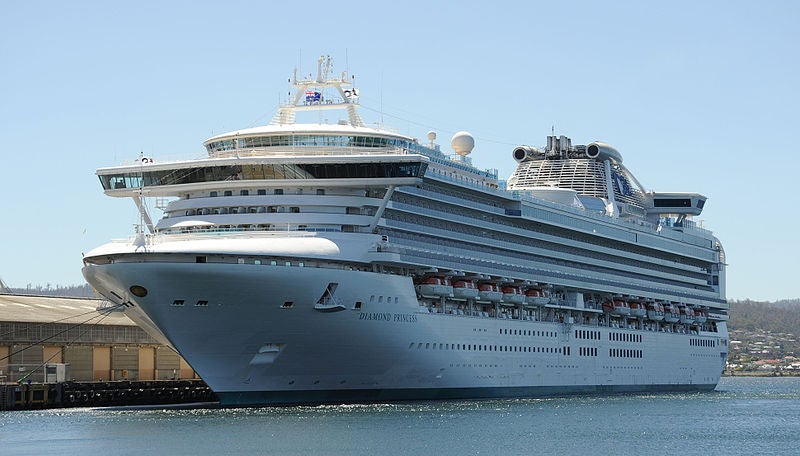 Visit our Covid-19 microsite for the latest coronavirus news, analysis and updates
---
Follow the latest updates of the coronavirus (Covid-19) outbreak on our timeline.
Read about the effect of coronavirus (Covid-19) on cruise ships.
---
Passengers onboard the Diamond Princess cruise ship who tested negative for the coronavirus (Covid-19) have started disembarking the vessel.
The passengers completed the 14-day quarantine period after Japanese officials quarantined the ship earlier this month.
The number of Covid-19 cases on Diamond Princess increased by 88, bringing the total to 542.
Most of the travellers who disembarked were elderly people. Other passengers are waiting for the results and will be able to leave the ship if their coronavirus test comes back negative.
If they test negative, the remaining 3,700 passengers and crew onboard will continue disembarking the ship until 21 February.
Princess Cruises said that it is coordinating with the Canadian, Australian and Hong Kong embassies to evacuate their citizens by charter flights today.
The citizens will undergo an additional 14 days of quarantine after they land in their respective countries.
The company said that the exact number of people travelling via charter flights will be confirmed after the flights take off.
Princess Cruises also said that the disembarking process was initiated for passengers who would not take repatriation flights.
Passengers are expected to receive a negative Covid-19 test certificate after leaving the ship.
The Diamond Princess has recorded the highest number of infections outside mainland China. The ship quarantine raised concerns around the world.
In addition, passengers leaving the ship caused concerns as they could transmit the virus to other people.
Earlier this month, a study by Chinese researchers found that the Covid-19 incubation period can be up to 24 days, contrary to the previously believed 14 days.
On Monday, 14 of the 300 US evacuees tested positive for the virus. The citizens are currently under a 14-day quarantine.
The epidemic has so far killed 2,012 people and infected more than 75,000 people worldwide.