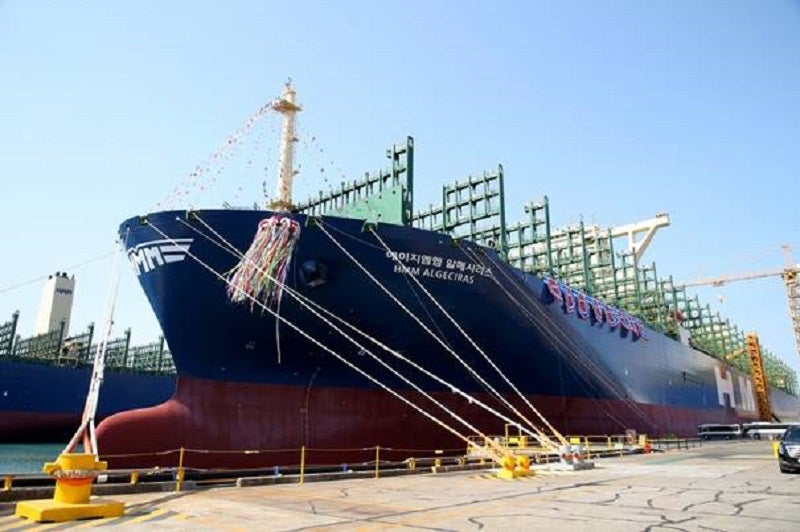 HMM (previously Hyundai Merchant Marine) has revealed the world's largest containership HMM Algeciras in Geoge, South Korea.
The naming ceremony was held at the Daewoo Shipbuilding & Marine Engineering (DSME) shipyard and was attended by South Korean President Moon Jae-in and other dignitaries.
The 24,000 twenty-foot equivalent unit (TEU)-ship is the first of the 12 vessels that will be delivered to the company by September.
In September 2018, the company ordered 20 new eco-friendly and highly efficient mega containerships, as part of a contract with DSME, Hyundai Heavy Industries (HHI) and Samsung Heavy Industries (SHI).
The DSME and SHI were contracted to construct seven and five 24,000-TEU containerships, while HHI will build eight 16,000-TEU containerships.
HHI will deliver the vessels from the second quarter of next year.
HMM plans to increase its environmental capabilities with the launch of the containerships. The ships feature a scrubber system to adhere to the IMO 2020 environmental regulation.
Additionally, the optimised hull design and a highly efficient engine will also boost energy efficiency and reduce carbon emissions.
Moon Jae-in said: "For me, it is very meaningful that HMM takes delivery of the most technologically advanced containership in this difficult time. I would like to celebrate it and hope that HMM continues to secure competitive advantage as a Korean national flagship carrier."
HMM CEO and president Bae Jae Hoon added: "HMM will strive to expand its presence in the global shipping industry based on optimised fleet management and new cooperation with THE Alliance."
The containership will operate on the Far East Europe 4 (FE4) service, which is one of the Alliance's Asia-North Europe trade lanes.
Last month, HMM deployed underwater robots to help clean the hull of its vessels to reduce environmental hazards.