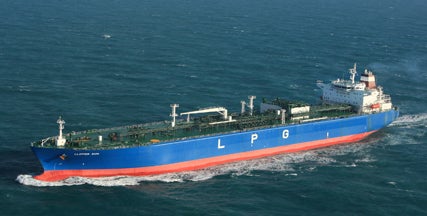 Hamworthy Krystallon has signed a contract with Hyundai Heavy Industries (HHI) to supply its first full-vessel scrubber system to a Solvang LPG carrier newbuilding.
Under the contract, HHI in South Korea will install the exhaust cleaning kit on an 84,000cbm ship under construction for the Norwegian owner. Hamworthy Krystallon MD Sigurd Jenssen said the company is delighted to be working with Solvang and HHI to deliver the world's first complete scrubber system – the first ever to be fitted on a LPG carrier.
The vessel comprises of two scrubbers; one for the main engine and one combined scrubber for three auxiliary engines. The scrubbers and washwater treatment plant will be of modular design, and situated in the funnel.
The vessel has been designed for optimum energy-efficiency and environmental performance, and among other energy-efficiency measures it will be fitted with a new-generation Hamworthy cargo handling system. This scrubber technology is designed to meet the 2015 deadline for 0.1% emission control areas (ECAs) in Europe and North America.
The company said that the increased need for speedy decision-making as shipowners and operators face the pressures of meeting 2015 targets comes as shipowners face up to the significant costs of using distillate fuel, as well as the technical challenges of switching from heavy fuel oil (HFO) to low sulphur distillate products.
With considerable development still needing to be conducted with LNG, the company claims that scrubbing technology remains the only proven and viable solution. "There is real concern over the 2015 ECA regulations, and we are starting to see more owners and operators actively consider what solution they will employ to remain compliant, but time is running out," Jenssen said.
"Shipowners and operators are increasingly aware of the impending supply chain issue facing the market, but many fail to consider that, once a scrubber system is installed, it is important to develop operational experience prior to using it on a daily basis," Jenssen added.
Caption: Hamworthy is supplying the first full-vessel scrubber system to HHI, which will be installed on a Solvang LPG carrier newbuilding. (Image courtesy of Hamworthy.)