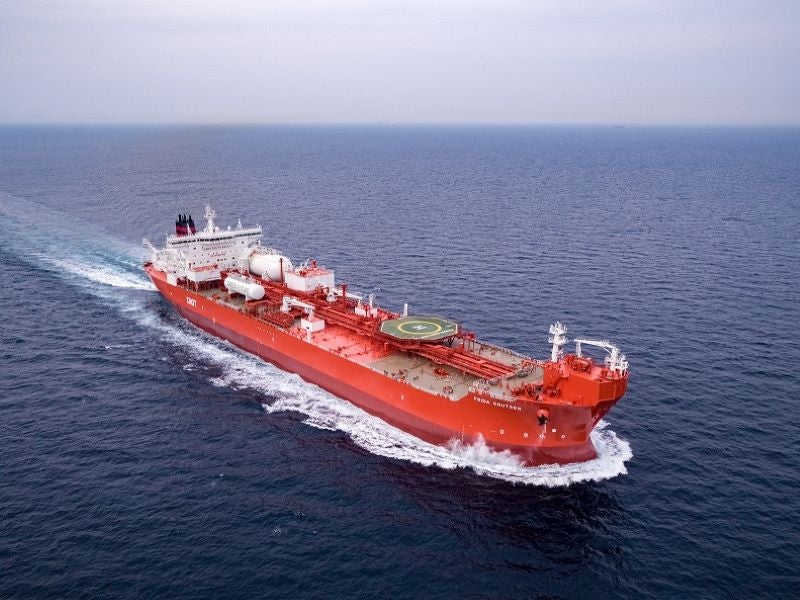 Knutsen NYK Offshore Tankers (KNOT), an affiliate of Nippon Yūsen Kabushiki Kaisha (NYK) Line, has taken delivery of its first dual-fuel liquefied natural gas (LNG) shuttle tanker.
Dubbed Frida Knutsen, the vessel was constructed by Daewoo Shipbuilding & Marine Engineering.
To be chartered to the Ente Nazionale Idrocarburi (ENI) subsidiary ENI Trade & Biofuels, the shuttle tanker will be involved in oil transportation in the North Sea and the Barents Sea.
With the ability to run on heavy fuel oil and LNG, the vessel will be fitted with a volatile organic compounds (VOC) recovery system and energy storage system to cut down greenhouse gas emissions.
Last February, NYK announced its plan to incorporate environmental, social and governance (ESG) into its management strategy as well as endorse activities to achieve sustainable development goals (SDGs) across business activities.
In March, the firm revealed its updated ESG strategy, which included new initiatives to integrate into its management strategies.
Last month, NYK Line and NYK Group firm Shin-Nippon Kaiyosha began a 100% biofuel supply trial for ships in Japan.
Using Neste Renewable Diesel (NesteRD) supplied by Itochu Enex, the partnership will carry out test navigation with Shin-Nippon Kaiyosha-run tugboats.
During the same month, NYK signed a business alliance agreement with Nakashima Propeller and Fluid Techno to study the use of energy-saving devices on its existing fleet of ships.